Trend Alert! 5 Ways to Feature Succulents In Your Wedding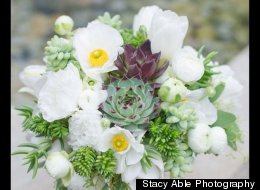 Succulents: you may not know them by name, but there's no doubt you're familiar with their delightful appearance. And when it comes to weddings, this family of tiny green plants offers a refreshing alternative to flowers. They're perfect for the couple looking for something elegant but nontraditional on their big day. Try these five ways of incorporating them into yours!
Bonus! They're not just for weddings, though. Use succulents to add a bright, sophisticated touch to any occasion!
Trend Alert! Adding Succulents to Your Wedding
Roses on the lapel scream 'High School Prom' more than 'Grown Man Getting Married.' A well placed succulent adds mature, understated sophistication. Plus, there are no thorns to deal with. (Photography by: DreamLove Photography)

If your budget's limited, chances are you don't have big bucks for ornate table settings. A mix of bright succulents with gardening stones held in a glass is both cost-effective and utterly charming. (Photography by: Matthew David Celebrations)

A hint of green is such a refreshing sight, breaking up the flowers while keeping the whole look fresh and graceful. (Photography by: Stacy Able Photography)

Bringing the bands in on a pillow is a classic move, but one that's a bit tired. Why not spruce things up with a gorgeous garden box topped with a pretty plant? (Photography by: Dreamlove Photography)

Ideal for spring and summer weddings, accenting the food with succulents will drive home that warm-weather, outdoorsy vibe. A few sprigs on the cake will lend a pretty, down to earth feel. (Photography by: Stacy Able Photography)
Follow Matthew David Hopkins on Twitter: www.twitter.com/360DesignEvents