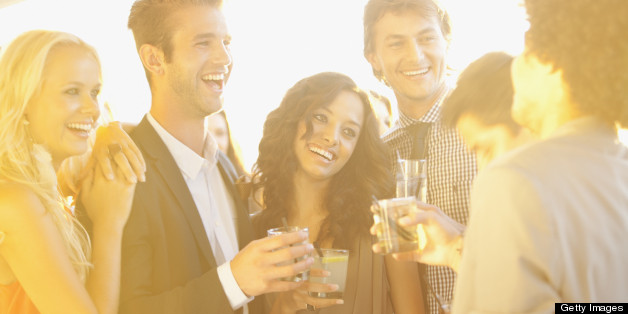 As event designers and marketers, we're always looking for a way to make our productions more memorable and personal. As the creative director of 360 Design Events, I'm a big proponent of incorporating a philanthropic angle into your event -- it takes the occasion beyond one night (or day) of celebration, raises awareness of whatever cause you might choose to highlight, and of course, makes everybody involved feel good. Giving is in -- and that's a trend I can get behind. I'd recommend finding a cause or organization that's a good fit with your own and the event you are producing, so that it feels relevant to your guests -- not like an awkward afterthought.
Here are a few ideas of how you can integrate giving back into your next event.
Raise a gavel (quietly)
Big-ticket fundraisers stage silent auctions all the time. Guests peruse donated items at the event and write down a maximum bid for the displayed merchandise. (Suggested values are often indicated, as are starting bids.) Silent auctions can be a lot of work -- think calling lots of people and asking for donated merchandise -- but if you can easily acquire a fun or sexy prize through a friend of your company or organization, it could be worth doing.
Or raise it loudly
The same work that goes into staging a silent auction applies to a live one as well, so hitting up that concert promoter board member for backstage passes, convincing your power travel agent relative that a donated package would be good marketing, etc. might come into play. Beyond that, live auctions can be a lot of fun in the right crowd. That is: one that will be into spirited, live bidding and open to publicly parting with some money for a good cause. If that doesn't sound like your group, skip it. Also crucial: a good auctioneer; a bad one will ensure the stunt goes over like a lead balloon.
Take a chance
Another way to raise money with a high-ticket item or experience is a good old-fashioned raffle. This fundraising tactic is flexible in that those guests who want to give a lot, can do so, while those who may have less extra cash but still want to contribute can buy a single ticket. You also have the option of selling tickets before and/or during the event, and when you will select the winner.
Skip the swag
How often have we heard people complain about all the stuff they get in gift bags? Use whatever money you might have earmarked for a thank you gift and donate it to your cause of choice, notifying guests with signage as they leave, a note in the program, a tasteful table card, etc.
Change it up
Most people can't shell out several hundred (or thousand) dollars for a fancy auction item or benefit ticket, but everyone has spare change -- and they're often happy to part with it. Particularly effective if you're holding an event with a large number of attendees, collecting spare change from guests can be an easy way to raise a surprisingly large amount of money with minimal burden on any one individual. They key to this strategy is to devise fun and creative ways to collect those loose nickels, dimes and quarters from your guests. Also to consider: how, if appropriate, you'll let people know how much was raised.
Give the goods
A holiday tradition in many communities, but perfectly appropriate any time of year: ask guests to bring a canned good to donate to a local food bank, or a book to donate to an after school program. This has the added bonus of your crowd being able to physically see the good they are doing!
Shine a light
Giving back doesn't always have to mean giving money. In fact, spreading the word about an organization and creating awareness of the work they do can be worth even more than a one-time monetary gift. Select a non-profit that is a good fit with your organization or group and showcase its work with a very brief video presentation, a profile in a program, etc.
Donate your leftovers
As I wrote in my post about producing sustainable events, lots of organizations are happy to take what you don't use (or use for a few hours) and help it find its way to people and organizations in need. I'm particularly fond on Materials For the Arts (full disclosure: I'm on the board!), a non-profit organization that takes unneeded items from businesses and individuals and redirects them to schools and agencies with arts programming. But there are other non-profits that work with the event industry as well, such as City Harvest, which will pick up your unused food, and Flower Power, which rescues floral elements and delivers them to healthcare facilities such as hospitals and nursing homes.
Have a unique way to spread the love (and cash) at an event? Share your thoughts in the comment section below!
SUBSCRIBE TO & FOLLOW LIFESTYLE
We're basically your best friend… with better taste. Learn more