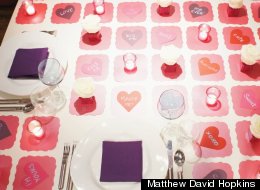 With Valentine's Day around the corner, scratch the idea of lavish and pricey planning. Instead, indulge in this sincere and creative way to say "I Love You" -- and pop the question! -- without breaking the bank.
As a celebrity event designer who knows the importance of details, I believe Valentine's Day doesn't have to be about flashy bling, or whisking your partner away for the weekend. For example, you can easily create this intimate table setting decorated with love notes inscribed on hearts (think sweetheart candies), white roses, and votive candles. Channel your inner DIY guru and follow my five, easy steps for a perfect Valentine's Day table. And, if you're ready for an unforgettable night, top the table off with a "Marry Me?" handwritten message, and cross your fingers for a "Yes!"
Pretty Valentine's Day Table
Purchase these materials to create my intimate table setting: 2 packs scalloped paper hearts, 1 pack scalloped squares, 10 white roses, 1 box pastel chalk, white tablecloth, 10 votive candles and 20 round and square votive holders (hot pink and red make the table pop). You'll need 2 place settings and cloth napkins – use 100 percent linen and opt for elegance.

Show your sugary side with inscribed hearts using pastel chalk. Try messages inspired by sweetheart candies, like "I'm Yours" and "XOXO," or use a word representing a shared moment that will make her smile.

A white tablecloth and white roses add a simple sense of purity. Your tablecloth should touch the floor, a small but elegant detail. Lay the squares in rows, with two, large openings for the settings. Place a heart on each square. It's okay if they're not perfectly spaced – it's your canvas.

Remember that "Sixteen Candles" scene where Jake and Samantha kiss over candles? (If you don't, she will!) Recreate the mood with candles in half the holders and roses in the rest. I leave at least one square between holders, but place them wherever, maybe near a message with meaning. Add place settings and get ready for romance!

Now that you've prepared what could be the most romantic night of your relationship, add a handwritten proposal. Set a "Marry Me?" heart on a square at the top of your partner's setting and wait for the response! With all your creativity, it'll most definitely be a yes.
Follow Matthew David Hopkins on Twitter: www.twitter.com/360DesignEvents