NO CHECK FOR YOU! Gov. Pat Quinn had threatened "consequences" to lawmakers if they didn't pass a pension reform bill by July 9 and on Wednesday he delivered, canceling paychecks until they do. "There is a principle as old as the Bible. You don't get your wages if the job isn't finished. The pension reform job in Illinois is not finished." Quinn had plenty more to say at his press conference -- notably that he believes taxpayers will be on his side in this one. (Hard to argue with that. Can you imagine the uproar if the General Assembly overrides it to get their money back?) Read about it here.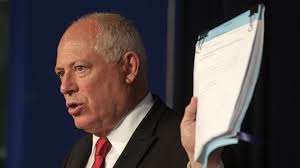 GENIUS OR SHOWMAN? House Speaker Michael Madigan gave Quinn's move a thumbs-up. So do a couple of prominent newspaper columnists. But there was plenty of criticism of Quinn's bold move as mere political theater or, worse, an obstacle to pension progress. Find out what Quinn's 2014 rivals, lawmakers and writers had to say here.
EARNING THEIR KEEP? Lawmakers in our neighboring states would lose a whole lot less if their governors suspended their pay. Find out what our legislators make compared to others in the region in our infographic,
SOUND THE ALARM Quinn said his move was intended to get an "alarm bell ringing in legislators' ears." It's been ringing in our ears for some time. As a taxpayer, you need to understand how runaway pension costs will sandbag the state budget, constrain our economy and leave future generations paying for debt incurred before they were born. You can help sound the alarm by signing onto our petition. We've attached a visual timeline to help you understand the history of this crisis. Click here and sound off.
END THE INCUMBENT PROTECTION PROGRAM In Illinois, political bosses hand-pick their voters by rigging legislative maps in their favor. It gets incumbents reelected 97 percent of the time. And look where it's gotten us. Join us and the Yes for Independent Maps movement to help get the politicians out of the map-drawing business. Click to find out more.
HIGH TOLERANCE Illinoisans reelected a future felon in 2006 and tolerate political corruption daily. But a teen star disrespecting an Illinois sports logo? That's a call to action in the world of Scott Stantis.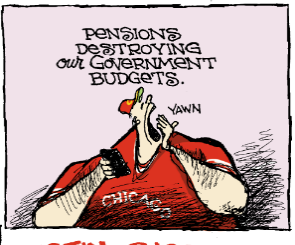 TOP 7 You can always find links to the day's news from around Illinois in the Daily Tip-Off section of our website. Here are today's top picks:
7. Chicago Public Schools has agreed to release $36 million more to schools for the upcoming year. (Chicago Tribune)
6. Former Dixon Comptroller Rita Crundwell is appealing her nearly 20-year prison sentence. (Chicago Tribune)
5. Mayor Emanuel is using the position of Inspector General just for show. (Chicago Sun-Times)
4. The Sun-Times Editorial Board throws its support behind Quinn's "stunt." (Chicago Sun-Times)
3. Quinn's move will give legislators a taste of their own medicine. (Chicago Tribune)
2. Illinois Comptroller Judy Baar Topinka said she will investigate the legality of Quinn's move to suspend legislators' pay. (The Republic)
1. Gov. Jell-O grew a spine with Wednesday's action, says columnist John Kass. (Chicago Tribune)
SUBSCRIBE AND FOLLOW
Get top stories and blog posts emailed to me each day. Newsletters may offer personalized content or advertisements.
Learn more