Both he and co-host Sean Hannity are putting on a happy face in public, with Colmes saying in his press release:
"I approached Bill Shine (FNC's Senior Vice President of Programming) earlier this year about wanting to move on after 12 years to develop new and challenging ways to contribute to the growth of the network. Although it's bittersweet to leave one of the longest marriages on cable news, I'm proud that both Sean (Hannity) and I remained unharmed after sitting side by side, night after night for so many years."
Seems friendly, doesn't it? But, it turns out the situation is not as civil as Fox News would have you believe. We have obtained exclusive footage of Colmes telling Hannity his plans for leaving and things get a little heated. Take a look.
It's since been announced that Hannity will not replace Colmes, and will host the program by himself. And really, that's for the best. Both he and Colmes were together for twelve long years, and Sean needs some time for Sean. Really, any host would just be a "rebound" host.
I'm sure after a little bit of time, Rupert Murdoch and Roger Ailes can find another fake liberal with no self respect who'll let Hannity berate him on a daily basis.
The big question is, without Colmes on a daily program, will the "Fair and Balanced" Fox News trend to the right? I fear that without him, the network could become nothing more than a mouth-piece for the Republican party. I hope that I'm wrong.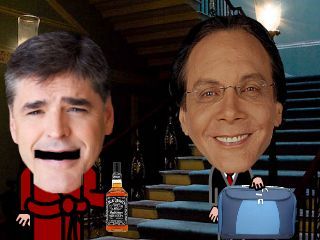 FOLLOW HUFFPOST