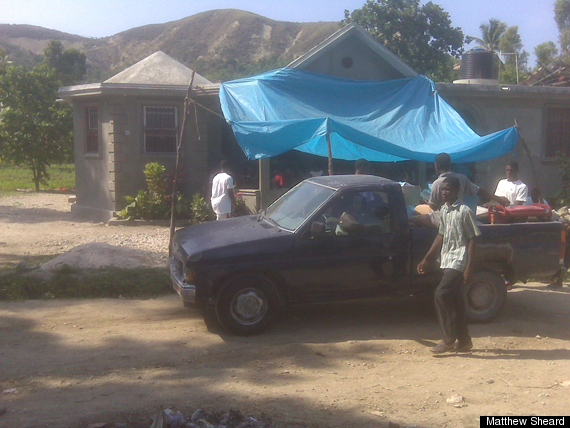 "This is the part of Haiti they don't show you," said Jean, reclining on the beach, a cool breeze brushing the scent of wild jasmine past us. The beach is more than beautiful and from the faces of the young people in the water you wouldn't know that 20 minutes away from here, entire communities are living in tents struggling to stay healthy and fed.
The town we are staying in is an hour outside of Port-au-Prince. It was not hit by the Earthquake. It is one of the wealthier communities. There is a resort and University. It gives a different picture of Haiti than the press gives (even though many media workers stay at the resort here).
The rest of Haiti is not so idyllic. Tent cities are everywhere. Most of them are small tent "neighborhoods". The destruction goes on and on as you drive, and in most areas that I have been through, there is some-what of the jack-o-lantern effect. On the same street, some houses are unharmed, some have moderate structural damage -- a missing wall/broken wondows -- and some houses have been reduced to rubble. What is most shocking are the large structures like the Government Palace and the large Churches that have been ripped apart. But in between the devastation the country is alive and busy.
Skinny cows. A car door fence. The tent cities are a sea of blue, because of the tarps that make their roofs. It reminds me of New Orleans after Katrina.
We arrived in Santo Domingo last night, after midnight, and travelled by bus, through the night, to Haiti. In the afternoon, we arrived at Jean's house where we are staying.
Jean, our fearless leader, is Haitian-American. After coming under fire for things she said against the Haitian Government, she moved to NYC in '94 and became an RN. Jean now runs Claire's House Community Center (CHCC) in Brooklyn. After the earthquake CHCC teamed up with Bedford-Stuyvescent Volunteer Ambulance Corps (BSVAC) to bring medical professionals and supplies to Haiti. This is the fourth trip that Jean has organized, and that's how I am here, as part of a volunteer ambulance core.
One of the biggest problems here is stress. Paige, an EMT in our group said at the first clinic she did; "Every single person had high blood pressure. Including the children."
What Jean has found doing "clinics", she found that most of the people that came for medical help really just needed someone to talk to about the traumatic events. (Doing a clinic means going to one of the tent cities that doesn't have an NGO presence with medical supplies and treating people's ailments as best as possible.)
It's been only one day, and after today, I think that it's safe to say that my preconceived notions I had of Haiti are true. It is a beautiful country, with beautiful and resiliant people. A country that has been abused by the US and Europe for centuries and has overcome great odds and obstacles.
Tomorow we will be working in General Hospital in Port-au-Prince.