The ocean is facing unprecedented challenges and it is up to us to find solutions to protect it.
Global warming, ocean acidification, marine debris, plastic pollution, oil spills, nitrates and other water pollutants, habitat destruction, coral bleaching, fishery collapses, shrinking polar caps, rising ocean levels, species exploitation and extinction -- all these challenges need to be addressed to ensure a healthy ocean for the next generation.
Protecting the ocean is about life -- and it's about our oceans' ability to sustain life. If we can all agree on that, then we can give the next generation hope for their future. To achieve that goal, we must work together toward a solution that will ensure our sustainable coexistence with the sea.
The National Ocean Policy is being debated and discussed in Congress. It's a work in progress, with interested parties from all walks of life and from all corners of the political spectrum participating.
At times, the policy making process seems frustrating, and makes one yearn for a more civil and innocent era when the likes of Frank Capra and Jimmy Stewart championed American ideals, nostalgically wishing we could somehow call on "Mr. Smith" to return to Washington, to save the oceans for us. But this is something we have to do for ourselves, and by working through this process collectively, we can achieve that goal.
The strength of this new movement of ocean pioneers portrayed in the film comes from their diversity. Energy executives, scientists, commercial and recreational fishermen, academics, farmers, environmentalists, governments, tribes, industrial shippers, the tourism industry,
ocean advocates, and everyday citizens who care about the sea and want to contribute to
the development and realization of these new approaches to ocean management that are
embodied in this very important national policy; all coming together in a cooperative effort
for a common goal -- a common good.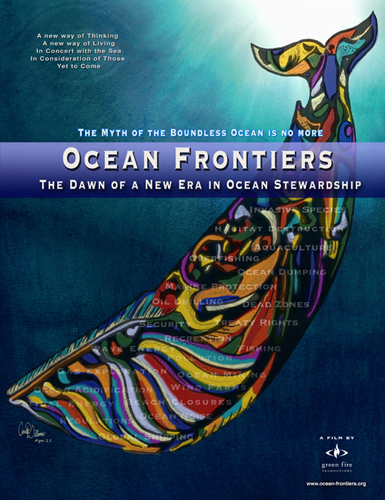 Ocean Frontiers is a film that can help turn the tide in protecting our oceans, and one which every member of Congress -- and every American -- should see. It has been premiering to rave reviews all across the country and internationally as well, and it delivers a message we all need to heed:
"The myth of the boundless ocean is no more. It's time for a new way of thinking, a new way of living, in concert with the sea and in consideration of those yet to come."
This is an important film and it deserves our attention, our consideration, and our support.
The ocean is in trouble and it needs our help. It is our generation's responsibility to be good stewards of the sea. But, it's not about us; it's about the next generation -- Annie Williams' generation. Annie is the young artist who drew the whale for the Ocean Frontiers logo.
With a blue whale as her inspiration, and in a style reminiscent of traditional Native American symbolism, Annie painted her whale in a psychedelic kaleidoscope of rainbow colors, every bit as bright and vibrant as the spectrum of marine life itself, and symbolic of the hope and promise that tomorrow's bright young minds will bring to a new era in ocean stewardship.
All too often we forget just how colorful and alive the ocean is, underneath the foreboding dark-blue surface lies a world we are only now beginning to explore and just starting to understand.
All these years after Jacques-Yves Cousteau first brought the wonders of this amazing underwater world into our living rooms, it is still new, unexplored, and a wide-open frontier. We have scratched the surface, but what lies underneath, what is still to be discovered, is sure to be as indescribably amazing as that first Cousteau television special.
Ocean stewardship, marine spatial planning, ocean and coastal management through marine protected areas, commonsense clean water policies, sustainable fisheries, and effective conservation practices. These are all our generation's responsibility to get right; because the next generation deserves a clean legacy from us with which to start their lives and raise their families and live their dreams.
No matter where we live, coastal, inland, mountains, or deserts, we're all dependent on a healthy ocean. The National Ocean Economics Program (NOEP), released a report titled State of the U.S. Ocean and Coastal Economies. The report noted that that the oceans and coasts are bountiful areas, long taken for granted, but rarely recognized as a crucial part of the U.S. economy. When in fact, coastal states account for 83% of the U.S. economy, thus supporting inland populations that often lack awareness or have little knowledge about how they are tied to the oceans and coasts of our nation.
Recognizing the enormous influence of the oceans and coastal areas, the NOEP report demonstrates the need to preserve the important natural resources that support the economic activities that depend on them. Included in the report's findings were the following:
Shore-adjacent counties are home to 108.3 million people, 48.6 million jobs, and contributed 5.7 trillion to the U.S. economy. With only 18% of U.S. land area, these counties accounted for 36% of population and 42% of the national economic output in 2007.
In 2004, the ocean-dependent economy generated138 billion or 1.2% of U.S. GDP and employed 2.3 million Americans.
Coastal tourism & recreation dominated both employment and GDP in the ocean economy sectors with 1.7 million jobs (75%) of employment and nearly70 billion (51%) of GDP.
The ocean is an economic engine, as powerful as any industrial nation. But it's fragile, and
requires our constant care and attention to keep it healthy. In turn, it will keep us healthy, both economically and environmentally. But, in order to maintain the economy associated with the ocean, we have to understand the ocean, we have to effectively manage the competing uses of the ocean, and we have to learn to coexist with the ocean and all its inhabitants.
Ocean Frontiers consists of four compelling stories which take us on separate journeys of discovery, innovation, and cooperation, and demonstrate how this new vision of ocean stewardship is turning the tide and bringing our nation closer to a mutually beneficial
ocean policy.
Saving Whales at Stellwagen Bank National Marine Sanctuary
In the bustling shipping lanes of Boston Harbor, what was once a recurring collision of giant vessels and endangered whales, has become a model for conservation in a crowded sea. Marine biologists, shipping executives and an energy company have come together, taking cues from the great whales' travel ways, and finding room for both commerce and wildlife.
An Ocean Blueprint for Florida Keys National Marine Sanctuary
The coral reefs of the Florida Keys are America's most popular marine destination, home of myriad sea creatures, and a magnet of sport fishers, divers and sightseers. Lately they are also America's showcase of ocean planning, providing refuge, recreation, and livelihoods, through a collaborative plan developed by all concerned.
Iowa Farmers and the Gulf of Mexico
The Mississippi Delta -- terminus of America's mightiest river, nursery of one of the nation's premier fisheries, and lately an unfortunate poster child for ecological disaster -- is getting help from an unlikely team of people, in an unlikely place. More than a thousand miles upstream, in the cornfields of Iowa, farmers are changing their ways to send cleaner water and new life to the nation's beleaguered Delta.
Port Orford Fishermen Protect the Ocean and Way of Life
A small fishing community on the coast of Oregon, the people of Port Orford are taking control of their destiny, by conducting their own brand of conservation. They are using local science to inform their fishery management, and protecting upstream forests to save their salmon--a farsighted perspective that considers both their links to the land, and the future of their children.
Ocean Frontiers is more than a film, it is a tool and an outreach campaign designed to engage, inspire and mobilize people to better manage and conserve our ocean. It is a new philosophy of marine stewardship offering prosperity through preservation.
If you or your organization would like to host a screening of Ocean Frontiers, it's easy to do, just click here. And if you'd like to purchase a copy of the Ocean Frontiers DVD you can place your order here.
Thank you Staj and Annie!
SUBSCRIBE TO & FOLLOW THE MORNING EMAIL
The Morning Email helps you start your workday with everything you need to know: breaking news, entertainment and a dash of fun. Learn more