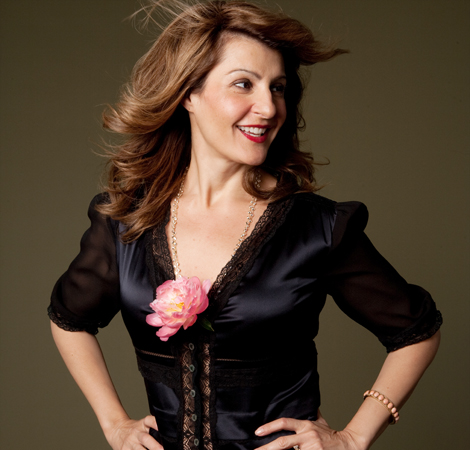 Nia Vardalos/Photo by Leslie Hassler

Nia Vardalos is a Golden Globe-nominated Canadian-American actress, Academy Award-nominated screenwriter and producer who made her big break with My Big Fat Greek Wedding, which led to the CBS show My Big Fat Greek Life. Her latest film, My Life in Ruins, is currently at the TriBeCa Film Festival; www.tribecafilm.com for more info.
by Matthew-Lee Erlbach
and Carmelo Larose
I saw the screening last night and I actually related to it a lot, being an academic who also wants to enjoy the world. Where did the story come from?
NL: Yeah. The first draft was written by a man named Mike Reiss and it's still very much his story. I just added in my own personal angst about having lost my mojo. And really not knowing why it was that I felt like I wasn't connecting and so I just kept layering in and layering in this angst, this angst and subsequently what I found out was that so many people said "I'm going through that," or "I had just come through that," and I wondered if there's just a personal crisis we go through that's not even known as a mid life crisis anymore. It's just a career crisis.
Yes I completely understand. I'm not being interviewed, but I can speak a lot about that. How does your experience as a Greek American affect you both as a citizen and an artist?
NL: I think a question I keep being asked is why another Greek story? I don't feel compelled to do a sequel to My Big Fat Greek Wedding yet. I have an idea but the actors need to be a little bit older to tell it, and I feel like I have a few more Greek stories to tell. But in the same way that -- and this is not to compare myself to them -- that Martin Scorcese and Robert Deniro, explore their heritage, I'd like to explore mine. What I wish I had, is that I wish I was a little more Greek, in that I wish I could lose my North American driven attitude and that I could be a little bit more poetic and laissez faire.
I feel the same way about myself. Sometimes delving into cultural history helps you to transform yourself, especially since our society is so driven by work.
NL: Yes, you can spend an entire summer in Europe and no one will ask you what you do for a living.
Tell us about the process at Second City Chicago and how it helped grow you as an artist. What shows did you help create on the Mainstage?
NL: I was there from '90 to '95. My generation is everyone cause you kind of cross mingled, Steve Colbert, Horatio Sanz. We were all there at the same time. And how it shaped me is absolutely how I write. I don't card out my screenplays ever. I just have an idea I just sit down and write I don't edit. Sometimes the first draft will come out at 200 pages. I think and think and I go, "um this story is about the brother that appears on page 178." I go back and I rewrite. That place was invaluable.
And is that how you broke into screenwriting?
NL: Yeah, yeah. I couldn't get an acting job to save my life when I moved to L.A. Yeah, it was tough. Then someone said why don't you write something about all those Greek stories you tell at parties.
Of course. Go from what you know. What's been the most challenging experience you've faced recently as an artist?
NL: Well I had gone through the thing I wrote on The Huffington Post. I did my first two movies. Everything was great but I was really secretly pursuing being a mother. It very difficult and it was like a ten year punch to the forehead from Mother Nature, until I finally went ok. I decided to pursue adoption and that process was so difficult that I just didn't feel like being on camera. It fell through so many times. It was really hard and then I found out about foster adopt and I was matched with my daughter in about 9 months.
Congratulations. I'm really happy that worked out.
NL: Yeah, that's what I wrote about for The Huffington Post. I thought maybe other people were going through the same thing too. Maybe there are other people who don't know about foster adoption and how easy it is to adopt an American child.
What advice do you have for emerging actor/ writers? That's a very special combination.
NL: It's a responsibility and a burden and a gift. The responsibility to me is that you can't just wait to be cast into something and then you create the role. You almost have a voice inside of you telling you what you might want to play and be able to play. It's hard, but once that thing comes out of the printer and you hold those warm pages to your cheek it's great. It's a huge sense of accomplishment.
In the film, the Americans seemed not to be very interested in what we think of as traditional Greek history, the monuments and the ruins. Was that characterization based on your experience traveling abroad and observing?
NL: We took a risk and they were at first shown as stereotype, but it was to show that this is how my character views them, but when she changes she notices the beauty of them.
And they as well learn to appreciate Greece.
NL: Yes, exactly. When I was doing my research for the movie and traveling across Europe taking tours, I noticed that. The poor tour guides would say "This is Big Ben" and the people on the bus would yawn and then he'd show them other beautiful English monuments and he would say with a sigh "this window was once used in a James Bond movie" and you would hear snap, snap, snap, the cameras would go.
Those made for great moments in the film. Sounds like fun research. Both of your films are love stories. What attracts you to that genre?
NL: I love romance. I think our skin clears up and we're nicer when you are in love.
Lastly, do you miss Chicago?
NL: Yeah! I didn't even have a car in Chicago. I could take the El, and that wind, the wind coming up from the lake, pushing you up against the buildings -- it makes you tough.