Hello, April! Spring is here! It's almost summer too! Once again, I've been listening to old and new music like crazy this month, which is like the story of my life every month.
This month, I've been going back to my roots and listening to a lot of songs that a girly girl like me would listen to, as well as new singles which have been topping the music charts.
Whether you're in a rut or not, I hope that my playlist for April will make you get up and dance like there's no tomorrow. Like for reals.
So without further ado, here's my playlist for April and my favorite lyrics from each song. Dancing is mandatory.
1. "Sweet Talk" -- Kito & Reija Lee
Thank you, random 15 second Victoria's Secret commercial for introducing me to this dubstep song by two really cool looking London-based DJs from Australia who I'd love to hang out with someday in the future (my brother lives in London, so this could totes happen).
I'm absolutely obsessed with "Sweet Talk." By absolutely obsessed, I mean that I listen to it like 10 times a day. Furthermore, I tweeted to Victoria's Secret about it and they replied back to me (see photo after the jump). Very sexy, indeed.
Favorite lyric: "Boy, I can see it in your face, you're all over the place/Can you stand up straight for me, yeah/Get it back on track if you want me back/Do the sweet talk for me."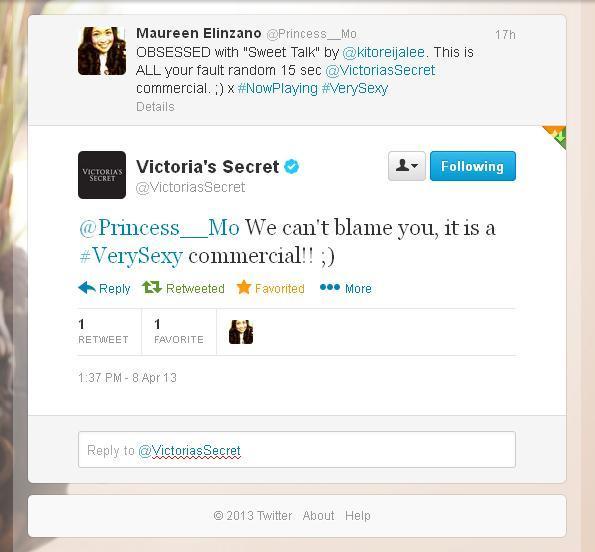 2. "Pom Poms" -- Jonas Brothers
The JoBros are back and they've come back with an amazing song that really makes you get up and dance like there's no tomorrow. The trio's first single off of their upcoming album which is due to be released later this year, "Pom Poms" is simply great.
After all, we all have that one person in our lives right now who we want like a kid just wants a milkshake.
Favorite lyric: "I want you on my team/Want you like kid just wants a milkshake/And I won't let it go to waste if I get a taste/I'm gonna drink the whole thing." This should've been obvious based on what I said right above this!
Bonus: Watch Kevin, Joe, and Nick meet their number one fan, Sara (without an 'h' because they're ewww), after the jump.
3. "Troublemaker" -- Olly Murs (feat. Flo Rida)
Oh my goodness I love this song so much! Olly Murs is the best and this song is so catchy! It's one of those songs that stays in your head and that you sing like all of the time.
Who's the troublemaker in your life right now? Or maybe you're the troublemaker for someone right now? Wink wink.
Favorite lyric: "Why does it feel so good but hurt so bad/Oh oh oh/My mind keeps saying/Run as fast as you can!"
4. "If I Was a Man" -- Pussycat Dolls (Introducing Jessica Sutta)
This gem from the Pussycat Dolls' second album, Doll Domination, is like so fantastic. Like Beyonce's "If I Were a Boy" and Ciara's "Like a Boy" (which are both fantastic songs too), "If I Was a Man" analyzes in great detail the not-so-truthful game that some men play on women from the woman's perspective. Classic.
Favorite lyric: "Paint it all like a work of art/If I was a man for a day/If I was a man."
5. "Come & Get It" -- Selena Gomez
Selena Gomez's first single off of her upcoming debut solo album is really good. It's "Love You Like a Love Song" really good. In fact, this song was previously recorded for one of Rihanna's previous albums. Very cool.
"Come & Get It" is sassy and playful. It makes you want to dance (the RiRi influence, of course) and then go after your crush like a force to be reckoned with. Oh boy.
Favorite lyrics: "You got the kind of love that I want, let me get that/And baby once I get it I'm yours no take backs."
"When you're ready/Come and get it/Na na na/Na na na."
That was a very girly and poptastic playlist, but if any of these songs made you get up and dance like there's no tomorrow, then mission accomplished.
Which songs are you listening to in April? Let me know in the comments below!