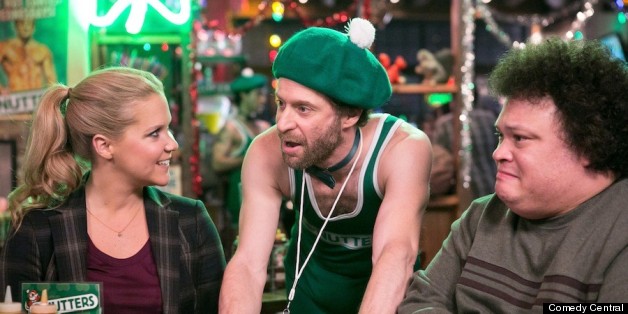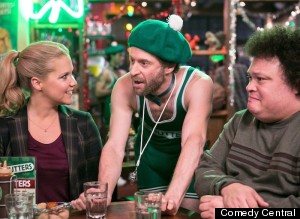 The first episode of "Inside Amy Schumer" (10:30 p.m. ET Tuesday, Comedy Central) is promising, but the second is even better.
The first episode of the show, which mixes standup, sketches and interviews by Schumer, is available online, and it's not hard to guess why this collection of material got priority. The very first sketch imagines the "creative" history behind one of the most famous viral videos of all time (I can't bring myself to mention it because I don't want you to see it, though there's a good chance you already have).
It also features an extended skit about the very different ways in which a man and a woman spend the day after a one-night stand. It starts out strong and becomes a bit broad and predictable, but it's the kind of video clip that's likely to be shared on social media, as is a standup excerpt in which Schumer predicts the average woman's reaction to a certain sex act.
That's all fine -- I understand the need to debut using material with viral potential. With so much comedy on TV and the Internet these days, the next wave of Louie C.K.s need to be loud and broad sometimes to stand out from the pack. And that's certainly not to say that the first episode is weak; it's a serviceable outing that sets the stage for Schumer's brand of comedy, which is a generally winning mixture of insecurity and frankness, sexual and otherwise.
But if you're going to set a season pass for this show, I'd recommend giving it at least two episodes to make an impression. There are a few things that didn't quite land (if Schumer is going to make jokes about rape, they should be much stronger and sharper than the material in the standup segment that ends the second episode). But there were also quite a few entertaining skits that made me laugh out loud: a class for old white people in which they learn how to be less racist and not use terms like "Oriental"; a few different bits about the stress of trying to create an appropriately confident texting persona; an acerbic stylist who swoops in to help Schumer take the perfect "selfie."
The short man- and woman-in-the-street interviews, in which Schumer disarms strangers into revealing personal information about sexting and romance, are consistently excellent. They are edited with verve and allow Schumer to display a quick wit and endearing charm. In the first two episodes, Schumer also does interviews with a stripper and a model, and uses both opportunities to pick gently and wittily at stereotypes of what's expected of women and what guys tend to want. The show has a subversive, self-aware aspect, frequently touching on the kinds of gender-role limitations that can trap and limit both men and women, but "Inside" handles those topics with a refreshing lightness of touch.
"Inside Amy Schumer's" focus on sex and dating is understandable, given that buzz is literally worth money these days. The similarly focused "Girls" is the current Godzilla of buzz, thus legions of TV development executives are looking for women who are not afraid to be graphic in their bittersweet/comedic explorations of single life in the big city. The good news is that Schumer has her own take on these topics, and the format of the show gives her a variety of ways to come at the things with which she's obsessed, among them, the lifestyles of the privileged class (a woman forced to spend an entire flight without her iPad cries as if her life has been ruined).
Once "Key & Peele" established itself as a show that can delve into matters of race in smart and irreverent ways, it felt comfortable enough to branch out into other arenas. I hope "Inside" follows that template, and there's reason to think it could. The second episode's standout sketch takes place at a bar called "O'Nutters," which is what you'd come up with if you imagined a "Hooters" for ladies. Jon Glaser, who is stealthily taking over my television (he's the sad junkie Laird on "Girls" and Councilman Jamm on "Parks and Recreation"), turns in a perfectly pitched performance as a friendly waiter, and the scene takes a premise that could be bitter or predictable and ends up making it strangely entertaining and even joyous.
I was most intrigued by loopy, goofy moments like that, which hint at "Inside Amy Schumer's" imaginative potential. And if I'm honest, half the reason I'm watching is because Tig Notaro is writing for the show, and the comedy special she released last year, in which she talked about her cancer diagnosis and the death of her mother, was one of 2012's high points. If Notaro wants to be "Inside," then so do I, at least for the foreseeable future.
"Inside Amy Schumer" airs 10:30 p.m. ET Tuesdays on Comedy Central.
SUBSCRIBE AND FOLLOW
Get top stories and blog posts emailed to me each day. Newsletters may offer personalized content or advertisements.
Learn more