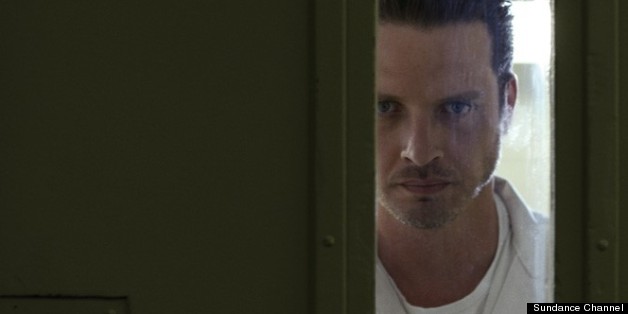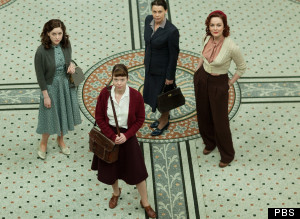 Crime and punishment are two of television's favorite subjects, but a pair of very different miniseries, "Rectify" and "Bletchley Circle," find fresh and compelling ways to come at these familiar topics.
If you've ever said to yourself, "I never need to see another woman in a dank basement being menaced by a killer ever again" -- I'm right there with you. But part of the reason "The Bletchley Circle" (10 p.m. ET Sunday, PBS) works so well is because, in its own efficient, British way, it's about the idea of violence against women. This three-part miniseries manages to be not just a well-wrought, well-paced murder mystery but also an unsentimental look at how sexism operated back in the day and how casually condescending attitudes toward women can actually allow violence against them to occur.
If "Bletchley Circle" has one flaw, it's that it's almost too dedicated to showing how shabbily women were treated in post-war Britain: The core quartet of female characters encounters mostly boorish and one-dimensional men. The drama might have had more depth and texture if more time had been spent contextualizing their relationships instead of just showing the ladies putting up with a series of oafs. But there's only so much "Bletchley" can do in three installments, and it has many sustaining qualities to offset the relatively thin supporting characters.
When we first meet the four women whom the miniseries follows, they're working at Bletchley Park, which is where the U.K.'s code-breaking teams deciphered encrypted messages and did other secret work for the Allies during World War II. Someone ought to make a show about that time and place -- based on various books about Bletchley and legendary code-breakers like Alan Turing, it's clear that the unusual military outpost had enough troubled geniuses and complex characters to populate a dozen TV shows.
All too soon, however, we've moved on to the women's post-war lives, wherein their talents for spotting patterns and breaking codes have been soundly rejected by British society, which expects them to endure rationing quietly and accept relegation to a domestic sphere. Anna Maxwell Martin gives a quiet, watchful intensity to the married Susan, who gets the brushoff from the police when she tries to present her theories about a serial killer who appears to be working in a systematic manner in and around London.
Part of the reason she's not taken seriously is because the Official Secrets Act prevents her from telling anyone, even her husband, that she worked at Bletchley. As far as police officials know, she's a housewife who worked as an office clerk during the war, thus her reception is doubly unwelcoming. As was the case with "Homeland" and "Rubicon," "Bletchley" does a fine job of depicting what it costs intelligence workers to keep crucial parts of their minds and memories secret from those closest to them. Given how little her husband knows about her past and how her mind works, an almost insurmountable barrier to true intimacy looms between them; but when she's with her former Bletchley colleagues, Susan can let her ferocious intellect shine.
"The Bletchley Circle" is also an example of another small subgenre. It's an import that -- like "Call the Midwife," "Lost Girl" to some extent, and "The Hour" -- is interested in female friendship and exploring the many kinds of camaraderie among women who work together. Despite the relatively short running time, the fine cast does a good job of making the four women memorable: Susan relies on her sharp, mathematically inclined mind to make logical progress on the case, Millie (Rachael Stirling) uses her street smarts and underworld contacts to help the group, while the photographic memory of Lucy (Sophie Rundle) functions almost as the Bletchley cirle's human hard drive. The no-nonsense Jean (Julie Graham) is a quietly commanding leader who keeps the team from splintering, just as she did during the war.
As is the case with most "Sherlock" episodes, the central criminal puzzle is a suspenseful brain teaser with emotional resonance, and the briskness of "Bletchley's" three-episode structure is refreshingly succinct. Having said that, if these four women decide to apply their mathematical minds to crime in future seasons, I'd certainly sign on for more.
"Bletchley" is about the effort to apprehend a criminal, but the atmospheric "Rectify" (10 p.m. ET Monday, Sundance Channel) takes place at the opposite end of the criminal justice process: It's about what happens when a man convicted of murder re-enters society. In tone and execution, the shows are very different, but they share similar concerns about the messiness of justice and the many ways that word can be defined. Both also benefit from short runs and a willingness to end when the story has run its natural course (one of the many recommendations of the recent Sundance miniseries "Top of the Lake").
Aden Young stars as Daniel Holden, who in the opening scenes is released from almost 20 years on death row. As was the case with "Top of the Lake," the narrative's central crime had an enormous impact on the small town where it took place, and Daniel's release creates an array of difficult consequences for his lawyer, his extended family, his former friends and various residents who never expected (or wanted) to see him alive again.
"Rectify" concerns Daniel's difficult re-entry into a society that has left him behind and a family that finds him changed, and Young does a fine job of embodying Daniel's quiet confusion and gratitude. No less an expert than West Memphis 3 defendant Damien Echols, whose case is often echoed in this six-part miniseries, says "Rectify" captures "the wonder a man experiences once he's returned from the land of the dead."
"Rectify," which was created by actor/writer Ray McKinnon, doesn't so much dramatize these ideas as ruminate on them: Its pace is deliberate, and sometimes that leads to hauntingly evocative moments of tenderness and regret, and sometimes that prevents the drama from accruing even a modicum of suspense from one event to the next. It's admirable that the production wanted to be so truthful to the experiences of the damaged men who emerge from long prison stints, but there are a few too many languid shots of Daniel staring at things that mystify him.
But it's worth sticking with "Rectify," which often achieves a tone of conflicted, bittersweet sincerity. The release of Daniel is a bomb dropped into a stunned family and wary community, and as he slowly comes back to life, it's easy to see how much he misses the solitude and contemplation of his restricted life on death row.
As "Rectify" unfolds, we learn more about why Daniel was behind bars and about the complex factors that put him there, and it becomes apparent that he was something of an odd duck even before he went to jail. Is his strangeness the result of two decades spent alone, or is there something darker lurking behind it?
"Rectify" finds much to ponder in the ambiguous space Daniel inhabits. And in different ways, both dramas remind us why we're drawn, again and again, to the knotty moral problems that crime presents.