Kehinde Wiley, Mikalene Thomas, Nari Ward, Derrick Adams and others have come together for a great cause--Be Thankful: An Art Benefit for Scott Andresen--helping a fellow artist in need, recovering from a horrific, bicycle accident.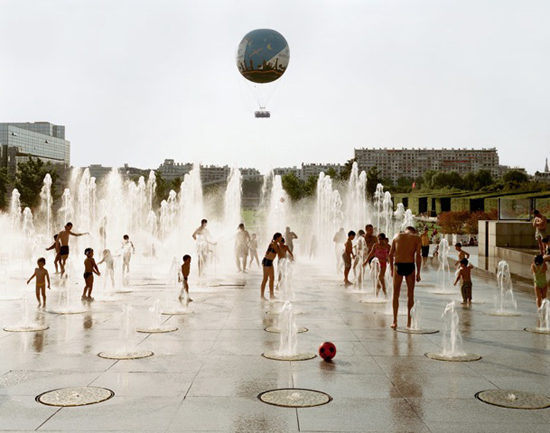 Parc Citroën, 2004. Kevin Cooley (Courtesy of Kevin Cooley)
It's good to have friends by one's side during such times, that's for sure. But when a freelance artist suffers an injury, perhaps having insufficient healthcare, what really happens? It's a question Scott Andresen knows too well--the challenges of healing one's life, being faced with deeply traumatic injuries after he was hit by a car while biking in Brooklyn.
Recalling the day of the accident, Andresen says "On the afternoon of July 5th, I left my house for work on my bicycle. Just a few blocks into my ride I heard a car honked as it approached. I quickly glanced back to see where the car was... as I returned my view ahead...I saw that someone was opening a car door in my direct path, just a few feet in front of me. I was struck by the car door, was thrown, and then immediately struck by the speeding vehicle that had tried to pass me." Once at the hospital, Andresen says "numerous x-rays and cat-scans revealed fractures in the hip, pelvis, clavicle, 6 ribs, a contusion on my lung." But most frightening of all, he says, was when he learned of the major trauma to his spine.
The following day, Andresen underwent a 9.5 hour spinal decompression emergency operation, with surgeons attempting to repair what they could of the 3 damaged vertebrae. Although one of the vertebrae was completely shattered, and had to be entirely removed; replaced with a titanium metal 'ladder'. The operation was a success. And after some time in ICU, and 3 weeks of inpatient rehabilitation, he was learning to stand and walk again.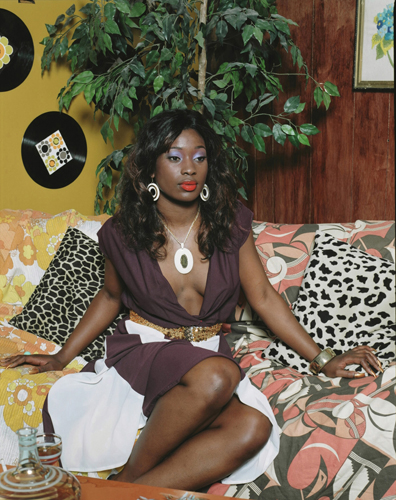 Portriat of Queen Qusuquzah, 2008. Mikalene Thomas (Courtesy of Mikalene Thomas)
Naomi Doerner, Andresen's domestic partner, says "I continue to struggle with our new reality." When a police officer showed up at her apartment door to inform what had happened to Andresen, thinking back to the moment she found out the love of her life was struck by a car, Doerner says "our life felt surreal...from that moment on, everything changed."
A major part of the struggle for Andresen and Doener is the financial burden. Just like with so many Americans, insurance and healthcare for artists is serious business, because there are so many who can't afford it. "As poor as the US health care system is, I think artists are one of the worst served communities by it," Andresen says. And though in New York where Andresen lives, there is a mandated, state-wide, No Fault insurance law, which automatically covers up to $50,000 in healthcare, paid through the insured car that hit him, three months into his recovery the medical bills have already eclipsed a half a million dollars, and the No Fault only covers $50,000 of that, less than 10%.
Fortunately, prior to the accident, Andresen was able to be insured as Doener's domestic partner. Yet even so, Andresen says that with the No Fault insurance and his policy through Doerner's employer, the remaining 20% not covered by the insurance will be astronomical, as the total expense of his recovery could reach close to a million dollars.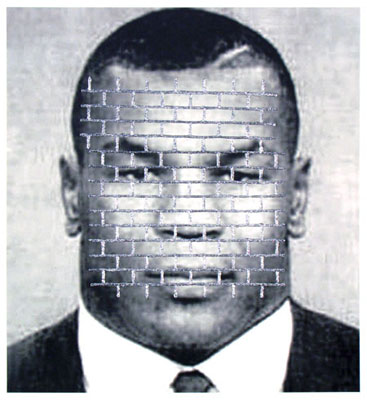 The Great Wall, 2009. Derrick Adams (Courtesy of Derrick Adams and Colette Blanchard Gallery)
He says "I had no means to affordable health insurance as an artist." But since his accident, Andresen's learned a lot. "The numbers can be hard to digest," he says. "Even with insurance, and we know some of these costs will not be covered, but just a fraction of that amount would be devastating to me as an artist...I read study which stated that 62 percent of bankruptcy filings in 2007 were linked to medical expenses and that 80 percent of those filing had health insurance...it's strange to think, but I could very well meet that same fate... suddenly, I understand that reality."
Nari Ward, an artist friend of Andresen who exhibited at the Whitney Biennial in 2006, says that he was most concerned that Andresen would survive the accident; wondering if he would ever walk again. Ward, who teaches sculpture at Hunter College commenting about the value of artists--why it seems artist are taken for granted--saying "The artists I am interested in are capable of making you think beyond your normal range of experiences...they are able to energize our memories and experiences in order to give us a perspective on ourselves and the world, which we were not aware of or have been under-valued." Ward believes this is something of worth, because "The ability to think critically, as well as introspectively, allows for a sense of authority over our life."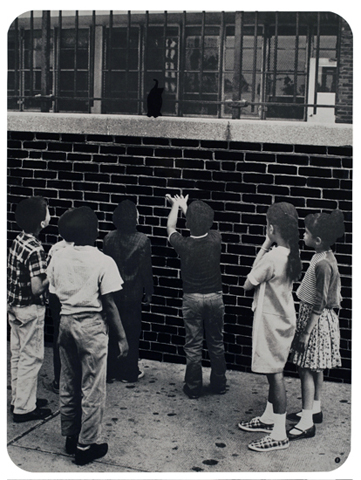 Poor Kitten, 2010. Nari Ward (Courtesy of Nari Ward and Lehmann Maupin Gallery, NY)
Between healthcare concerns and the ensuing lawsuit, It will be a while before Andresen's life returns to a place of normalcy, allowing him to pick up his once busy schedule. Yet through it all, he says "The response from friends and family has been overwhelming." And as the November 3rd benefit, auction date approaches, he says "Along with the [participating] artists, people from all walks of my life have pooled their talents to plan what should be a very heartwarming evening."
Event information follows:
Date: Wednesday November 3rd, 2010
Location:
Collette Blanchard Gallery
26 Clinton Street
New York, NY 10002
Schedule:
7:00 PM - Doors Open
Silent Auction, Raffle, Cocktails and Hors D'Oeuvres
9:30 PM - Auction Closes
10:00 PM - Event Ends
Free Admission (RSVP Required):
Please RSVP to be.thankful.benefit@gmail.com or by calling 310-994-0333.
SUBSCRIBE TO & FOLLOW CULTURE SHIFT
Every Friday, HuffPost's Culture Shift newsletter helps you figure out which books you should read, art you should check out, movies you should watch and music should listen to. Learn more