On September 28, 2010 the U.S. Census released the 2009 American Consumer Survey. This survey reveals that last year was very difficult for America. The National Bureau of Economic Research (NBER) tells us that the "Great Recession" officially ended in December of 2009. Census data suggests that 2009 was a year of accelerating economic pain and loss. The labor force of the U.S. shrank by more than 130,000 between 2008 and 2009. The median family income decreased by $2,254 or 3.5%. Median is a better measure than average because the median family income sets the exact middle of the income distribution. Half of all families earn less than the median income and half of all families earn more than the median income. Average or mean measures are less sensitive to income distribution. The median income for all workers in the U.S. fell from $29,868 in 2008 to $28,365 in 2009. Median worker income declined by $1,503, or 5%. A staggering 48% of households earned less than $50,000 per year in 2008. In 2009, 49.8% of households earned less than $50,000. Income per person in the U.S., per capita income, declined from $27,589 in 2008 to $26,409 in 2009. Our per capita income declined by $1,108 or 4% in 2009.
Are you still surprised by anger at the polls? Might these numbers explain the seeming willingness of voters to try anything that looks different? Rising inequality, falling incomes and increasing poverty are very pronounced. When the data comes in next year for 2010, it is likely to show us that 2008-2010 witnessed a historic increase in poverty and inequality in the U.S. Our massive budget deficits have been directed in ways that lower poverty, increase employment or reduce inequality. Surely, these numbers would have been worse absent many programs. That is true and valid. However, it is way too hard out there to be smug about how much worse it could have been. Yes, it could be worse. Yes, it is getting worse.
Below follows a sketch of just how bad it is- from a poverty perspective.
It is clear that the younger you are in America, the more likely you are to live in poverty. Young Americans are nearly twice as likely to be poor as older Americans. The below bar graph makes clear that this is true for African American, black, citizens as well as all citizens. The graphs in this short article are all made from newly released census data.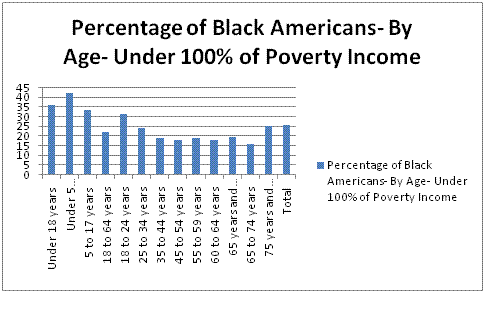 Being American gives you 1 in 7 chance of being poor. Being young raises this chance to 1 in 4. Being black in America means a 1 in 4 chance of being poor. Being young and black raises your chance of being poor up to 1 in 2.5. Dropping out of high school puts you on a path to a 1 in 4 chance of poverty. Finishing college dropped your chance of poverty in 2009 to 1 in 25. 18.7% of Americans living in major cities -- principle cities -- spent 2009 living in poverty. 27.8% of Americans living in major cities and under 18 years of age spent 2009 living in poverty. Near 1 in 3 young, urban Americans were poor last year. 9% of young, urban Americans under 18 earned less than half the poverty level income of $10,800 in 2009. Nearly 1 in 10 young, under 18, urban, Americans lived in extreme poverty in 2009. More than 1 in 3, 36% of female headed households lived in poverty in 2009. 17.3% of these female headed households lived in extreme poverty -- earning less than 50% of the federal poverty level. Young (under 18), Americans living with non relatives experienced a staggering 67% poverty rate in 2009.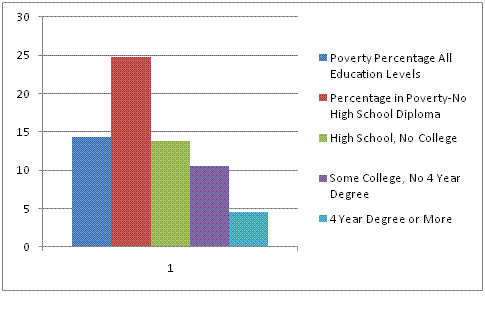 SUBSCRIBE TO & FOLLOW THE MORNING EMAIL
The Morning Email helps you start your workday with everything you need to know: breaking news, entertainment and a dash of fun. Learn more