DENVER, Saturday, at the Press Tilt-A-Whirl -- Think of my reporting from Denver as an extra layer of froth on your daily latte, because much of the action here is just fun. Take the Saturday night party, hosted by the city of Denver and underwritten by Qwest, for 15,000 of the media descended like locusts upon the Mile High City for the 2008 Democratic Convention. We stream into Elitch Gardens, the city amusement park, for an evening of thrill rides, carny games, Coors beer and finger food -- no hot dogs and burgers 'cause Mama Federal Donation Law don't allow. Plenty of Rocky Mountain oysters (pounded bulls' balls), though. And some of the locusts leave with plastic lawn-and-leaf bags full of stuffed animals.
The melee is young, the crowd is trashy -- OffTheBus makes a jerky video of the litter at 10 PM -- so much for those cute recycling pup tents. The crowd is an interesting cross-section of the fourth estate.
Young man cradling giant stuffed boa constrictor: "She told me right before she began to show. I told her adoption."
On the ferris wheel, young woman breathing between tongue-locks with old hippie: "My boyfriend tried to kill me. Told my mama I wouldn't come home from New York without a husband." It isn't a Jon Meacham Katrina vanden Heuvel kind of crowd.
The ferris wheel provides other pleasures. As your OffTheBus national correspondents rock to and fro in our basket at the top of the Wheel, some hanging on for dear life, the sky explodes in fireworks. We are close enough to reach out and be singed. A spectacular tribute--with OtB at the center. Where else would we be?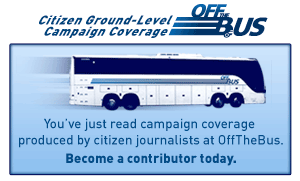 SUBSCRIBE TO & FOLLOW THE MORNING EMAIL
The Morning Email helps you start your workday with everything you need to know: breaking news, entertainment and a dash of fun. Learn more