Hillary Tuesday, Wherein Denver becomes a Beltway Hollywood outpost.
Biden in the Hen House; Emily's List Tea For Hillary, Pelosi not so much; Media Elites munch on fatuousness and some pretty Good Salmon; Midday at the Oasis.
Tuesday morning early in Denver Michelle Obama hosts an economic roundtable with four single, working mothers, four women governors and Joe Biden -- oh, Jill Biden is there, too. It's an embarrassment of riches -- eleven speakers in a tight circle on a small stage, before a small crowd of enthusiastic female supporters. The Obama Campaign has flown in three of the women -- from Iowa, Michigan and Texas. The fourth is a Coloradan. So clearly the campaign feels that the henfest is important, although it's hard to see how an hour-and-a-half recitation of hard-luck stories to a group of Obama voters is a strategy to defeat John McCain. This is not the first such roundtable Barack and Michelle Obama have held with single, working mothers. Indeed they are a staple of the Obama Campaign trail, and I attended one with Senator Obama in San Francisco as far back as 2007. Despite the regular roll-out of these roundtables, a dominant narrative in the media is that Senator Obama needs to talk more specifically about economics. Since Obama has been doing just that consistently ever since the Ohio primary, the failure of the roundtables to get a larger message out there is a good indication that Obama has yet to find quite the right approach.
Nevertheless, the roundtable has its moments. It turns out that "the Obama-Biden plan" is a mouthful -- a tongue-tripper -- and Michelle Obama's difficulty in saying it would seem to show that there is at least one small downside to Obama's choice of Biden as a running mate. Biden seems poised, hovering on the edge of the group of women. Michelle introduces him as a man "famous for being completely at home wherever he goes." At some point, he manages to make himself at home, for by the end of the session he has a middle chair. I don't recall how this happens. Biden says, "In my house, I've been surrounded by strong women." He points to his sister Valerie as his "single best friend." He compliments his daughter Ashley. And he describes Michelle's speech Monday night as "the most remarkable speech I've heard in my life" -- this from a man who has just said that only four Senators have served longer than he. After some brief remarks along these lines, Senator Biden perches and listens while the four women governors and the four single, working women (three of them mothers) tell their stories. But he smiles a lot, showing off his wide, white grin, just like the fox in the hen house.
Governors Sebelius (Kansas), Napolitano (Arizona) and Gregoire (Washington) all tell their stories -- Gregoire was raised by a single mom who was a short order cook, for example. But the most compelling story is Governor Ruth Ann Minner's of Delaware. In 1972, she was a secretary in the Delaware governor's office. Today she is Governor. Forty years ago, her husband died suddenly of a heart attack; she had to raise three boys on her own, at one point with only three dollars in her pocket. The women the Obama Campaign brought in from around the country have similar hardscrabble stories -- if they have not as yet ended on such a note of achievement as Governor Minner's. For two of the women, the struggle to get an education is paramount. "I know what my husband is gonna do -- he's gonna invest billions in education," Michelle Obama says to these women and to the audience. Before the American economy worsened this past spring, and before gas prices spiked above $4 a gallon and therefore energy became the focus of the general election, Barack Obama used to talk a lot about education. It's interesting to hear, albeit from his wife, that he still has it very much in mind. Billions is a serious number.
Clinton, yes! Pelosi, no! And Michelle?
The Emily's List afternoon tea, "celebrating the power of Democratic Women," has been sold-out far in advance -- not surprisingly, since Hillary Rodham Clinton is speaking and Michelle Obama is a "special guest." Rushing from the Brown Palace Hotel, where The Huff Po has just hosted a luncheon (more on that later) for the Sheraton, I pass a clutch of Hillary supporters milling about in a spate on the 16th Street Mall. Despite the anti-war protesters (undoubtedly, some Code Pink women in there, but I don't spot any bright color) and Obama placard-wearers in the mix, the level of excitement is low. The street theater is as funky and amiable as anything you might see at the corner of Powell and Market on a bright San Francisco Saturday noon. The street protest and theatre in its own way is a part of the Big Tent picture that the Democrats are showing here in Denver.
Fundraisers -- including all ladies' teas -- are not as posh as you might imagine. Typically, the subterranean ballroom is red-carpeted and poorly-lit. Hundreds of women stand, many wearing high heels, in the middle of the vast space. Typically, there aren't enough chairs -- very few indeed -- for the frail elderly among the women. They have been waiting for awhile when I arrive. Out in the foyer, beyond the security perimeter, sits a long buffet table set with white-bread tea sandwiches, brownies, cookie bars and cake. So much for all the advance press that the 2008 Democratic Convention events would serve only healthy and mostly regional food. We "comfort food" lovers needn't have worried. Except for in the Huff Po Oasis (more on that later, too), I have yet to see a heart-healthy spread. At the Pepsi Center, for example, the past two nights delegates and press have scarfed down hot dogs, barbeque, fish and fries -- fries, fries and more fries. At the CNN Grill across the plaza from the Pepsi Center, the patio fare, in addition to anything that might quench the thirst of a weary conventioneer, including the CNN special brew, is the CNN special potato chip, nuts and olives.
Of course, five hundred women didn't make their way through street protesters and clogged traffic to the Sheraton in order to eat brownies. They came to hear Hillary Clinton, who speaks only briefly -- likely conserving her voice and her message for the Convention floor later in the evening. She focuses on the role Emily's Listers play in electing and supporting Democratic women in Congress. "You've raised tens of millions for Democrats," she says to her listeners. And the women they have helped to office have put "more cracks in that glass ceiling." She urges the women to keep working towards that filibuster-proof majority that Washington Democrats need. She assures the women that "the President and the Vice-President will work on behalf of an Emily's List agenda." This is just about the only reference she makes to Barack Obama, although she compliments Michelle. "With Michelle Obama, we're gonna have somebody who will answer that phone!" she says. Does she mean "in the middle of the night?" -- unclear. (In a morning conference call, the Obama Campaign has said that Hillary spoke to Michelle after her speech Monday night and complimented her.) Senator Clinton refers briefly to her long campaign for the Democratic nomination. "It's not just politics, it's personal," she says, in explanation of her decision to run. "You have no idea where the path will lead," she adds, and some of the women laugh.
When Hillary Clinton first enters the room, she receives a level of applause and accolades I have seldom heard on the campaign trail. As Nancy Pelosi is speaking, following upon Hillary's remarks, many of the attendees depart. Soon there is a steady stream of women leaving the event. Less than half remain to hear all of Pelosi -- much less Michelle Obama, who is the last speaker. Perhaps these women feel that they have some of Michelle now, having heard her Monday night. "A majority of the delegates here are women," Pelosi says in her soft voice. But she has lost her audience. Maybe they have engagements elsewhere, as I do. Outside the ballroom, a line of African-American women are waiting to pass through security. They have been watching the big screen TV in the foyer and waiting for their moment to enter the ballroom to see Michelle Obama up close and personal.
The Huffington Post's mini day-spa, the Oasis, is one of the hottest venues in Denver "to see and be seen" -- literally, if watching one of the more attractive members of the fourth estate get rubbed down on a massage table is your thing. The Oasis is at one and the same time very New York -- a crush of people using a very small space for many purposes -- and also very L.A., with the New Age music and counseling on relaxation and spiritual being. When I arrive for my afternoon facial and massage, the Oasis is packed with pretty young things chatting and pecking on laptops, standing against the walls, sitting on the faux-finish tree stump stools and on the floor. A video crew pushes in and out, intent on taping the famous faces and voices that drop by. In the tiny adjacent massage room, I plop down in one of the two easy chairs for a right hand massage while I work my blackberry with my left. Suddenly I'm no-caps archy, texting back and forth with my editor John about my afternoon post while next to me on the massage table Ari Melber of The Nation gets a body massage and tips on relaxation. Then it's my turn on the table, and I'm spritzed with orange and rosemary oil before the massage, which is fabulous. It feels like baby seals are slipping and sliding up and down the bottoms of my feet.
The moment passes all too quickly. My masseuse suggests a green shake (kale, collard greens, parsley and cucumber). A hostess offers a tray of sesame seed-crusted something or other. Tofu skewers? Thinking I might linger for awhile, I take a vitamin water and perch on the edge of a stool with my laptop in the main room, where a second massage table has been set up. Another journalist is already succumbing to the pleasures of the table. Lots of guys are hovering now, for Darryl Hannah is on scene, doing a video shoot behind a closed door. "Madam, move that bag!" an Oasis scheduler barks at me. "Darryl is coming out!" Sure enough, the door flies open and Darryl lopes at a clip from the Oasis. The guys, in a bit of a dither, continue to buzz. Deciding that the lovely Oasis is too noisy for serious work, after all, I rise and with a puzzled glance at the rather intimidating man and woman in old-fashioned white lab coats, standing in the doorway to another inner sanctum, I depart for the fourth floor and its quieter work space.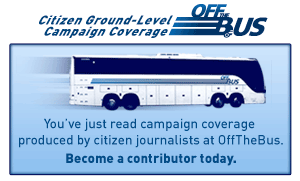 FOLLOW HUFFPOST