HENDERSON, Nev. -- Barack Obama has a sweet rally today in Keehi Lagoon Beach Park and then a week in Honolulu with his family. John McCain is quipping about the life-sized butter cow making her debut right about now and then taking the speaker's box at the Iowa State Fair. Just a year ago, Hillary Clinton was the Queen of the Fair, reigning over the summer candidate debates, shoring up her claim to inevitability. Today she is stumping for Barack here, where it is 110 degrees in the shade. What a difference a summer makes.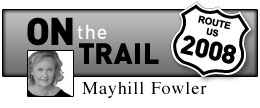 Nevada during the lead-up to the caucuses here is where acrimony -- the real thing, as opposed to mere squabbling -- broke out for the first time between the Clinton and Obama campaigns. Who can forget that harbinger of unscripted moments-to-come, Bill Clinton's meandering story about witnessing casino voter suppression? The Barack Hussein Obama robo-calls? The failed lawsuit over the special caucus rules for casinos? David Plouffe's accusations of intimidation and disenfranchisement at caucus sites? The post-caucus complaints and threats of lawsuits and countersuits?
The women of Henderson certainly haven't forgotten, and they're out here in the noon heat for Hillary. Anna and her daughter Olivia call themselves Undecideds. Anna has brought with her a woman warrior sculpture she has made for Senator Clinton. The Amazon's arrow quiver is lettered "18 million strong." Later, Anna whispers that she is a member of PUMA (Party Unity My Ass) and will vote for John McCain. PUMA has a strong presence here today. Jan, a local leader, is also a member of Democrats for McCain. Irene says, "I'm not for Mr. Obama. I'm for Hillary Clinton!" Irene was a precinct captain for Clinton, and she hasn't reconciled to the way the media treated her candidate. "My Mom was Rosie the Riveter -- how could I be for anyone but Hillary? She's a woman -- she can multi-task!" Women within earshot laugh appreciatively.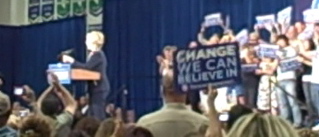 A few of the women standing in line say they will eventually change parties. "I'm voting for John McCain and switching sides. I'm becoming a Republican -- even if my husband won't," Wendy says. Her husband, Chris, doesn't appear discomfited by her assertion. "You just don't throw your grandmother under the bus like that," Wendy says, referring to Senator Obama's remark about his grandmother in his Philadelphia race speech. Others braving the heat to hear Hillary aren't quite so fierce, but indecision is the mood of the day. Barbara and her husband, Jim, say that this event, at Henderson's Green Valley High School, is their seventh of the long campaign. They, too, are Undecideds. "We haven't totally seen the connection yet, between Hillary and Obama," Barbara says. "We're looking for that sense of connection."
Will these dozens and dozens of Undecideds hear Hillary make that connection for them today? Green Valley is but the latest of hundreds of school auditoriums Hillary Clinton has seen as she stumps for her one-time opponent. How does she do it? Will she be thinking about Nevada last January? Although in the sky over Henderson planes descend minute-by-minute to land in Las Vegas, this bedroom community, despite the aspirational names of its new-carved streets -- Desert Dawn, Deer Meadow, Paseo Verde -- still wears an air of desert desolation.
The applause has been fitful for Obama all through the speakers -- the volunteers and the local politicians -- who precede Senator Clinton, who enters to enthusiastic applause. "We are unified and prepared to go forward together," she says of the Democrats, as some of her hardcore supporters call out in protest. Hillary rides over the shout-outs and begins to win over her audience with humor. "I want the Republicans to call a press conference and apologize for the last eight years!" Now the Obama supporters in the audience catch her mood and take over from the doubters. Many of these supporters are African-Americans who call out in response to each of her lines.
Hillary reminds the audience that there have been three Democratic victories in the last ten presidential elections. "Two out of those three victories were by somebody I know pretty well," she says. She reminds her audience that, given those numbers, they can't take victory in November for granted. "President Bush and Senator McCain are two sides of the same coin, and it doesn't amount to a whole lotta change," she says to great applause. Hillary is buoyant. Unlike in Unity, N.H., she looks rested and happy. Even if her face and voice are all campaign persona, is it enough for the Undecideds to feel that she is truly connected to Obama?
Clinton quickly goes through Obama's proposals for health care, child care, raising the minimum wage, equal pay for equal work, and respite care for caregivers. On each of these campaign topics, the same men in one section of the bleachers shout out. Whether they are plants or merely fervid fans, these Obama supporters drum up enthusiasm in the crowd. Whether or not many in this group of 500 or so will go out door-to-door this weekend the way the Nevada Obama Campaign is asking is doubtful. But the gradual shift in mood from the wait line to the end of Hillary's speech would seem to show that die-hard Hillaryites can at least be persuaded to think about Obama.