Yesterday from dawn until well into the night, from the moment songbird Communications spokesperson Dan Pfeiffer announced the first super delegate of the day's countdown, Barack Obama and his staff embraced a long sweet moment. It was a public celebration in the tradition of an old-fashioned Fourth of July, the kind that began with prayers and parades and speeches and ended with fireworks. But this is now--to use one of Obama's favorite adverbials. So the victory party rolled out on the internet and on TV, through press and team emails, culminating in a quick fly over from Chicago for a rally with 14,000 supporters in St. Paul.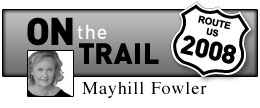 St. Paul was the culmination of an astonishing year and an amazing journey. A year ago last June, most of the people I interviewed had never heard of Barack Obama. The folks in the know--the insiders in the Democratic Party--were signing up and lining up for Hillary Clinton. The long series of Democratic debates, which Senator Clinton would dominate, was just beginning. Down in the polls in June, Senator Obama, largely because of the debates, would fall even further, until well into autumn and early winter he was trailing "the inevitable" Clinton twenty points and more. But last June was also the beginning of summer camp season. The Obama Campaign had a caucus plan, which was part of a farsighted strategy team members called the long hard slog, delegate by delegate; and that plan would require a trained grassroots army. The seeds of Obama's victory, his winning the Democratic nomination, were planted last June in Camp Obama as it began to mobilize weekend after weekend across the country. Even those early recruits, however, girded themselves for defeat. They thought they and Obama might not win the first time around; they consoled themselves with the fact that they were putting in place an organizational structure for a progressive future. How many people really believed that victory--not to mention the first African-American presidential nominee in a major U.S. political party--was only a June away? On the one hand, success has come slowly, after the mother of all nomination battles; on the other hand, it has come fast.
The inexorable delegate march of Tuesday, June 3, 2008, began early in the morning CST.

5:37 AM Michigan superdelegate declares for Barack Obama--proof, if any were needed, that politicos are early-birds. 6:55 AM Missouri super D. 10:45 AM Springfield Republican red rover comes over. 11 AM Rep. Charles Kilpatrick. 11:16 AM Debbie Dingell and Rick Wiener of Michigan. 11:57 AM Clyburn brings a posse to the party. 12:41 PM Ohio and Maine, singletons. 1:48 PM Massachusetts delegate from Chicopee. 3:33 PM Mississippean. 3:42 PM Michigan is on a roll. 3:55 PM Bob Graham of Florida climbs aboard. Who cares that he's not a superdelegate? The more the merrier. 4:10 PM The Edwards Ten. 4:16 PM Kamil Hasan of California. And somebody from D.C. Obama is 16.5 Delegates Away.
4:32 PM Florida super D declares. 4:37 PM Congresswoman Maxine Waters switches sides. Twelve away. 5:11 PM Kansan. Eleven away. 5:27 PM Bel Leong-Hong of Maryland. Ten away.
By now I'm in the Xcel Center in St. Paul along with hundreds of fellow press. Sitting next to me at a long press table is a Minnesota attorney who blogs for DailyKos. The HuffPo has long since called it a day, so no live blogging for me. But here is what I wrote as I pretended that night owl enthusiasts were hovering over their computers waiting for my every word--as indeed seemed to be the case for the guy from Kos.

In St. Paul, where Senator Obama will speak to a crowd tonight at the Xcel Center ... the lines of supporters wound round and about downtown by 3 PM. At least 500 of the national and international press are streaming in. A hour before the doors open, Jessica Yellin of CNN is already in place. The Japanese press occupy an entire press table for twelve. Amy Klobuchar wanders by to say hello. Next to me, a neophyte cuts his teeth on the event for Daily Kos.
The rally at the Xcel is classic Barack. Taking a page from the Lincoln playbook, Senator Obama is stepping on the toes of John McCain by appearing here tonight, in what will be both the event that celebrates the moment he reaches that magic delegate number 2118 as well as the unofficial kick-off of his national campaign. In 1858, Lincoln campaigned against Stephen Douglas by giving a stump speech immediately on the heels of Douglas, in town after town in Illinois. Obama is doing his mentor Lincoln one better by upstaging McCain in advance, for the Xcel Center will be the site of the Republican National Convention come September.
6:53 PM Obama is nine delegates away.
The Drudge Report gets copies of Obama's and McCain's speeches tonight, even before the campaign press HQs can get the embargoed remarks to the press. In cyberspace Obama proclaims "I will be the Democratic nominee for President of the United States." In an hour or so, Senator Obama will say the same himself. Presumably.
7:16 PM Pennsylvania Rep. Brady Backs backs Obama. Eight away. Oh what the hell. Clearly Senator Obama has the nomination. Any minute now AP or CNN or some such will declare the Senator has his delegates.
8:10 PM The Maestro enters. Full court press. Who's that? Who's that? A symphony of languages asking the same question. That would be David Axelrod.
8:21 PM AP calls the Democratic nomination for Barack Obama.
8:25 PM Peggy Noonan puts on her make-up. Oh my God is that perfume? No. Lipstick.
It's getting hard to concentrate on the solemnity of the occasion. Apparently, Senator Obama is going to say that "I am a better candidate for having had the honor to compete with Hillary Rodham Clinton." Indeed he is. An hour after the polls have closed in South Dakota, Senator Clinton is up 13 percent in South Dakota. Not that it matters. But I keep thinking about all the fine Dakotans I met and their faith that somehow Senator Clinton would emerge victorious.
8:53 PM The networks call South Dakota for Hillary Clinton.
Richard Wolffe, in odd but hip press attire (passable suit jacket and grungy pants), is wandering about working the press pen.
Hillary Clinton is speaking in the Bearcat Gym in New York. Kit Seelye of The New York Times blogs that Clinton's supporters look grim. Earlier, Andrea Mitchell, bemused at the lack of wireless in Bearcat, seems to be determined to make the best of an odd evening in the Big Apple.
Obama Campaign volunteer Elizabeth, who looks like Jen Psaki's younger sister, marches to and fro with a handmade sign. "5 no 2 minutes to speech."
9:07 PM Barack and Michelle Obama take the stage. Michelle is wearing her pearls. The couple kiss to sweet applause.
9:10 PM Senator Obama commences with a series of thank-yous. To David Plouffe, "who never gets enough credit." (Or some such grace note. Will have to check audio later.) To his grandmother, out in Hawaii.
9:12 PM Barack Obama declares that he will be the Democratic nominee--to A DEAFENING ROAR.
And so quickly the moment passes. Senator Obama moves from a commendation of Senator Clinton to an advance on Senator McCain. "John McCain has spent a lot of time talking about trips to Iraq. " Obama thinks McCain should take a few more domestic journeys. "Maybe if he went to Iowa . . . Maybe if he went to Pennsylvania. . . ." We can all rest assured that John McCain will be going to Pennsylvania.
Related:
Read more from Huffington Post bloggers on Barack Obama clinching the Democratic nomination for president. Watch the full speech here.