Ah, the infectious chaos of the campaign trail! I'm on a yellow school bus groaning up yet another New Hampshire hill. Or are we in Vermont? Unclear. The bus driver doesn't know the way to Unity. None of the local Obama volunteers know either; none of them have ever seen the town of Unity. A black bear has just lumbered across the road. Naturally, this citing leads to various bear and moose stories among the volunteers. Back in Claremont we had passed the lodge of the Order of Moose. Also the local emporium for archery, paintball and taxidermy. You'd be surprised how many little towns across America have these hybrids. I've passed a number on the campaign trail over the past months. Their presence tells you something straight off about a place.
As the bus downshifts behind a velocipede, one of the fourth estate sicks up in the seat across. Turning towards the window, I spot another yard sign for John McCain. The McCain signs are exactly the same colors and layout as the the Hillary signs were that dotted lawns across the country in the spring.
Finally, we pull up in a field beside the local elementary school, and another casualty is rolled off on a gurney to the row of waiting ambulances. Every campaign event has its medical emergencies. Even as I'm writing, there have been two more. We're on the top of a hill among some mountains--not the White, not the Green. Is that Mt Monadnock? Again, the local volunteers don't know. The emcee for the rally has just announced an Arlo Guthrie song. "We haven't had so many people in these parts since Arlo played August Acres," he says. Two-and-a-half thousand press people have signed up for the Clinton-Obama love fest, and the press compound has so many long tables you'd think not presidential Woodstock but the SAT or the BAR exams was about to commence.
Organization has kicked in, and we have cold coffee and bottled water. The trek has had its wry moments. The address the Obama Campaign gave the press for the bus-in meet-up at Twin States Speedway put a lot of us in the front yard of a bemused (Vermont? New Hampshire?) family. But here we are, at last. Reporters are greeting old friends and discussing Obama's veep choices--who else is out there? They're also rehashing last night's Clinton fundraiser event in D.C. This morning CNN ran a poorly-lit video (cell phone?): Hillary, in a bright high voice, promises to work for Barack "during the fall election." (So what's she doing this summer? A trip with Chelsea perhaps? Oh, wait, she'll be holding more fundraisers.) "We're one family," she says to her supporters. Her voice is her brave face. Behind the persona, supporters tell me, she is shaky and tearful and hasn't found her equilibrium. What she should be doing post-Unity is taking a lot of downtime.
"I'm here to ensure that New Hampshire has a special place in Barack Obama's heart as well," Senator Clinton says after first proclaiming her love of the state. Here, if anybody needed clarification, is the role she will play come September: keeping the states she won in the Democratic fold. "Each vote cast [in the Democratic race] was a prayer for our nation," she goes on to say. This is "an America where we reach beyond the boundaries of color and creed . . . to embrace all of our people." Bringing the debate to the high ground where Clinton and Obama supporters meet is a moving moment today in this hot sunburnt field. Likely this will be the rhetoric she will employ on behalf of her fellow senator. Now she is talking about a World War II vet, a man who once came back from "a daring mission," and then over half-a-century later spoke simply in eloquence about his support for Hillary. She has spoken often of this man during the Democratic race; it is poignant to hear her this afternoon dedicate the veteran's faith in her to Barack Obama,
"I strongly urge you to reconsider," she says to her supporters who might be considering a vote for McCain. Quickly, she yields the podium lectern to Senator Obama.
"As someone who took the same historic journey, I know how good she is, how tough she is, how passionate she is. . . ," Obama says. They are both here "to improve the lives of ordinary Americans, no matter how biblical that fight may be."
"She rocks, she rocks." Obama says, before complimenting Bill Clinton, as well. "We need them [Bill and Hillary] badly, . . . their service and their vision and their wisdom." He alludes to the bias Senator Clinton experienced during the race and says, as he often does, that Hillary has paved the way to a better life for his daughters. Speaking about tough women, Obama says, "They can do what the boys do, and do it better, and do it in heels!"
Obama moves into the "issues and policies" part of his stump speech. He knows this New England audience well and takes it up a notch on the promise to end the war in Iraq. I'm not sure how many spectators are here -- and clearly, based on the enthusiasm, most are supporters. There are at least a couple thousand folk who were lucky enough to get a ticket online. According to our bus volunteer, the e-tickets went within hours.
Obama continues: "Senator Clinton and I were talking as we flew up to New Hampshire today, [and we agreed that] behind all the bickering . . . dominating cable news . . . Americans are fundamentally generous and hard-working, with an awful lot of common sense." He ends by saying, "But when you start traveling around the country, you can't help but feel optimistic . . . about the common hopes and common dreams. . . . We [candidates] tap into the fundamental goodness of the American people."
And so it's over fast. Looks like an afternoon thunderstorm is rolling in over the stand of oaks. Hasn't been real kiss kiss. But it's a beginning on the high field. The Fourth of July approaches. Flags are out on the wooden porches around here.
Next week: Back to Pennsylvania, with McCain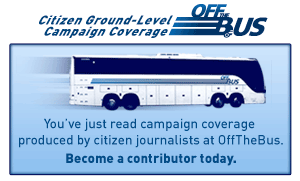 SUBSCRIBE TO & FOLLOW THE MORNING EMAIL
The Morning Email helps you start your workday with everything you need to know: breaking news, entertainment and a dash of fun. Learn more