Here I am in New York laughing along with Jonathan Zittrain, of Harvard Law and the Berkman Center for Internet & Society, as he talks about the day a single incident in Pakistan caused the crash of YouTube worldwide. "There's the thin nerdy line between us and chaos," he says. This is Zittrain's light moment, for mostly he is lecturing about the Dark Side, Wikipedia specifically, and how a small secretive group of Wikipedians shapes what appears to be user-generated content. So, dear readers, you are wondering what the heck I'm doing hanging out in the Big A listening to a super-smart conspiracy theorist instead of reporting back to you from the campaigns. I've been taking a break since the primaries, honoring some personal commitments (code for promise to husband to take weekend vacation), tending to business and dying a little bit inside every day I'm away from the trail.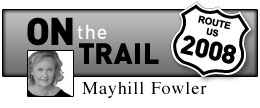 Friday I'll be back with Obama and Monday I start following McCain, but for now I'm at the Personal Democracy Forum 5th annual conference, devoted to "the big picture of how politics is being reshaped by internet-powered mass participation." I've been invited to speak on a panel about "Reinventing Political Media: The Rise of Semi-pro Journalism." Not surprisingly, few of the media being "reinvented" have shown up for what sounds like a dousing of Chinese Cultural Revolution-style re-education. Nevertheless, plenty of media are here, including Jose Antonio Vargas of The Washington Post, Ben Smith of Politico, Ana Marie Cox of Time / Radar, Tom Bevan of RealClearPolitics, Jane Hamsher of Firedoglake and Amy Holmes of CNN, as well as Arianna Huffington, who talks with Chuck DeFeo of Townhall.com.
Arianna and Chuck are the speakers at one of the morning plenary sessions on the first day. (Now I'm blogging postmortem.) The growing transparency and openness in the political process is a theme of the conference, and Chuck addresses it when he says that "the ability of a limited few to control [the dialogue] for a limited time--has been cut." Arianna says that there's "a lot of good about old media," and she gives accuracy and fact-checking as examples. (I have to say, however, that I haven't found as much of those in mainstream campaign coverage as I would have predicted a year ago.) She contrasts "the obsessive-compulsive disorder of the new media" with "the ADD of the old media."
PDF's first day, more specifically devoted to politics, turns out to be less interesting than the second, full of philosophical discussions and predictions about internet strategies and tools. (Tomorrow I'll tell you more about Zittrain and Tuesday.) Of course, maybe I find Monday less interesting because I am a nervous wreck about my panel, the last of the day. Pacing up and down the shopping mall below Jazz at Lincoln Center, the PDF venue, I lose track of the time while rehearsing my remarks and therefore arrive late to the session before mine in Rose Hall. I come in upon a discussion of me--Ben Smith is talking. I feel like I've just rolled up in the tumbril to be only partly decapitated, because before I can get the gist I have to leave to meet Amy Holmes so that we can chat and be miked before our own panel. But Amy is late, so I return to Rose Hall. Now Ben Smith is talking about how Obama staffers and he IM each other throughout the day. Jose Vargas and Ana Marie Cox admit to same, if less enthusiastically. I wonder if this is because they aren't as tight with Obama staffers but want the audience to know they are cool, too. For my part, I'm taken aback. I don't think I could cover the Obama Campaign if I were IM-ing David Axelrod. I think back to the time in Texas when I told an Obama staffer I had grown too close and needed to keep a distance from then on. But to each reporter his or her own. (A discussion about male compartmentalizing versus female empathy could power a new website.)
Finally, I'm about to get it over with. Amy Holmes and I have an intense discussion about Barack Obama before we go on, and that's relaxing, strangely. Amy and I are together with Jay Rosen, who started OffTheBus with Arianna Huffington, and we're moderated by Brian Lehrer of WNYC Radio. Jay has prepared some beautiful remarks about the nature of press and the press tribe. He describes the journey the press tribe is making. Although I'm moved, for I've never known Jay to be so eloquent, I respond by saying that I'm the wayfarer Jay has picked up by the side of the road. Wayfarer seems apt, for it seems to me that I've shared a year's travels while never feeling that I am one of them. In the end, I jettison most of my prepared remarks because Ana Marie Cox has given me the perfect opening.
Ana Marie says that supporters got tickets to Obama rallies through their email addresses. Would that this were true, I say, because that would mean that every Obama supporter has an email address and easy access to the internet. Although tickets via email were common at the beginning of the Democratic race, by Texas most tickets were given out by the local Obama field offices. This was the only way many African-Americans, especially older people, could get their tickets. And this was also a way to control the numbers at events--something upon which the Obama Campaign was intent as the race went on and large rallies became a less and less effective means of outreach.
This little correction, a fact-checking of the received wisdom, is what I do. This is what I do well, and this is my best contribution to the coverage of Election 2008, I tell the audience in Rose Hall. I'm not sure what all else I say beyond a few comments about how neither the traveling press nor I had done a good job of covering the Obama bus tour through Pennsylvania and why. Somehow the hour and fifteen minutes fly, and Amy and I are tapping our painted toes and checking our watches, waiting for Craig Newmark to finish a circumlocution about his plans for Obama. He is speaking on PalTalk TV. Our interviews are next, first mine, then Amy's; she has a train to catch, I have a party to find. A Canadian broadcaster waylays me on my way out--maybe tomorrow I tell him, but I have to find my people--my God, what have I become? I indulge in a moment of mordant amusement about Craig Newmark's new mission to shepherd Barack Obama just as he does Craigslist. Barack Obama has a cross to bear, and happily I am no longer it.
Tomorrow: A Wayfarer Learns A Lot from Some Seriously Smart Techies, Appears on Al Jazeera and Finally Becomes A Journalist
SUBSCRIBE TO & FOLLOW THE MORNING EMAIL
Start your workday the right way with the news that matters most. Learn more