ST. PAUL -- The hurricane has been downgraded -- and I'm not talking about Gustav but the Republicans' love affair with Alaskan Governor Sarah Palin, their party's presumptive vice presidential nominee. Unalloyed elation didn't last the holiday weekend. Friday in Dayton and Sunday in Minneapolis, Republicans were telling me, again and again, that Palin had lifted their spirits and hopes both for November and for the future. But the story today that Palin's seventeen year-old daughter is pregnant and soon to marry is a harbinger of storms on the horizon. Likely this revelation isn't the last about a Palin. However much people may sympathize with the Palin family here, and many do, voters tend to feel they have enough problems of their own without adding those of a potential vice president to the mix. Sarah Palin may turn out to be too tempest-tossed.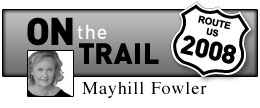 The Governor of Alaska continues to be the talk of the town. Sunday evening at the Minneapolis Convention Center before the opening night delegate party, a small band marched through the doors chanting and waving flags. "Oh my God," gasped the volunteer with whom I'd been talking. "Protesters!" "No, no," I assured her, "they're not saying 'Fire It Up!' but 'Gear It Up.'" This was the Alaska delegation, surprised and pleased to be the center of sudden attention, graciously willing to speak with each of the reporters who thronged them. Dave Donley, a sixteen-year veteran of the Alaska legislature and now retired, talked approvingly about Palin's toughness. His wife Jamie, even though she had been pregnant at the time, had volunteered early for Sarah Palin in her race for the governorship. "We call her Sarah," Rex Dennis (his two first names) said. "Everybody does. Politics -- it's personal in our state. There's only 650,000 of us. We got the land -- Alaska is one-fifth the size of the United States -- but not the population. Plus she's been more accessible than past governors. She's held these governor's picnics in small towns; she's mingled. She's cut up the watermelon."
Delegate Rex talked about the unusual foreign policy experience of an Alaskan governor. "Alaska has trade relationships with four or five countries. Anchorage International is the second largest cargo airport in the world, because we're only seven air hours from anywhere." Both Rex and Jennifer, also a delegate, told the anecdotes, already iconic, about Palin's refusing the gubernatorial cook and the personal airplane. "She shows what you can learn in small-town America," Jennifer said. "And more importantly she's revitalized the Republican Party."
Monday, while the convention delegates engaged in necessary party business and launched the Hurricane Gustav Relief Effort (and surely it was a relief that President Bush and Vice President Cheney now had a good reason to absent themselves from St. Paul), the media was left to contemplation of larger policy issues and of itself. During the day conversations and panel discussions circled McCain's Choice. At the Politico/Yahoo!/Pioneer Press Convention Conversations breakfast, Tucker Carlson, asked about Sarah Palin, gushed, "I am blinded by love. I love women who hunt and fish." Any woman, Tucker said, "holding a thirty-pound salmon, I love you!" Peggy Noonan confessed she'd been curious about Americans' responses to Palin. "I do think the choice of Sarah Palin was a real Hail Mary pass. Hail Mary passes -- they usually don't work. But when you see one that does work, it's a thing of beauty and a joy forever."
Sarah Palin even came up in Monday's highbrow "Conversations about Politics and Policy" at the Hubert Humphrey Institute of Public Affairs at the University of Minnesota. In a panel discussion on climate change and energy security, former New York Governor George Pataki called Governor Palin "an energy expert," as part of his observation that leadership on climate change begins at the state level. Moderating the discussion "Conservatism Today," E.J. Dionne asked his panelists to say something about McCain's choice of Palin. David Frumm of the American Enterprise Institute said that his emails had been running ninety-eight to two, for and against, and that such a choice as Palin, with its de-emphasis on the issue of national security, would have been unthinkable in 2004. "There is something about this choice that is profoundly emotional," Frumm added. Ross Douthat of The Atlantic reminded everybody that he'd touted a McCain-Palin ticket months ago. "As a pro-life conservative myself, I'm intensely interested how this will play out," Douthat said. "You're [Palin] living the pro-life message but profoundly alienating a lot of people." On the other hand, "she's lived a lot of the challenges people struggle with." Vin Weber of the National Endowment for Democracy ventured that "so far she's helpful." Seeking perhaps to bolster this lukewarm endorsement, he added, "I was impressed with how my two teenage daughters reacted to her [Palin] in Dayton." (Clearly, Weber had not been keeping up with the press alerts on his Blackberry.)
All these Monday panelists tempered enthusiasm with grave reservations about Palin. Even the smitten Tucker Carlson called McCain reckless and said that "this whole thing could blow up." David Frumm said first thing, "I've been very worried by the Sarah Palin choice. . . . I really hope McCain has done his homework on this election -- but I suspect he didn't." Frumm's fellow panelist Mickey Edwards, currently at Princeton and the Aspen Institute, suggested that McCain's own polling is showing that the race is not nearly as even as the national polls indicate and that therefore he knew he had to take a gamble.
Very much in form, Peggy Noonan in the morning pivoted gracefully from quoting Keats to flicking the knife. The Democrats need to be thinking, she said, "We gotta kill her -- and we gotta kill her quick." But Monday didn't play out Noonan-style. If anything, Barack Obama came to the defense of Sarah Palin and her daughter by reminding everybody that he was born to a teenage mother. The glory of Denver, however long ago the Democratic Convention now seems, is telling. In contrast with the high excitement in the unfolding of the Democratic pageant, the announcement of the pregnancy of the unmarried seventeen year-old daughter of the Republican vice presidential candidate is a convention downer. St. Paul this far is not what anybody expected, and so Election 2008 continues to surprise.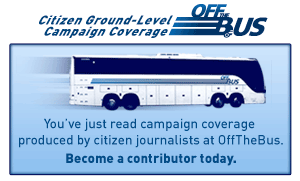 FOLLOW HUFFPOST