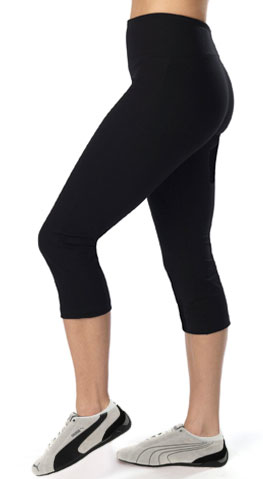 When Kate Hudson, Cameron Diaz, Blake Lively and all three Kardashian sisters are just the beginning of a long list of bold-face names wearing the exact same thing, it catches my attention. This was the case with the Tummy Control Capri Pants from The Girls. I needed to find out for myself if these pants that are intended for workouts, but can be worn as casual wear, are worth all the hype. (It's always my initial reaction to be skeptical about anything too popular or worn by all three Kardashians.) Shimmying them on feels more like stuffing pork sausage into casings than slipping into cozy leggings, which is perfectly fine, because once you've jammed your legs in, the effect is amazing. Thighs are streamlined, the tum tum looks like you've only eaten cucumbers for the past week, and the toosh looks rounded and lifted, sans a single squat! The designers spent a lot of time studying fashion technology and the target areas women most want to slim (Buddha belly and saddle bags, obv!) and were able to make pants, skorts, tops and shorts that actually do that, using their trademarked Blu-Tec Control System. Ready for the best part? Nothing, absolutely nothing -- not the yoga pants, not the Bermuda shorts, not the slim legging -- costs more than $34.99. So this line has become my new obsession and now I understand why Kate, Cam, Blake and the KK sisters are such devotees.
SUBSCRIBE AND FOLLOW
Get top stories and blog posts emailed to me each day. Newsletters may offer personalized content or advertisements.
Learn more