Here are the things I needed when planning a girls' getaway for with my sister and her daughter: Sunshine, proximity to the Pacific Northwest and a sophisticated but kid-friendly atmosphere. So we packed our bags for Palm Springs. Upon landing at LAX, we picked up a BMW 6-series convertible, which I planned to review for work. This beautiful 2012 stunner fit perfectly with the theme of our trip. I was happy with the driving dynamics and the amazing gas mileage; my sister felt safe, stylish and was glad that my niece's booster seat fit easily in the back and my niece was happy as a clam even with the top down.
When driving from L.A. to Palm Springs, the Desert Hills Oulets are a must.... Unfortunately it was snowing when we got to Cabazon (that's right, snowing), so we kept our visit brief, as we were dressed for 70-plus degree weather, not snow. So we continued on to Palm Springs, stopping at Maracas Mexican for lunch (reliable, quick, tasty and they offer skinny margaritas to counterbalance the steak nachos). Then we popped into a few open houses (we're always window shopping!) and checked into the Colony Palms Hotel. Although I would not choose this hotel for children, it's a lovely choice for adults. (But kids may request to stay there, since The Hunger Games star Jennifer Lawrence recently did.) The outdoor seating areas and colonial decor are what really make this hidden oasis special. From the outside it doesn't look like much, but once inside, it's lush, private and relaxing. We took some champagne out to the fire pit to enjoy the outdoors without getting too cold. Other plusses: incredibly comfortable beds, mini-bar area that's well stocked with drinkware, great bathroom amenities from C.O. Bigelow and free coffee and newspapers by the pool in the morning.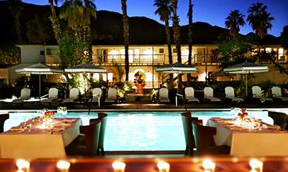 The next day the weather was more what we had in mind, so we started the day with a hike. That's one of my favorite things about the Coachella Valley--there are plenty of hikes to suit varying levels. Then it was time to head east 10 miles to the Palm Desert/Rancho Mirage/Indian Wells/La Quinta side of the Valley. This is the next area to develop. Whereas Palm Springs became a fashionable getaway for Hollywood types in the 1920s, Palm Desert saw its boom later in the mid century era. So we headed to Rancho Las Palmas resort in Rancho Mirage (after a mandatory stop at In N Out for lunch, that is). After quickly touring the beautifully groomed grounds, we walked over to Splashtopia, the waterpark with slides, a river equipped with innertubes for lazing/floating, and parked ourselves with magazines, cocktails and SPF. For dinner, we ate at the resort's Blu Ember, which I would recommend if you don't want to leave the grounds, but for the price, I would say venture elsewhere.
The food scene in the Coachella Valley is -- for lack of a better word -- unique. There are lots and lots of chains, plenty of delicious Mexican places, and a few good local spots nestled into strip malls. Often the best dining is at hotels and resorts (I had a memorable meal at the Riviera a few years ago) and there are plenty of L.A. and New York outposts (such as Norma's) to keep visitors feeling at home. If anyone has restaurant suggestions, by all means, please share them below! Or any other tips for enjoying the valley; with the Coachella Music Festival around the corner (starts April 13), it's prime party time in the desert.
SUBSCRIBE TO & FOLLOW LIFESTYLE
HuffPost Lifestyle is a daily newsletter that will make you happier and healthier — one email at a time. Learn more