When you go to 3rd Street Promenade in Santa Monica, CA, you can count on a few things: dawdling shoppers and tourists, street performers and the construction that dead-ends the promenade on the south end at Broadway. Oh, but that is there no more! Once upon a time there was a mall, anchored by Sears and a food court with Hot Dog on a Stick (to give you a taste of the quality of mall), but that closed years ago and for as long as many Angelenos can remember, it's been under construction. Now, opening today, is Santa Monica Place, a three-floor outdoor mall with ocean views. If you visit the mall, park in one of the free parking lots in the area. Do not valet. It took 35 minutes for my car to be delivered and when it finally was, the seat was sweaty from the valet's perspiring back.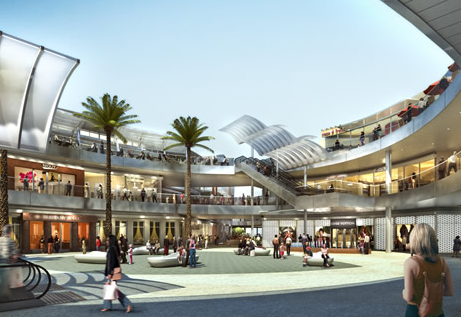 style="float: right; margin:10px" >
So once you park yourself, enter the mall from 4th St., 2nd St. or Broadway, and you'll find a mix of mid-level and high-end shops, including Tiffany, Burberry, Hot Topic, GNC, Betsey Johnson, Coach, Ed Hardy and Tory Burch. The biggest spaces belong to CB2 (Crate & Barrel's younger and very fabulous sister), Nike, Bloomingdale's and Nordstrom. (Here's a complete list of stores.) But what I recommend you go for: the food offerings and the view from the food court. This is the first mall in America where you can get your meal and sit in a cabana overlooking the Pacific. There are six sit-down restaurants and eight casual places, including the popular West Hollywood outpost, Pinches Tacos. Check each of the restaurants for happy hour specials -- you can sit outside, look at the sea, enjoy a mojito and then go tipsily buy furniture at CB2...and those my friends, are the makings of a good mall.
SUBSCRIBE TO & FOLLOW THE MORNING EMAIL
The Morning Email helps you start your workday with everything you need to know: breaking news, entertainment and a dash of fun. Learn more