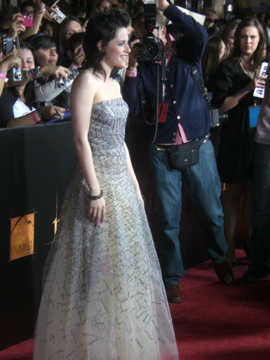 Monday night I experienced fan pandemonium (fandemonium): The New Moon premiere in Los Angeles. I've been to dozens of premieres -- the big blockbusters, a Harry Potter movie, A-list galore events -- and the fans last night put the rest to shame. Most of the stars said they were surprised at the devotion this group showed -- many Twihards had camped out since last Thursday, setting up tents on the sidewalks of Westwood, CA. "You are all completely insane," Robert Pattinson joked when asked what he thought about these hard-core devotees.
But that's what the film's stars, Pattinson and Kristen Stewart, both said was the best part about this night: coming to see the fans. Pattinson looked very dapper in a navy suit, while Stewart said she decided to mix it up and wear a gown for the first time (she chose wisely with Oscar de la Renta). The two arrived separately, with Taylor Lautner in between, and at the end of the arrivals. What's most striking about these stars is how devoted they are to their fans -- the same devotion the fans show them. Here are a few more highlights from the red carpet: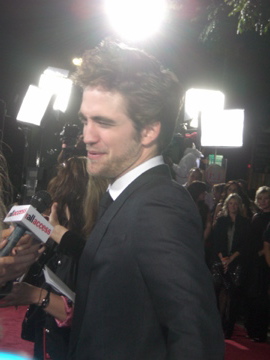 - Peter Facinelli, who arrived with wife Jennie Garth (in David Meister), was very excited to share the vampire photo-modification app on his iPhone: "You can actually transform your friends into vampires -- I'm so addicted to it," he said.
- Many of the cast's friends came out to support them, including Pattinson's Remember Me co-star Emilie de Ravin and Stewart's The Runaways co-star Stella Maeve.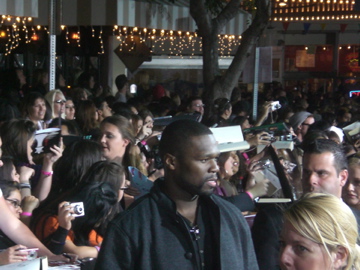 - 50 Cent dropped by. As did Joan Jett. And Richie Sambora. (Uh, music to my ears?)
- Nikki Reed is gorgeous and said she now sees familiar faces in the crowd of fans. "There's only a select group of people who make Nikki posters -- everyone makes Edward posters," the actress, who plays Rosalie Cullen, said. She wore a beautiful blue Burberry dress and Christian Louboutin shoes. She said, "It's depressing that I always wear black and I feel much happier and lighter in my life, and I know it's a cliche that my wardrobe reflects that, but why not!?"
- Jasper, a.k.a. Jackson Rathbone, equally loves acting and music. His band 100 Monkeys is about to release an album called grape and plan a 100-city tour. How does he fit it all in? "I don't sleep," he said, spoken as a true Vampire.
- Kellan Lutz chose a couple of fans from the crowd to come inside the Mann theater to watch the movie.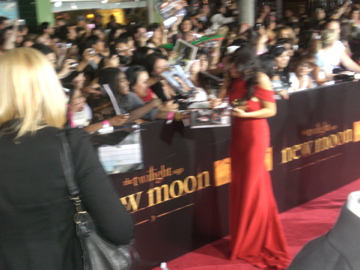 - Ravishing in red, Ashley Greene explained why she names Audrey Hepburn as her idol: "She was very influential and very iconic. She was very involved in humanitarian issues. She used her power for the better and didn't just sit in the limelight and do nothing. And she happens to be one of the most beautiful and fabulous women ever."
- Girls were brought to tears when Robert Pattinson signed autographs and took photos. If there's anything to take away from this evening, it's that the actors in this film are remarkably appreciative of the people who support them and do it with admirable humility.
Follow Meg Hemphill on Twitter: www.twitter.com/mhemp1