THE BLOG
A Clinton-Inspired, Easy Plant-Based Meal (PHOTOS, RECIPE)
Learning last month that President Clinton is getting healthy by following a plant-based diet has re-energized me. I've been eating this way -- meals based on whole grains, beans and vegetables -- for 12 years, since being diagnosed with invasive breast cancer.
I've spent a great deal of time since regaining my health working to get the message out there about how eating well can improve your life, so Mr. Clinton's recent promotion of this way of eating is very exciting.
Hearing his enthusiastic backing was enough, in and of itself for me, to be sure! But then I had the great thrill of being able to briefly meet the former president Sunday night when he came to South Portland, Maine, for a rally to support gubernatorial candidate Libby Mitchell.
I actually was able to shake his hand and spend a minute talking with him. He seems hopeful about continuing to eat healthy, sharing that he hopes it will allow him to have a heart stent removed at some point soon and to get off the statin drugs he's been taking for high cholesterol and heart problems.
Spreading the word about how eating healthy can reverse major health problems - and change peoples' lives for the better - is one of the most important things President Clinton will do in his lifetime. And that's saying something!
Meeting him and thinking about our conversation inspired me this week to figure out how I can help make it as easy as possible for people to try eating better. By necessity, I've been keeping it as simple as possible lately myself. I'm having some issues with my prosthetic leg (I also survived bone cancer and had my leg amputated 20 years ago) and am operating on crutches these days.
Because of President Clinton's inspiration I decided to teavh a plant-based cooking class at my local Cancer Community Center this weekend and obviously I needed to cook something really easy. So I created this simple, delicious one-pot meal. The total time to prepare and cook is 30 minutes, and it got rave reviews from my sister, Liz.
Give it a whirl ... and consider that if I can make this very healthy meal on one leg, you can make it even more easily on two!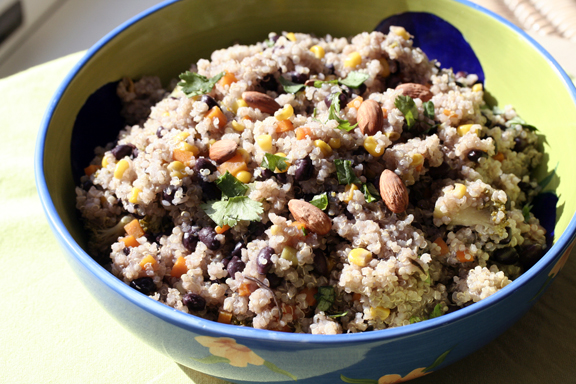 CLINTON-INSPIRED ONE-POT MEAL
1 cup quinoa (I just tried truRoots Pre-Washed brand ... even faster!)
2 cups spring or filtered tap water
½ cup chopped carrot
1 cup organic frozen corn
1 cup chopped broccoli
One 15-ounce can of black beans, drained (I use 365 brand from Whole Foods.)
½ teaspoon of The Maine Accent spice or other blend of spices
½ teaspoon chipotle spice
¼ teaspoon sea salt
1 tablespoon of dried arame seaweed, reconstituted and chopped
¼ cup celery, chopped
¼ cup chopped cilantro (or parsley)
Juice of 1 lemon or 2 tablespoons of brown rice vinegar
Optional garnish: ¼ cup almonds, chopped
To a 2½-quart pan, add pre-washed quinoa (or wash it yourself if using the regular kind), water, carrot, corn, broccoli, arame, spices and sea salt.
Bring to a boil on high, reduce heat to low, cover and simmer for 5 minutes. Add drained black beans, return to a boil, cover. Simmer for 10 more minutes.
Put into a serving dish and toss with cilantro and celery. Sprinkle with the lemon juice or brown rice vinegar. Garnish with chopped almonds if desired. Can be served warm or chilled.
Enjoy with a crunchy good-quality pickle (no sugar), a fresh salad or some steamed greens. I eat a lot of vegetables, so I'd add a few vegetables as side dishes.
Have lots left over? Buy a package of tortilla wraps, steam them, fill them, and roll up. Wrap individually in foil and freeze for lunches, or for a quick dinner at another time.
Besides this dish, I may make my class a dessert from my upcoming cookbook, A Life In Balance: Healthy Recipes From Maine and bring it along. I'm thinking maybe Masao's Blueberry Cake from Masao Miyaji, one of my guest recipe contributors and owner of Masao's Kitchen in Waltham, Mass. It's my absolute favorite healthy cake recipe!
Would you eat a plant-based diet or consider adding a few healthy dishes to your repertoire?
For more information on plant-based eating, please sign up for my free newsletter in the bottom right corner of my web site.

This Blogger's Books and Other Items from...