I was on the lookout this week for kids' favorites because a reader asked me about "quick, healthy, plant-based, kid-friendly recipes."
So I asked the expert, my friend Amie Hamlin, executive director of the New York Coalition for Healthy School Food. Amie quickly responded with a couple of tried-and-true favorite recipes that have been added to the menus of the New York schools involved in the organization's healthy lunch program.
Amie said she and her volunteers have served "Superhero Smoothies" (recipe below) to more than 1,000 children in elementary schools in the Bronx, Harlem, Ithaca and Syracuse, and all the children love it.
One of the reasons she serves this delicious drink is to turn children on to one of the healthiest foods in the world: kale. She has kids try the smoothie with their eyes closed and guess the ingredients. There is always much surprise when they see kale as an ingredient. In Ithaca, many children have told her that they now have Superhero Smoothies at home, which she says warms her heart. This makes a great dessert or afternoon snack as well.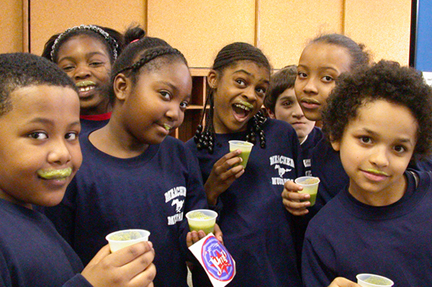 1 cup of pure pineapple juice
2 leaves of kale, stems removed
4 or 5 ice cubes
2 frozen bananas (peel first, then freeze in reusable container)
Place juice, kale, and ice cubes in blender and blend until greens are pulverized. Then add frozen bananas and blend till smooth. If you have a high-speed blender, such as a Blendtec or Vitamix, the ice cubes are optional.
 
Another kids' crowd-pleaser is "Three Sisters Casserole," a recipe contributed by Antonia Demas, Ph.D., who is on the advisory board of the New York Coalition for Healthy School Food and head of the Food Studies Institute. The ingredients in this super-easy-to-make and delicious recipe are perfect fall-harvest finds!
 
Three Sisters Casserole
2 cups cooked kidney beans (the schools make from scratch, but canned could be used)
2 cups corn, cooked or raw (the schools use fresh, but frozen or canned could be used)
2 cup precooked butternut squash (cubed and steamed for in 1" water for 20-25 minutes)
¼ to ½ cup maple syrup
1 tablespoon dill
 
Combine all of the above ingredients in a saucepan. Heat for at least five minutes until thoroughly warm. Serves 6.
This phenomenal coalition is having its biggest fundraiser of the year, the Healthy Food in Fashion Fall Gala, from 6:30-9:30 p.m. Wednesday, Oct. 12, at the New York Academy of Medicine in New York City. It's a great event where you can enjoy plant-based food and drinks from 24 healthy caterers, restaurants and beverage companies and hang out with numerous celebrities!
SUBSCRIBE TO & FOLLOW PARENTS
HuffPost Parents offers a daily dose of personal stories, helpful advice and comedic takes on what it's like to raise kids today. Learn more