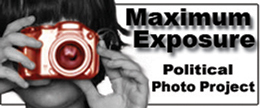 HuffPost's OffTheBus is teaming up with USC Annenberg's Center on Communication Leadership and the Institute for Photographic Empowerment to support citizens' coverage of the Democratic and Republican conventions. "Maximum Exposure" is the title of the project under which OffTheBus will be posting your photos from the Convention. Got photos or videos to contribute? Send them to campaigntrail@huffingtonpost.com, format images to 400 x 300 pixels, and please include captions.
-------------------------------------------------------------------------------------------------------------------------------------
Denver has been Barackified. The Democratic Convention will officially nominate Obama as their presidential candidate, so it's no wonder that his image can be seen on buttons, shirts and billboards. But pictures of the candidate are pervasive throughout the city, including a sighting of a rather convincing Doppelganger. In Denver, at least, Obama is a certifiable Barackstar.
Photo Credit: Christian Avard Rednecks for Obama

Photo Credit: Debra Lawler Lot's of craziness around here...

Photo Credit: Leonid Balaban Obama in a Bottle, August 25th

Photo Credit: Jacob M. Dahlke Obama merchandise for sale on the 16th St. Mall, 2:30 pm, Monday, Aug. 25, 2008

Photo Credit: Hillary Saviello Obama Cut-Outs in Denver

Photo Credit: Lonnee Hamilton This Barack lookalike was traveling on the Denver 16th St. shuttle with a TV news contingent from America TeVe Noticias 41, a Spanish-language station from Miami.

Photo Credit: Kathryn J. Stimson O Buttons: Vendor in front of Convention Center, Saturday, August 23, approximately 2pm.
Got photos and videos from Denver? Format images to 400 x 300 pixels and send them with captions to campaigntrail@huffingtonpost.com.
Visit the Maximum Exposure Page to view all submitted images, slideshows and videos.