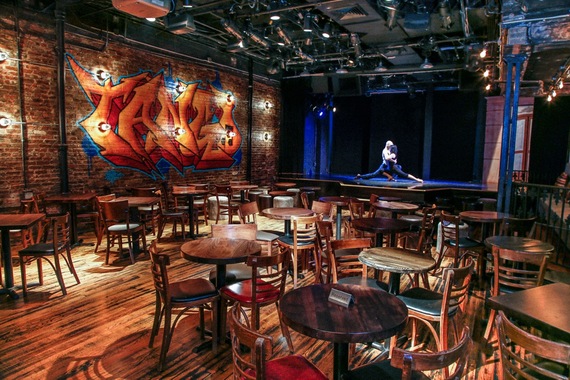 Malbec and Tango House recently opened in NoHo as a shrine to two of Argentina's greatest cultural treasures.
In the trendy upstairs restaurant, a great wall of corks is a monument to Malbec House's 200 Argentinean wines -- including some 50 malbecs -- each of which the knowledgeable (and insanely handsome) bar staff can describe in tantalizing detail.

But tango also has a story, every bit as rich and complex as the wines. And while the stage favors boldness over the subtleties that define tango on the social dance floor, the nightly show downstairs at Tango House, which features some of the world's top tango dancers, also warrants a connoisseur's explanation.
Cultivating a tango palate
Of course, you can easily just get drunk on the sheer spectacle of the show -- and there's nothing wrong with that. The live music, lavish costumes, exquisite dancing and sexy, cabaret-style setting make a feast for the senses, no matter how much or little you know about tango.
But watching the show a second time, I found myself wondering what was behind all the high kicks and high drama.
So with the goal of refining my tango palate, I requested an audience with three authorities on the matter: owner and producer Juan Fabbri, who has three tango clubs to his name in Buenos Aires; tango singer Hector Pablo Pereyra, better known as "El Pulpo" in his cirlces; and Jorge Torres, one of the show's star dancers and a tango impresario in his own right.
One sunny September afternoon, I arrived at the restaurant at the same time as Torres, who had his lively five-year-old daughter in tow. A slinking, strutting panther on stage, offstage Jorge is warm, soft-spoken and ever the doting father.
Pulpo then greeted us at the door. A hoarse voice betrayed the wear and tear of singing six shows a week, but did nothing to diminish the mischief in his eyes.
Finally, Fabbri arrived, tall and silver-haired, with a low-cut shirt and a brand of charm all his own. I extended my hand to greet him, but he leaned in further.
"I kiss women," he explained.
A close encounter
The show itself is "Esquina Carlos Gardel," which Fabbri has been touring worldwide for 12 years, in addition to presenting nightly at his club by the same name in Buenos Aires. The musical arrangements, choreography, costumes and even some of the performers are the same, but Fabbri is keen to point out a difference.
"Tango House is much, much smaller," he said, noting that it only seats 100, compared to his Buenos Aires venues, which seat between 450 and 1,200. "Here you have a special atmosphere, lots of ambience, the chance to have a much more intimate experience."
Chiming in, Pulpo added, "It's a close encounter, that's what's at the core of this project. Over time, tango became this huge thing. But in 1930s Argentina, people would go to intimate settings. So in a way, we're coming full circle -- here, you can see every detail, the emotion in the dancers' eyes."
Tango as social equalizer
From the opening scene, it's obvious that the show is usually performed in larger venues -- not because the skilled dancers have any trouble navigating the space, but because the vivid costumes and sometimes-campy theatrics are clearly designed to project far beyond the theater's cozy brick walls. Beneath the glitz, however, is the story of tango's origins.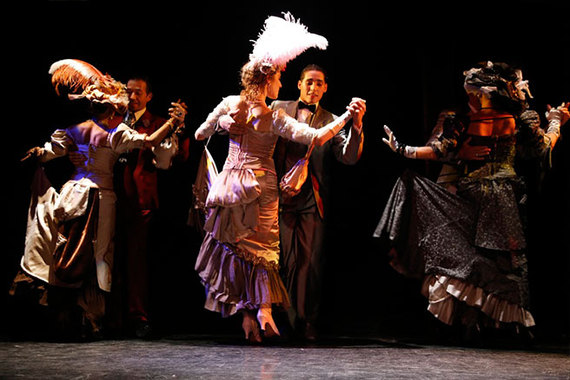 The scene is Buenos Aires around the turn of the 20th century; the song, "El Porteñito," written in 1880 by Gabriel Diez, is considered one of the first tango compositions.
In lively 2/4 tempo, men and women dance and revel until Torres makes a dramatic entrance through the swinging saloon doors. Shortly thereafter, the five-piece orchestra strikes up "Arrabalero" -- meaning 'slum dweller' -- and Torres leads the elegant Maria Blanco in a virtuosic tango.
"Jorge's entrance represents the mixing of high and low society in tango," the singer commented. "To dance with a woman, it didn't matter if you were rich or poor; you just had to be a good dancer. In this way, tango had an equalizing effect."
A devilish instrument
In fact, the down-and-out likely had the upper hand, as it was on the piers of immigration and in tenement courtyards that tango was born. Even the bandoneon, the accordion-like instrument that gives tango its signature melancholic sound, was imported from Germany as a poor man's organ for parishes that couldn't afford the real thing. It never took hold in the church, but immediately fused with tango's DNA.
In the show, the bandoneon is perched atop the shapely leg of Ayelin Pais Negrin -- you can't miss its attention-getting display. But what really impresses is her skill as she squeezes out the greatest hits of Canaro, Pugliese and Piazzola, among others, with a steady purposefulness that contrasts with the wild flutter of her fingers on the keys.
"The bandoneon is a devilish instrument," commented Torres. "Unlike a piano, the keys are arranged randomly and they make one sound going in, another going out. So it's very complex to learn."
From poor man's art to international obsession
So how did tango go from being a poor man's art to a national treasure and international obsession? Through a place that could also be dubbed a social equalizer: the brothel.
"Tango began at whorehouses, basically," Pulpo explained. "All the words are slang, they all have double meaning about sex."
Or at least they did.
According to tango historian Christine Denniston, it was likely in the bordellos of Buenos Aires that middle-class men first developed a taste for tango at the turn of the 20th century. A dire shortage of women there made prostitution a booming business, so madams hired tango musicians to keep the men entertained while they waited (it's also been reported that the men used the opportunity to practice dancing together -- not so they could dance with prostitutes, but so they could better woo women outside the brothel).
However, these better-heeled boys couldn't very well take the salacious songs back to their own parlors, so to make them appropriate for genteel society -- both at home, and in Europe, where tango became a craze by 1913 -- the bawdy lyrics had to be sanitized.
A happy tango is like Santa Claus
The push to make tango "respectable" ushered in a new era for tango lyrics, many of which were written by the greatest poets of Argentina and neighboring Uruguay. With the elevation of the lyrics came the rise of the tango singer -- notably including Carlos Gardel, whose iconic song "Mi Buenos Aires Querido" ("My Beloved Buenos Aires") is featured in the show.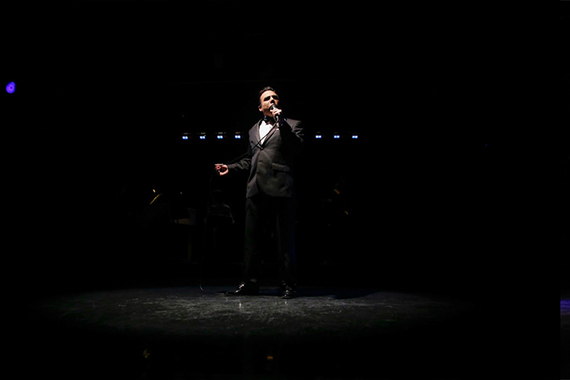 The anguish with which Pulpo delivers the wistful tune is unabashedly over the top. Then again, it's hard to imagine such words being sung any other way: My beloved Buenos Aires, when I see you again, sorrow and indifference will be no more...as I hear the lament of a bandoneon, within my breast my heart cries to be set free.
Sorrow, torment and longing are common threads in tango, interwoven with passion, tension and smoldering sensuality. But where does all this drama and pent-up energy come from? Can tango have a sense of humor now and then?
"Tango has a sense of humor, sometimes, but I tend toward the dark side," the singer admitted. "Even its humor is dark, though. A happy tango is like Santa Claus: it doesn't exist."
Everybody wants to be embraced
Torres, however, believes that these qualities are less specific to tango than to life in general.
"This tension is all of life, this is just a piece of life," he said. "I think everybody wants to be embraced. To really be able to dance tango as it's meant to be danced, you need to be naked. You need to remove all the garbage. You need to be you. That is a big problem. You need to show who you are. People respond to that -- they're so used to covering themselves that it's a shock."
The conflict between the human impulses to conceal and reveal is the theme of another duet danced by Torres and Blanco to "Jacinto Chiclana," a slow, sad milonga composed by Astor Piazzola with lyrics by Jorge Luis Borges (the show version, however, is purely instrumental).
The song, the dancer explains, is an ode to a slain gangster, but the choreography takes inspiration from how gangsters move in shadow.
"We set up the lighting so you're never seeing everything -- when one of us is in full light, the other is off light. Like the tough guys, always covering their eyes not to show their intention. They're always in the dark."
Of course, Torres and Blanco are not portraying gangsters, but an estranged (yet still very passionate) couple. In the end, though, perhaps the gangster's shady movements really aren't so different from the couple's doubts and secrets. After all, as Torres says, tango is just a piece of life.
The real deal
If tango mirrors real life, then one reality the show does not reflect is how tango is danced socially -- in or outside Buenos Aires. Whereas social tango is marked by restraint and introspection, the stage version is meant to dazzle and entertain.
Still, Fabbri emphasizes the show's authenticity: this is real Argentine tango, performed by real tango dancers and musicians.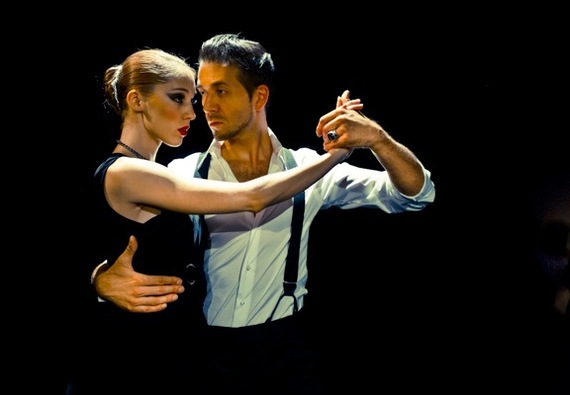 The dancers hail from Argentina, Colombia, Germany and Russia, and each brings a unique flavor. Torres and Blanco are all smoke and elegance, channeling tango's dark, brooding soul. Andres Bravo and Mariana Parma, sensual and voluptuous, are the very embodiment of gravity, while Orlando Reyes and Adriana Salgado seem to defy it with sparkling brilliance and speed.
Also individually notable are Leah Barsky, who enchants with balletic grace, and the magnetic Michael Nadtochi, whose lanky build and effortless technique bring Fred Astaire to mind.
The chance to see these world-class dancers up close is reason enough to go to the show. Then again, the same could be said of the orchestra: not only does it admirably keep up with the dancers, but its standalone numbers -- particularly Piazzola's mournful "Adios Nonino" -- consistently bring down the house.
Tango, in one word
The show at Tango House doesn't come with a program -- at least not yet -- but as my hour with Fabbri, Torres and Pulpo drew to a close, it was clear that it could come with a textbook.
Knowing that was unlikely to happen, though, I instead asked the three men to summarize tango in a single word.
"I'll go first," Fabbri volunteered. "Emotion."
"Empathy," said Pulpo, thoughtfully leaning his head on his hand.
Torres struggled to find a single word, but ultimately settled on 'loneliness'.
"In order to share yourself, you can only go through you," he explained. "You have to go all the way inside yourself in order to come back out again."
"May I add one more?" Fabbri asked.
"Business."

"Esquino Carlos Gardel" shows at 8 pm Tuesday through Sunday year round at Malbec and Tango House, 428 Lafayette St. For reservations and more information, call 212.419.4645 or visit malbechouse.com.