Infamous Stringdusters Delight Brooklyn Bowlers And Bluegrass Loyalists Alike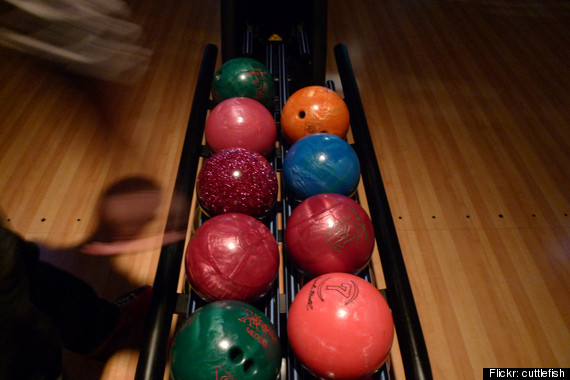 Bluegrass, meet the Brooklyn hipster; Brooklyn hipster, Bluegrass. For the Williamsburgundian (or anyone else) that doesn't already enjoy this old-time, country-style music, the Infamous Stringdusters could be the perfect band to change that. The six-man group, hailing from Nashville, charmed a surprisingly hyped-up crowd at Brooklyn Bowl on Wythe Street Tuesday night. By the way, if you haven't yet been to Brooklyn Bowl, you should check it out. A 'scene' indeed it is, but an awesome scene: the all-wood decor and indoor picnic tables gives it a ski lodge type feel, but with local Brooklyn brews, swirling disco ball lights, and the crash and tumble sound of bowling balls rolling down the lane. What's not to like? Enter into the scene the Stringdusters, and the energy was so high in the place it felt like someone had pressed the fast-forward button.
The aptly named band is comprised of all the quintessential bluegrass string instruments: guitar (Andy Falco), banjo (Chris Pandolfi), fiddle (Jeremy Garrett), mandolin (Jessee Cobb), dobro (Andy Hall) and upright bass (Travis Book).
The Stringdusters' musicianship is stellar. When the band first got together they took Nashville by storm; each member brings with him an impressive background, a couple having formerly played with some of the genre's most notable musicians like Earl Scruggs and Dolly Parton.

In bluegrass music, much like in jazz, the instruments trade off turns playing the melody and improvising around it, or playing accompaniment. The Stringdusters' solos and duos were the highlight of the performance, particularly Falco's guitar and Garrett's fiddle. There was one fantastic dueling banjos-esque moment when Pandolfi on banjo and Cobb on mandolin faced each other and started going at it -- musically, that is.
At times the improvisation would devolve into all-out jam sessions. This is one of the variations of traditional bluegrass that categorizes a band as progressive bluegrass, or "newgrass" -- sometimes even called "jamgrass," epitomized by the popular String Cheese Incident.
The Stringdusters just released their third album, Things that Fly; it follows their self-titled album (2008) and their debut,Fork in the Road (2007), which earned them three awards from the International Bluegrass Music Association.
However, they are the type of band that's much better live. The band's stage presence can only be described as happy-go-lucky: each member seems to be having the time of his life up there, as if he just picked up his instrument for the first time and is thinking, "this is super fun!" They bounced around the stage, simultaneously playing and listening to each other, nodding at soloists with "right on" facial expressions while singing in the four, five, six-part harmonies that so define the bluegrass sound.
The crowd was bouncing and toe-tapping, too, with a few hardcore bluegrass loyalists (looking somewhat like fish out of water) full-on dancing.
While the instrumentals are superb, the songwriting leaves something to be desired and could be what's standing in the way of these boys reaching mass-market appeal. The melodies aren't likely to stick in our head, and on more than one occasion at Tuesday's show the lyrics were lost and indiscernible, drowned out the million-mile-an-hour fiddle and cool dobro slides.
That being said there are a few gems on the new album. "All the Same," written by Falco and Book, slows the pace down a bit with a sweet, sexy beat and an infectious riff, and Book's gorgeous twang crooning "pride or shame, it's all the same" is irresistible.
Another crowd favorite is "Get It While You Can," (off their self-titled), a catchy tune whose lyrics' not-so-subtle double entendre proclaims, "When I'm home from working I'm a hungry man / I like your biscuits in my gravy ma'am / Before the stores all close, get it while you can."
Though the popular film O Brother, Where Art Thou? helped catapult bluegrass into the mainstream in 2000, it remains mostly a niche genre. After the seeing the Stringdusters I can easily see myself getting back on finger pluckin', string pickin', toe-tappin' bandwagon.
Follow Meghan Neal on Twitter: www.twitter.com/megbirds