On Friday I went to see the men's team epee fencing match at the Olympic Fencing Hall. I didn't know much about fencing but was with a friend who did, making the match quite exciting -- not that I wasn't already thrilled to be at an Olympic event.
The bronze medal match was between China and Italy. The Italians were leading most of the time, though China nearly caught up about halfway through. At one point, the Italian swordsman fell. He lay on the ground hugging his leg, and after about 10 minutes of on-court medical care he was carried off.
When he went down it didn't look like anything major, so I was surprised they went so far as to bring a substitute in to finish the round. But once France and Poland came on for the gold-medal match, I understood why.
After just the first round, it was clear France would win it. The team was so skilled, it was unbelievable. Like the Italian, a Frenchman went down mid-match, this time saying his sword-holding hand was injured. Upon brief inspection, it was ruled to be fine and he played on until a hit or two later when he asked for it to be looked at.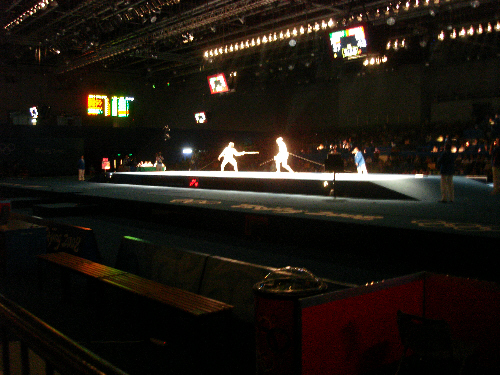 This time they checked it out for longer, but still wouldn't let him come off the floor. The French continued their team rotation and won the match with ease.
But at the medal ceremony, they didn't look so happy. Both Poland and Italy had four team members each to accept the silver and bronze medals, but only three Frenchman were awarded gold. It turns out, the "faked" injury was meant to get the substitute in the match. Instead, he sobbed on the sidelines while his teammates accepted their medals without smiles.
My friend who knows a lot about fencing said this must be a team fencing rule he was unaware of. It seems like a ridiculous rule to me. Even if the sub didn't compete in the Olympic match, he had to work hard to help the team get there. I think he deserves to be commended for that, and obviously his teammates do too.
SUBSCRIBE TO & FOLLOW ENTERTAINMENT
HuffPost Entertainment is your one-stop shop for celebrity news, hilarious late-night bits, industry and awards coverage and more — sent right to your inbox six days a week. Learn more