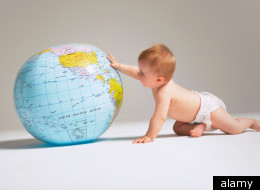 This image is burned in my mommy brain: My oldest daughter, at about 22 months old, standing in our living room after I have dressed her in a pair of lime green, wool kaidangku, split-crotch pants, staring down at her bare parts and then looking up at me and grinning. That began our potty training odyssey, inspired by my research into Chinese parenting culture and other "odd" family practices. My girl would go on to pee on the floor countless times, and sit with her bare bottom on precious items. But she would be trained within two (if wet) weeks.
It was one of the eye-opening experiences, inspired by my years living abroad, raising my children and researching parenting beliefs. There were so many "wow" moments, when my middle-class mom instincts clashed with what I was living, hearing, seeing and reading. But I was intrigued, and learned more than I ever dreamed. Those discoveries (to be explored in later blog posts) include:
In Argentina, where we lived for seven years, family dinner time takes precedence over bed times and sleep routines. Children of all ages from babies to teens stay up late; they are out on the town with parents and extended families and go to dinners that start aas late as nine, ten and eleven at night.

Aka Pygmies fathers are believed to be some of the most dedicated dads in the world, caring for their children almost 50 percent of the time. They've been known to take their tots on the hunt, to campfire chats with the guys and will even offer a nipple to suckle if the baby gets fussy.

Anthropologists have found in many, if not most, cultures in the world, parents don't believe they have to play with their children. In cultures including the !Kung San of the Kalahari desert, Polynesian islanders and villagers in Italy, mothers (and fathers) are super attentive to their babies -- they carry, sleep with and breastfeed regularly -- but will hand over their toddlers to other children during playtime.

Sweden was one of the first countries in the world to offer paternity leave for fathers when their wee ones are born. Two months of 13 months paid time off for parents must go to dads, or they lose that time and money. As you can imagine, most guys take it.

In France, children gobble down stinky cheeses, beets and mussels. I've also seen children in Taiwan gulp down fish eyes with glee.

In Mayan villages, children are expected to participate in family work at a very young age. From the time they walk, they contribute to household productivity -- not merely a "fun" chore, but true contribution -- by feeding animals, collecting water, and other tasks and eventually graduating to laundry, child care and farm work. Researchers say most don't lament lost play time, but rather feel useful and proud that they are contributing to the family's well-being.

Among the West African Benin, adoption and "foster" families are the norm, rather than the exception. Most people don't grow up with their biological parents.