In March, I traveled to Paris for a belated honeymoon with my beloved Kiran, preceded by a weeklong reunion with six of my best college girlfriends: Adria, Heather, Holly, Marie, Regan, and Vanessa. We ladies studied together in the City of Light 20 years ago for our junior year abroad. Most of the gang also were celebrating their 40th birthdays.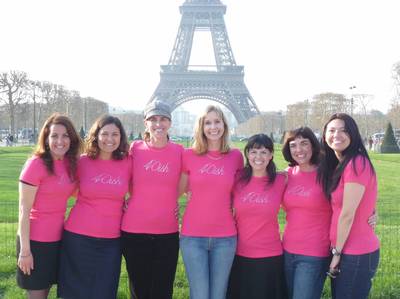 One evening, I sat down with my girlfriends around a platter of cheese and a bottle of wine in the living room of our stylish rental apartment in the 7th Arrondissement with its peek-a-boo view of the Eiffel Tower. I told them about 40:20 Vision, the website fellow Huffington Post blogger Christina Vuleta created to facilitate mentorship and start conversations between generations of women. Through her advice column and mentoring events, she aims to share the wisdom and perspective of 40-something women with 20-something women... so they can make their own best decisions.
"I wish I'd slept around more with French men," Regan announced to get the conversation started, causing us all to burst out in giggles. This was hardly what we expected to hear from the sophisticated mother of three who has been happily married since age 23. "I was so timid sexually back then, in terms of feeling self-confident. When you're 40, you feel confident about your sensuality."
Holly, a Boulder mom and high school teacher, shook her dark hair as she bit into a soft chunk of Brie:
Yeah, but there's a difference between feeling confident and just having sex. Young women these days are sleeping around like men, thinking that they can break the bond between the emotional and the physical. But can they, really? They open themselves up to a lot of psychological issues by disassociating from their emotions. I think girls should guard their tenderness for as long as they can. You don't have to give that guy a blowjob because your best friend did. Some girls get their confidence from having sex with guys, and then they need it to feel good about themselves. Instead, they should focus on building confidence in who they are as individuals -- their talents and what they have to contribute to the world.
"You're right," Regan concurred, helping herself to a chunk of baguette. "You have to trust in being yourself, not base it on other people's expectations -- your parents', your friends', etc. I guess part of those expectations for me was that I'd be a 'good girl,' so I didn't fool around much. But I was a sexual person, so I wish I had done more experimenting."
"But I'd argue that it's impossible to know yourself all that well at age 20," Holly replied. "You're a lot better off with a bunch of great girlfriends than a string of boyfriends."
After chewing a morsel of tangy goat cheese, I jumped in:
It's all about feeling confident, I think. Don't get me wrong: I loved my junior year abroad experience. Like Sabrina in that '50s movie, studying in Paris was when I stopped being a girl and blossomed into a woman. But I was plagued by insecurities. Forever obsessing over my weight and lack of fashion sense. Too shy to befriend French students unless someone else introduced me. Too naïve to confront the sexual harassers who pestered me every night as I walked home from the metro to my host family's apartment...
"And too cheap to just pay for a taxi instead, as any French woman would have," laughed Marie, an attorney who married a French man after college and has lived in Paris ever since with her husband and their two children.
I took a sip of red wine. Walking around Paris on this visit, I realized, I was happier than many days I'd spent here at 19. Of course, a lot of that had to do with being blissfully married to the love of my life. But it went beyond that. I carried with me confidence in my life circumstances and myself that had come with age. Like an evening gown, it made me feel almost as elegant and graceful as the Parisians, not the bumbling youth I'd once been. Like a favorite pair of pajamas, it made me feel comfortable with my surroundings. My self-confidence gave me a sense of ease, which allowed access to deeper joy.
Heather, a new mom and college counselor in Jackson Hole with an infections smile, agreed with us: "I wish I'd been more confident while studying in Paris. I was timid intellectually. No French person wanted to talk to me." She grabbed the knife from the cheese plate and spread Brie onto her bread.
"But how do you tell a 20-something: 'Be confident'?" Marie, the attorney, asked. "You can't just give the advice: 'Hey, you should feel good about yourself.'"
I nodded. "Totally. My mom told me over and over again when I was growing up that I should believe in myself. She tried so hard to build my self-esteem. But in the end, I just had to get there myself, over the years and in my own way: reading books, doing yoga, going to therapy, dealing with romantic relationships and break-ups..."
Vanessa, a bright-eyed investment banker and mother from San Francisco, added, "It's also helpful to find mentors, people who believe in you."
"I think it helps to get deep into an interest rather than skating the surface on many things," Heather, the college counselor, said. "You don't have to commit to just one thing for your entire life, either. But get serious about pursuing a sport, a hobby, or an academic interest."
High school teacher Holly agreed: "I see that problem all the time with Boulder kids, even those who go to Ivy League schools. They never go deep on one thing. It leaves them feeling untethered."
"And to expose yourself to new experiences," said Adria, a spirited chef from Seattle and mom to one, as she refilled her wine glass.
You need to go through those experiences in order to grow. I'm shy. Even now, I'm a little hesitant to talk to random people on the street and practice my French. I was even more reluctant as a college student. But when I got back from my junior year abroad, I felt the impact. It made me more confident for the rest of my life. I'd done something that was hard. So my advice would be: Go abroad and learn another language. Don't be afraid to challenge yourself.
"Exactly," Vanessa concurred. "Our year in Paris wasn't always easy for most of us. But we matured."
Adria added, "Also, I'd say it's important to take time to reflect on your life. Sometimes, we get so caught up in work, school, friends, and now social media, that we forget to sit and think about what's working for us and what isn't."
The conversation paused for a moment, each woman caught up in self-reflection. Then Marie said, "I'm trying to put everything together in one theory. Have more sex but because you feel confident, not because you need to build your sense of self. Be confident, in general. Go deeper into an interest. Find mentors. Study abroad..."
Regan summed it up. "I think it's all about finding your own way. What do you need to do to be happy?"
"Chocolate!" Adria replied, heading for the kitchen to grab some for us as we all laughed.
The next day, we revisited our conversation and agreed on this takeaway: No one, no matter how wise, can give you advice on how to live your life. The best path you can take as a 20-something is to get to know yourself. You do that by challenging yourself, going deep into interests and friendships, traveling -- anything that broadens your life experience. It is through those experiences that you will gain faith in your ability to make your own smart choices and confidence in who you are.
This Blogger's Books and Other Items from...
FOLLOW HUFFPOST