 Do you love your Brita water filter? No?
I can't think of anyone who does.
That's what 30 year-old Mike Del Ponte figured out when he felt the urge to create his own start-up. Less than a year later, he had raised a stunning $150,000 on Kickstarter ($100K of that in just nine days) to fund Soma: elegant water pitchers with all-natural, compostable filters that you purchase on a subscription basis. Genius.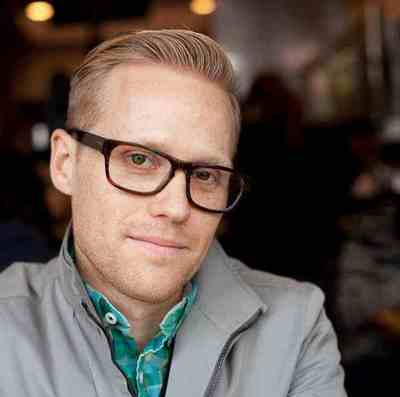 Then just last week, Mike made Soma even cooler. That's when he announced that a portion of his company's proceeds would go to providing fresh water to people around the world through a partnership with charity: water. Not only that, but Soma and charity: water are taking a delegation of influencers to Ethiopia to visit some of their water projects. Fans can follow along on the journey, called #SomaThrive, to view exclusive content.
By now it's probably clear to you that Mike isn't your average Gen Y entrepreneur. He's a remarkable person who took a fascinating path to where he is today.
When I asked Mike what it means to him to live the Life Out Loud, he said:
I believe that if you do what you love, you'll be good at it. And if you're good at it, you'll be rewarded. So to me, it's just about having the courage to do that. One of the huge issues in the world is that people aren't doing what they're called to do. We each have a unique reason to be here. If we do that, we'll be fulfilled. If we don't, not only won't we be fulfilled, but the world will miss out.
He is living proof of his philosophy.
Up until age 12, Mike had a "typical middle class suburban family life." But that year, his father died. Mike coped by going into ambition hyper-drive, determined to do well in school so that he could get into a good college so that he could make enough money to care for his mother and sister for the rest of their lives. He succeeded, winning a Buck Scholarship, which paid for his tuition, food, rent, plane tickets, computer and school supplies for six years.
After graduating from Yale, Mike enrolled in the Yale Divinity School, thinking he would become a priest. Although he'd grown up Catholic, it was at this moment that he made the commitment to dive deeper into his faith. He stopped drinking, focused on forming solid relationships with people, lived simply, did tons of service projects and immersed himself in the study of theology.
But before Divinity School, Mike deferred for a year to travel and volunteer around the world. He visited the West Bank, Southeast Asia and India. He did a ten-day silent Vipassana meditation retreat. And he spent a summer in Nepal teaching women to optimize their small businesses with microfinance. This experience taught Mike that the most powerful way to change the world was not by becoming a priest, but by becoming an entrepreneur.
So at age 25, Mike Del Ponte founded Sparkseed, an organization supporting young entrepreneurs. They'd compete to win one of ten grants each year, which provided them with mentoring, funding, PR support, a community of peers and amazing connections to philanthropists and investors.
One year later, Sparkseed was being featured in the New York Times, Fast Company and the Wall St Journal -- even though Mike still wasn't taking a salary. So he worked two other jobs at the same time: one in consulting and the other at a hospital, doing manual labor.
Then Sparkseed figured out how to generate its own, self-sustaining income by taking a ten percent stake in each of the companies it helped get started. As a result, the company won the Financial Times Social Innovation Award for Best Social Investment Strategy. This was a global competition honoring massive companies such as Tesla, eBay, Goldman Sachs, Verizon and McDonald's.
But Mike still wasn't satisfied. "Sparkseed had medium impact. I want to have a huge impact on millions of people. I knew that in order to do that, I needed to take a quantum leap forward." So after spending a few years at BranchOut, a "LinkedIn app for Facebook," Mike took the plunge into Soma sustainable, high design water filters.
"What's the scariest part about living the Life Out Loud?" I asked.
Mike replied, "It's one thing when you are taking a risk that impacts just you. But once you have 20 people on board, contributing their time, energy and resources on a weekly basis, then you really start to worry about taking them down the wrong path."
What advice does Mike have for those who are hesitating to take the plunge?
1) "You should be disciplined in figuring out your life purpose. The greatest thinkers ever have written down their wisdom for thousands of years. You should probably stop watching TV and surfing the Internet, and start listening to that stuff."

2) "You should have mentors. If you don't, then go find someone incredible. Surround yourself with people who inspire you and keep you accountable. That will have a huge impact on your life."
Photo credit: Mike Del Ponte
Follow MeiMei Fox on Twitter: www.twitter.com/meimeifox