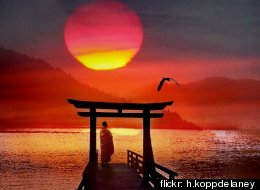 "One can have no smaller or greater mastery than mastery of oneself." -- Leonardo da Vinci
I'm sure you're aware what meditation is. But have you ever tried it for 10 minutes? An hour? A day? How about 10 full days? And during those 10 days, by the way, you're not allowed to speak to anyone else (trust me, you'll speak incessantly to yourself), nor are you permitted to read a book, write in your journal, exercise (beyond slow walking), or listen to music. All you do is hang out at the private party in your head.
Some might call what I just described prison camp -- and run like a criminal pursued by a posse of federal agents in the other direction. Others know it as Vipassana, or insight meditation, and consider it a vital spiritual practice. These crazy people view long, difficult, frustrating silent meditation retreats as the key to coping with suffering, making peace with what is so, and finding access to a deep, pervasive sense of joy.
I'm one of the crazy ones. Or not. I'm just an ordinary person who couldn't sit still for an hour when she first signed up for a Vipassana retreat yet has benefitted tremendously from the simple and challenging practice.
I returned last Friday from an eight-day silent Vipassana meditation retreat near Joshua Tree National Park with a team of spectacular Spirit Rock teachers. This was my third retreat. In fact, my first two were two days longer and totally free (donation only). I completed those Vipassana courses at a center near Yosemite organized and run by the followers of Indian teacher S.N. Goenka.
You can hear a light-hearted day-by-day recounting of my first Vipassana experience by watching my five-minute Ignite talk:
These three experiences allow me to feel confident in saying there is something in Vipassana for everyone who is brave enough to give it a go. It's hard, but it's doable. Even if you're terrified, even if you have no interest in being a monk and you're not an extremist by nature, I know that sitting in silence for 10 days will blow your mind. And so, without further ado, here are my top 10 reasons for attending a Vipassana mediation retreat.
Photos by Kiran Ramchandran, @KiranCreates on Instagram.
10 Ways 10 Days Of Silence Will Blow Your Mind
We're all gunning down the metaphorical freeway of our daily lives at 80 miles per hour. It's remarkable to watch how your mind and body react when you step away from the errands, ringing and beeping cell phones, TVs, computers, yanking feelings that you ought to be doing something else, and yes, other people -- even those who love you. Eventually, whether it takes one day or five, your mind slows down and you become keenly aware of the present moment. You notice every fluffy cloud that floats across the horizon, every beetle that wiggles across your path. An intangible but deeply-felt sense of spaciousness opens up in your head and around your heart. It's enough to make you cry. Photo by Kiran Ramchandran, @KiranCreates on Instagram.

How often do you sit down to enjoy a meal without any distractions -- no TV or newspaper or phone, not even anyone to talk to? Just you and your food? I'd bet it doesn't happen very often. When you do nothing but eat -- and when, let's be honest, eating a delicious vegetarian meal is the highlight of your day -- you become extremely mindful of your food. You notice the sensations of biting and chewing. The bright flavor of the crispy cucumber or smooth mouth-feel of yogurt is overwhelmingly satisfying. You realize that if you ate like this all the time, not only would you enjoy your food more, but also as a side benefit, you'd probably lose weight (scientific studies suggest this to be true). Photo by Kiran Ramchandran, @KiranCreates on Instagram.

Noah Levine, son of famous Buddhist teacher Stephen Levine, said during his evening hour-long dharma talk (ironically these, by the way, as the only entertainment you get all day, seem like the best movie ever made): "My father always told me, 'If you can't be bored, you can't be Buddhist.'" All 150 of us laughed. But I'd like to reframe his statement and say, "The awakened mind is never bored." If the prospect of sitting somewhere between 5-10 hours per day with no distractions terrifies you because, heaven forbid, you might get bored... then I urge you even more strongly to try it. You will get bored. But then you'll find your way through the boredom to curiosity about what is happening each moment in your mind, body, and surroundings. Or, like me, you'll drift off sometimes into amazing creative fantasies about the next book you're going to write or app you'll build. This ability to sit with boredom is one of the most powerful gifts you can carry back with you into everyday life, because it can cure you of constantly seeking distractions. People say they have successfully used Vipassana to help rid themselves of addictions to cigarettes, alcohol, and even hard drugs. Photo by Kiran Ramchandran, @KiranCreates on Instagram.

One of the first observations you'll make as you sit in silence is how inclined you are to avoid pain or discomfort of any kind. The moment you feel an itchy place on your head, you reach up to scratch it. The moment your knee or back starts to complain, you'll want to shift to relieve the pain. But Goenka encourages you not to move in these situations. Just sit for one full hour without stirring, he advises. The amazing lesson of this practice is the realization that, in most cases, the discomfort passes. Or that by going into it without avoidance, you can lessen the pain. Of course, you don't want to sit with pain for such a long time that you physically hurt yourself. But learning to stay with your discomfort has immense benefits for your everyday life. You will no longer let the itches control you. You will realize that you can control how you respond to them. Photo by Kiran Ramchandran, @KiranCreates on Instagram.

As you learn to sit with your physical pain, so, too, you learn to sit with your psychological pain. The same principles apply. One of the three truths of existence, according to the Buddha, is impermanence. "This too shall pass," the saying goes. And it does. While you meditate for 10 days, you will experience fear, happiness, anger, sorrow, resentment, elation, and desperation. But all of these emotions will pass. As with physical suffering, you will learn that you do not have to let your emotional pain own you; you can control it. You can take a step back, observe it from a neutral position, and breathe, knowing that it won't stick around forever. Then, in everyday life, you can respond to unpleasant stimuli -- from your neighbor's dog pooping in your garden to your boss yelling at you -- from a respectful, conscious, deliberate place rather than a reactionary, emotional, potentially hurtful place. Photo by Kiran Ramchandran, @KiranCreates on Instagram.

Any good Buddhist teacher will tell you not to meditate in order to get that rushing, tingling, all-absorbing feeling of bliss that will overcome you at some point during your 10 days of silence. Once you have achieved it, you will feel like you're drunk, high, or just had the best sex of your life. It's amazing. But your teacher will tell you not to get addicted to it. As with any other high, you're supposed to just sit with it, watching from the neutral observer position in your mind. Then let it go. Craving for a meditation high can be no different, from a brainwave standpoint, than craving a cigarette. (Of course, it's a lot better for your body.) I'm here to tell you: Enjoy it while it lasts. It's a damn good time. Photo by Kiran Ramchandran, @KiranCreates on Instagram.

I loved the Joshua trees that dotted our landscape like whimsical Dr. Seuss creations on this retreat. I marveled at the leaves of grass budding through the parched desert sand after a few drops of rain fell from the heavy clouds. I adored the crows that called to one another at sunset. Nature fed me. As it does all the time -- it's just that I'm not usually conscious of it in every precious moment. All meditation retreats have put me back in touch with my interconnection to this living planet. Photo by Kiran Ramchandran, @KiranCreates on Instagram.

Every afternoon at this last retreat, we practiced metta, or loving-kindness meditation, for an hour. We were given instructions to repeat a mantra such as the classic Buddhist prayer of compassion, "May all beings everywhere be happy and free from suffering." Start with yourself, the teachers said. How do you beat yourself up? Hold yourself to unattainable standards of perfection? Forgive yourself. Then move on to metta for your loved ones. After that, you offer metta to beings you don't know: all the animals on the Earth, all the people suffering from poverty and oppression. Finally, you offer metta to those who have hurt you. Naturally, this part of the practice can prove the greatest challenge. But you try to see your abusers as suffering, too -- trapped in mindlessly responding to their circumstances and thoughts with craving and aversion. It's a powerful practice. I found joy welling up from within my heart as I tapped into my true "Buddha nature," which is love. Sweet, pure, free-flowing, and vast love for all beings. Photo by Kiran Ramchandran, @KiranCreates on Instagram.

Each Vipassana brought me a completely different realization about what was going on in my life at the time. I went into my first retreat feeling totally overwhelmed by anxiety after my divorce. I saw with crystal ball clarity how I needed to trust in "things as they are," as Goenka intoned on videotape during the evening dharma talks. I couldn't control everything, but I could learn to love my life exactly as it was. Not only did I rid myself of insomnia, but also I emerged feeling positively joyful. The second retreat brought me wisdom -- but at quite a price. I felt as though I were looking at myself in a mirror under harsh fluorescent lighting. The retreat taught me that I needed to forgive myself for my "bad choices." Would I judge another as harshly as I judged myself? Never. I came out feeling as though I had a new best friend: myself. This latest retreat offered me a tremendous gift. I certainly knew how lucky I was to have found my way into marriage to Kiran, the Love of my Life, this past year. But while sitting in silence, I felt the intensity of my devotion to my husband and our romance. I knew, as a bird knows that it needs to sing, that love is the truth we all must share with the world. Photo by Kiran Ramchandran, @KiranCreates on Instagram. What truth will your Vipassana retreat reveal to you? Only ten days of silence will speak the answer with unabashed honesty.

My favorite American Buddhist teacher, Jack Kornfield, quoted author Anne Lamott during his dharma talk: "My mind is like a bad neighborhood; I try not to go there alone." Sure, most of us are afraid of being still with ourselves for 10 days. That makes sense. Or does it? I mean, what is there to fear, really? Reliving hurts from our past? Feeling anxious about the future? Getting bored? Suffering as our back and knee ache? Whatever happens, you will survive it. And when you come out the other side, you will feel a tremendous sense of freedom. You will know, really know in your heart, that you are your own master. This practice does not rely on belief in any gods, trust in any higher power, or the blessings of any guru or teacher. It is simply about you learning to tame your own wild mind. How incredibly liberating is that? Photo by Kiran Ramchandran, @KiranCreates on Instagram.
Follow MeiMei Fox on Twitter: www.twitter.com/meimeifox