"My friend and Stanford classmate Michael Tubbs says you should always have SWAG: Show the World All your Greatness," Vineet said. And that's what he does.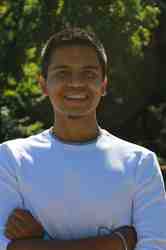 Vineet was born and raised in India until he was 10 years old. Then his parents, both physicians in private practice, found themselves struggling financially. So they took jobs at a hospital in Saudi Arabia, in a small city near Yemen. Vineet attended an international school where he learned Urdu and Arabic, and forged friendships with people from many different cultures and backgrounds.
When he was 13, Vineet's parents decided to move to New Zealand, as a way to facilitate their ultimate goal of coming to the U.S. to do medical research. There, for the first time in his life, he experienced intense racism and bullying. "A group of boys constantly made fun of me for being a foreign kid with an accent, wearing glasses, and being overweight. At one point I remember them saying, because I had significant fatty deposits in my chest, 'Show us your cleavage.' There would be physical abuse, beatings. I would hide during lunchtime in the school corridors."
Needless to say, when the year ended and Vineet's parents were finally able to move the family to New York City, Vineet was incredibly excited. He threw himself wholeheartedly into his studies, excelling at debate and conducting epidemiological research at a hospital on hepatitis C. He was delighted to be high school valedictorian and accepted into Stanford.
At that point, Vineet said, his confidence was high. He was ready to tackle his physical issues. He had been overweight since the age of five. At 18, his doctor told him that he was pre-diabetic, and if he didn't change his habits, he'd be diabetic within two years.
Vineet gave a self-effacing laugh. "My numbers were so off the charts that they thought I had a brain tumor. But I didn't. It was really scary."
He asked his parents to give him a bike, which he rode for two hours a day. He also followed a very strict all-natural, low-carb, high protein and vegetable diet. He lost 75 pounds over that summer and throughout his freshman year at Stanford.
"The key was making the change in my mindset from just wanting to lose weight, to really loving being fit," Vineet explained. "Now I never miss a workout, and I'm always building my knowledge about nutrition."
During a quarter off from Stanford, Vineet worked at a free clinic in Galveston, Texas, which has the highest percentage of uninsured people in the country: over 50 percent. He was responsible for taking medical histories, but eventually transitioned into doing routine physical exams, and even recommending treatments because the clinic was so understaffed.
Vineet observed that people's reasons for coming into the clinic were highly similar: depression, hypertension, and diabetes. He wanted to engage them in health education, and so formulated a program in which he recommended nutritional foods that wouldn't cost much, and created exercise programs that didn't require a gym membership. He also enlisted the support of the local churches in engaging the community in a fitness course around town.
"So many of the people I saw had problems with chronic disease. But clinics like ours get next to no funding. If someone has cancer and can't afford treatment, they can't go to the ER, can't get meds -- there is no recourse for them. It's horrifying. Prevention is so important because people can avoid getting ill down the line. You control your health, rather than taking meds."
When he returned to Stanford, Vineet chose to expand his health education curriculum across the country. He founded his non-profit, Anjna. The goal is to use technology -- from text messaging to tablet computers -- to do preventative education at free health clinics.
Vineet said, "The health care industry is notorious for being way behind in terms of technology, and free clinics are in the worst shape of all. Many of them are just starting to use computers. We've grown from a team of five people who met at Stanford in 2010 to over 250 volunteers across Stanford, Berkeley, and other parts of the world. People volunteer a few hours here and there, which has added up to over 15,000 hours collectively."
At Stanford, despite being loaded up with coursework and his own non-profit activities, Vineet is also leading Stanford Business School professor Jennifer Aaker's 100,000 Cheeks campaign. The purpose is to rally South Asians to register as bone marrow donors.
"What does it mean to you to live the Life Out Loud?" I asked Vineet.
He answered, "When I was a kid, my mom said, 'Whatever you do, do something that makes other people's lives better.' Gandhi said that the best way to find yourself is to lose yourself in the service of others.
"I'm living the Life Out Loud in the sense that I'm living my purpose and garnering meaning from that. It's not just about winning awards or speaking at TEDx conferences, but doing what I love and serving others. If I didn't feel I was making a difference in the world, I wouldn't be doing it."

I asked, "What advice do you have to give others who are hesitating to live the Life Out Loud?"
Vineet's voice grew louder. "If I can do it, you can do it. I had very little self-control when I was overeating. It was a painstaking struggle to change my behaviors. But it was a miraculous struggle. Like a butterfly, you emerge out of that cocoon a completely changed entity. I'm ten times more confident now. Do whatever it takes to motivate yourself to get out of that stuck state!"
Photo credit: Vineet Singal
SUBSCRIBE TO & FOLLOW LIFESTYLE
HuffPost Lifestyle is a daily newsletter that will make you happier and healthier — one email at a time. Learn more