Happy Valentine's Day!
Do those words make you shudder? Whether or not you belong to the 50 percent of the American population that is unmarried, it very well may. Like me, you may get turned off by the gluttonous commercialism of the occasion.
I used to dread Valentine's Day as a single person. This year, I'm happily married and can't wait to celebrate with Love of My Life Kiran, who is cooking me an authentic Indian meal (yum!). But last year and for many of the preceding five years, I did not have a honey to snuggle up with on Feb. 14.
I tried various coping strategies:

1) Ignore it. Problem: Impossible. Reminders everywhere.
2) Belittle it. Make snide comments about how Hallmark invented the occasion in order to sell greeting cards. Problem: Not satisfying.
3) Rise above it. Make a hippie remark such as, "Shouldn't we all just love each other and express that love for all humankind every single day?" Fair enough, we should. Problem: I'd still be wishing I was one of those blissfully-partnered people.
4) GNO. Girlfriends Night Out. Go to dinner and then dancing with a bunch of single women friends. Get plastered to numb the pain. Guaranteed to work for approximately four to six hours. Problem: Kicks you in the head the next morning with the dreaded Valentine's Day hangover.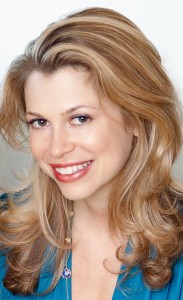 But this year, thanks to my delightful friend Christine Hassler, I have a better solution for all you Valentine's Day skeptics out there -- single or not: Be Your Own Valentine.
Christine serves as a positive force for personal transformation. On Feb. 22, the author, speaker, life coach, and The Huffington Post blogger is co-hosting a free teleseminar on how to fall in love with your love life no matter who or who isn't sleeping next to you. She and her colleague Christine Arylo will then lead a 40-day seminar entitled, "Choosing ME over WE," which is designed to "end love-starvation" and help people "take their Love Power back."
And don't worry. Christine Hassler is no stranger to the Valentine's Day conundrum, being single herself. Her intention is to get married and have children, but it hasn't happened for her yet -- just as it didn't happen for me until I was late in my 30s.
At a young age, Christine was a successful Hollywood agent, mingling with LA's rich and famous. But she always perceived herself as "failing in love": She dated an abusive man in her early 20s and then an addict, her fiance dumped her in her mid 20s, and in her late 20s she got married then divorced by her early 30s. This time, when she ended up single, she resolved to prioritize her relationship with herself.
"I'd decided in fourth grade when some girls started an I Hate Christine club that I was unloveable," Christine told me. "I had always been waiting for some knight in shining armor to come save me. But after my divorce, as trite as it sounds, I realized that the person whose love I was really craving was my own."
So Christine set out to find out what "fall in love with you" really meant, on a deeper-than-cliche level. "This wasn't about doing yoga and taking baths," she smirked. "It was about building a healthy relationship with myself."
First, Christine stopped being so critical of herself. She also ceased referring to her past relationships as "failures" and instead began framing them as catalysts for personal growth. "I used to judge the success of relationships based on longevity. But now I realize they should be judged based on what you learned." Finally, she vowed to stop living with the belief that "things will get better when I have a partner," and embrace her singledom. She focused on writing her second book, building her coaching practice, pursuing a master's degree in spiritual psychology, and speaking at colleges and corporations across the country.
Christine's hope is to show people in any relationship status that you can truly learn to be the source of your own happiness. On the call, in the course, and in her coaching practice, she guides people to identify and rewrite their love stories, then develop new strategies for getting love. "So many people need to forgive themselves and their past partners, release negative emotions rather than recycling them, and cut their energetic ties to their exes," she said.
Has the program worked for her? Christine says yes. "In the past when I was single, I felt like my head was on a swivel. I was always looking around, asking myself, 'Where is he? Where is he?' It was a huge energy drain and took me out of my enjoyment of the present moment. I was living in the when/then.
"Now I am focused on living the best life I can, trusting that by that by doing what I'm passionate about, I will naturally attract a fantastic man to me. I can date without all that pain and pent up frustration that used to undermine me. I won't contort myself into being 'a perfect fit' for someone who isn't right for me."
It can be tough to battle the single blues, Christine admits. "We're all channeling old cellular memory that tells us, 'If I don't have a man, I won't survive.' We all have unconscious conditioning that says, 'If I'm not chosen, then I'm not lovable.' Plus then we have societal expectations. People always ask, 'Why are you single?' as if there must be something wrong with you. It can be challenging to dampen the internal and external judgment."
I asked Christine for one tip for singles in search of partners -- and then wished I'd thought of it myself. You know how the movie "The Secret" and these new-age spiritual blogs are always telling you to manifest by writing down an actual list of the qualities you're looking for in a mate: good looking, intelligent, successful in career, funny, warm-hearted, self-aware, an adventurer, etc.? (I actually did this just prior to randomly meeting my now-husband Kiran in Costa Rica four years ago. He fulfilled every single criteria I'd written down in my journal, I swear.)
Well, Christine suggests that you make your wish list, and then resolve to become all of those things yourself. She did that a year ago, and has since become far more self-loving. "I seek to embody every item I've recorded. If I want my man to be compassionate, then I must be compassionate. If I want him to be funny, then I need to express my sense of humor. This way, I can be my own best partner. Pretty much I can be everything on the list for myself -- except tall."
I often find that people can get critical of this type of message, so I asked Christine if she could explain the difference between self-love and selfishness. "Selfishness has judgment attached to it," Christine replied. "You're holding out from others, contracting, protecting yourself. Self-love feels expansive and honoring. You're being of service to others by treating yourself well."
Christine feels her message is critical for women, in particular. "Our heart in love is our biggest value. That's our source. When we're starved, depleted, or unhealthy in that area of our life, it affects all others -- career, family, finances, everything. By paying attention to our relationship with ourselves, we women come back to our infinite source of power -- which is love."
Photo credit: Christine Hassler
For more by MeiMei Fox, click here.
For more on relationships, click here.
SUBSCRIBE TO & FOLLOW LIFESTYLE
We're basically your best friend… with better taste. Learn more