*Scroll down for slideshow*
Travel can be a very sensual encounter. Whether you're hiking the Himalayas or truffle hunting through Italy, what you seek and find during your exploration can elevate your senses to new heights. To see the world, hear the dialects, touch the landscapes and textures, and smell the air is, quite simply, all a part of the journey. But to taste the local cuisine is unique. Food not only feeds the soul -- it ignites a certain sense of euphoria that heightens any travel experience.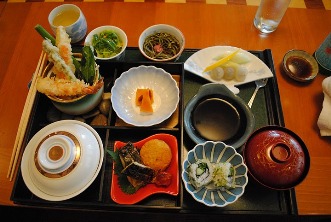 On my first trip to Asia, I taste-tested my way through Shanghai. I was, after all, in China, and what better way to shed my impressions of Chinese food (which were, until now, fried egg rolls and moo shoo pork) than to eat among the locals and share the cuisine specific to this city. From the masterful sushi creations of Chef Hoshina Masanobu at The Portman Ritz-Carlton's Hanagatami restaurant to the banana leaf-wrapped sticky rice and pork from the street vendor in Shanghai's ancient water village, Zhujiajiao, there was something glorious in each dish, flavor and spice. Who knew rice could taste so different on the other side of the world, or that dumplings filled with poppy seeds and placed in soup actually made a sweet dessert? The moral: Food should be an experience to accompany your travels, and in many cases, will provide you with a lasting impression. I still dream about those poppy seed dumplings.
Thanks to guides like Zagat's and CitySearch, we're able to find a restaurant in any city to fill our bellies and appeal to our price points. But there comes a moment in every traveler's life when a little indulgence goes a long way. Few chefs and restaurants earn the coveted Michelin 3-star award, and even fewer are housed in hotels, but those that are feed the experience and introduce guests to an entirely new way of dining out.
The Michelin system reserves stars for exceptional restaurants, and gives up to three. A single star denotes "a very good restaurant in its category," two stars "excellent cooking, worth a detour," and three stars, "exceptional cuisine, worth a special journey." Michelin stars are awarded only for the quality of food and wine; the luxury level of the restaurant is rated separately, but many of these Michelin-star rated restaurants are located in some of the best luxury hotels around the world. We chose a few to whet your appetite, and lure you into a new way of seeing and tasting food.
The best part about staying at a hotel with a top-rated restaurant? When you're full from food and wine, you won't have to walk very far back to your room.
Alain Ducasse at The Dorchester became the second restaurant in London to receive three Michelin stars. The restaurant offers contemporary French cuisine under the guide of Restaurant Director Christian Laval and his team. The restaurant offers a 3-course set menu including wine and private dining is available. Alain Ducasse restaurants that also hold Michelin stars include Le Louis XV - Alain Ducasse in Monaco and Alain Ducasse au Plaza Athénée in Paris.

Aqua, the three-star Michelin restaurant in The Ritz-Carlton Wolfsburg in Germany, was rated one of the best restaurants in the world by S. Pellegrino in 2010. According to food writers and industry carnivores, Chef Sven Elverfeld uses Wolfsburg surroundings to create one-of-a-kind dishes. Elverfeld cuisine focuses on the harmony of aroma, flavor and texture. Specialties include boiled filet from M¸Ritz lamb with Frankfurt Green Sauce, Breton sole--modern Finkenwerder style. While his food speaks volumes, Elverfeld has been known to create dishes specifically catered to the regional roots of his guests.

The Four Seasons Hong Kong is home to two Michelin-star restaurants. The 3-star (one of two in Hong Kong) French restaurant Caprice is located on the sixth floor and offers views of Victoria Harbour and the Kowloon Peninsula. The open kitchen show the 23 chefs at work creating contemporary French cuisine, which is accompanied by French wines, among others. Caprice features Hong Kong's widest selection of artisanal French cheeses and offers an adjoining bar and lounge area for cocktails. At the same hotel and only two floors down is the Cantonese eatery Lung King Heen (translated means View of the Dragon). Lung King Heen is the second three Michelin-starred restaurant in Hong Kong and offers contemporary Cantonese cuisine, led by Executive Chinese Chef Chan Yan Tak. His specialty: seafood and dim sum.

Inside Macau's casino-clad Hotel Lisboa is Galera a Robuchon, a three Michelin-starred restaurant run by Joel Robuchon, the acclaimed Chef of the Century by Gault-Millau and the most Michelin-starred chef in the world, to date. Galera a Robuchon also received the Wine Spectatorís Grand Award for having one of the best wine lists in the world -last count the cellar housed around 6,900 labels. Robuchon own 'Le Caviar' sells at the restaurant for $720.00 Macau Pataca (approximately $90 an ounce). It's no surprise the chef's signature dish is caviar with anise cream, served in a crunchy cone stuffed with avocado salsa and lime zest.

The Ritz-Carlton, Tokyo is home to Hinokizaka, the only Japanese hotel restaurant in Tokyo to have received a Michelin one star rating for three consecutive years. Hinokizaka serves traditional Japanese cuisine, specializing in "kaiseki" meals (multi-course meals). The restaurant changes its menus based on the seasons, but always highlights Japan's specialties: tempura, sushi and teppanyaki.

Hotel Le Meurice in Paris is more than just a divine place to stay while you shop the Avenue Montaigne. The hotel features three Michelin-starred restaurants including the main dining room - Restaurant le Meurice, which overlooks the Tuileries Garden; Restaurant Le Dali, situated under a 1,560-square-foot canvas painted by designer Philippe Starck's daughter; and Bar 228, an intimate dining lounge where exclusive Parisian cocktails are served. The chef at the helm is Yannick Alléno, who creates menus according to his own distinctive style of inventive and healthy cuisine.

The three-starred Michelin restaurant in the Hotel de Ville in Crisier, near Lausanne on the northern shores of Lake Geneva, is run by renowned chef Philippe Rochat. The upscale French cuisine is prepared with unique accents, creating a combination of depth and intrigue in the dishes. Reservations are made months in advance, sometimes up to a year, and the menu changes frequently, according to the availability of ingredients and, quite frankly, whatever is on Rochat's mind. Recent dishes worthy of a few stars have included a ragout of fresh quail with young vegetables, crawfish in caviar butter, preserved duckling in lemon and spices, and glazed sweetbreads with wild mushrooms. The cheese trolley that's wheeled around after the main course is absolutely spectacular.

Closer to home, GILT at The New York Palace Hotel is a two-star Michelin restaurant in the heart of Midtown Manhattan. Capitalizing on its name, GILT features an extensive wine list to accompany Executive Chef Justin Bogle's New American menu. The restaurant offers three- and five-course prix fixe menus, as well as a grand seven-course tasting menu.

Joel Roburn is the mind behind his namesake restaurant in the MGM Grand Hotel and Casino. The three-star chef offers a Las Vegas dining experience that makes you forget you're a few steps from the famous Vegas Strip. This is Robuchon first restaurant in the United States. Guests are uged to make reservations well in advance for this limited seating space. From the menu, patrons choose from multi-course tasting menus or order a la carte. Specialties include a trio dish of thin couscous and Oscetra caviar, smooth cauliflower cream, and delicate gelÈe of green asparagus. As a bonus, Joel Robuchon restaurant offers complimentary limousine service to all guest reservations for the restaurant.
Follow Melanie Nayer on Twitter: www.twitter.com/chic_travel