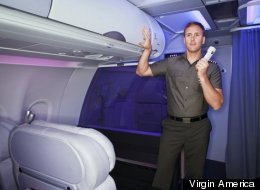 There once was a time when the fashion industry's most significant runway was at 35,000-feet and enclosed in a metal tube. Pill hats, go-go boots, designer scarfs and dresses designed by haute couture fashion houses were just some of looks that graced the in-flight crew on board the nation's top jetliners. This was the "golden age" of air travel - when a passenger's fur coat was hung in the pilot's closet, bar carts rolled through the aisle, metal cutlery was served with in-flight meals, and everything from pillows to pretzels were free. While the rules have changed over the years and flying has become a bit more stringent, no one ever said in-flight fashion has to suffer.
"That was my era - the late 70s," said Doreen Lawrence, director of in-flight at Virgin America and a former flight attendant. "You felt good in your uniforms. You had a lot of confidence. We wanted to bring back that feeling."
And with the help of Banana Republic, Virgin America believes they have.
Later this summer Virgin America will debut a new look for their flight and ground crew, but we got the exclusive preview at what's to come.
With the help of Virgin America teammates (including cabin crew, pilots and gate agents), Banana Republic designed new uniforms that meet the requirements for a comfortable, functional and fashionable in-flight and on the ground wardrobe. The new uniforms are the result of an 18-month project between Virgin America and Banana Republic in which the retailer's top designers collaborated with the airline's creative and brand team to refit everyone from ground crew to pilots.
"Function and fashion were the two main driving forces of the project," said Simon Kneen, EVP of Design & Creative Director for Banana Republic. "In each part of the design process we had to think back to who would be wearing these uniforms, the long hours of wear, activity of walking, sitting, reaching in overhead bins, etc. We chose fabrics that would be wrinkle-free yet comfortable, even adding a bit of spandex to shirt, pants and skirts to provide a bit more elasticity for moving around, while also thinking to lengthen the shirts to prevent them from coming un-tucked."
The entire design process took 18 months from start to finish, and involved ongoing discussions with Banana Republic designers and members of the airline and focus groups, and included various fit sessions and functionality testing with crew.
"The uniform we have right now was a uniform that was designed prior to anyone from in-flight, flight ops or guest services having a lot of input," said Lawrence. "It looks good, but the functionality isn't wonderful."
Because in-flight crew, for example, spend a lot of time reaching, putting bags in overhead bins and rearranging cabin amenities in-flight, the new uniforms needed to include shirts that didn't untuck when a flight attendant reaches up, and fabric that would stand the test of dry-cleaning time.
The result: Every piece of the new uniforms for all Virgin America members have stretch in them, belts are reversible so you have the options to mix-and-match with airline-issued scarves, and the traditional white shirt has been replaced with a light grey.
Virgin America's sister company, Virgin Atlantic, created a style magazine earlier this year offering tips to team members on how to stay stylish in the skies.
"We really listened to our teammates, and we had them participate from start to finish," said Lawrence.
But it's not all about Virgin America employees. The new uniform has also inspired some travel collection pieces (luggage and women's wear) from Banana Republic.
"In addition the new flight crew uniforms, we wanted Virgin America travelers and Banana Republic customers to be able to join in and upgrade their style," Kneen told us.
If you want to sport some in-flight fashion, these items will be available for sale exclusively to flyers on Virgin America's Red's™ in-flight entertainment system Shop platform and in Banana Republic stores. The items available for purchase include stylish aviator sunglasses, a women's tote and a men's messenger bag, and men's and women's trench coats.
This new in-flight fashion line won't hit the skies until Aug. 8, which is also the airline's 5-year anniversary, but here's a sneak-peek at what's in store.
Virgin America's New Uniforms
The new Virgin America uniforms were custom built for the day-to-day work and travel ready needs of flight crew and gate agents. The primary purpose was function, with a bit of style on the side. Pictured: Women's modern red trench coat, pilot's black soft shell jacket and flat front trousers, women's black slim-fitting shirt dress, red border silk Charmeuse scarf and reversible belt.

The new Virgin America uniform collection from Banana Republic combines "chic modern design with practical construction and comfortable fit." The men's in-flight collection features 11 new pieces, including the striped sleeve cardigan (shown above).

Virgin America has always been cutting edge, and that includes their uniforms. Pictured: Women's lamb skin leather jacket with logo metal snaps and zip pull, and pencil skirt.

Banana Republic added Spandex to shirts, pants and skirts to provide more elasticity and stretch in the material so in-flight crew have an easier time lifting, moving and rearranging during flight. The suiting fabric is composed of technical stretch wool for comfort and movement. Pictured here: Pilot's slim fit gray woven shirt, classic plaque belt and flat front trouser; women's black slim-fit shirt dress, red boarder silk Charmeuse scarf and reversible belt.

The men's crew line features short-sleeve slim-fit woven shirts, flat-front trousers and the classic plaque belt (shown here).

The women's crew line features shirts, pants and skirts with Spandex added to them to help with give and fit. The light gray color on women's shirts (as opposed to traditional white) will help stand the test of washing machine time and prevent color fading. Banana Republic added the red piping to the crew shirts to keep in line with Virgin America's classic color. Pictured: Women's short sleeve shirt with princess seaming and covered plackets, red border silk Charmeuse scarf, classic pencil skirt and reversible belt.

The new Virgin America pilot uniforms include long and short sleeve slim-fit woven shirts with a pocket in the front that can hold passports, sunglasses, and pens. The pocket on the shirt was a request pilots made directly to the design team.

The new uniforms include darker colors and material with more stretch to stand up to all sizes and body types. Shirts, like the one pictured above, are longer in length and feature a grip tape adhered to the interior waist band which prevent shirts from un-tucking as the crew lift bags and reach for amenities during flight. Pictured: Women's slim-fitting black shirt dress, black border silk Charmeuse scarf and reversible belt.

In addition to the crew uniforms, Virgin America will offer Banana Republic travel essentials inspired by the new uniforms to Virgin America flyers for a limited time via the airline's Red™ in-flight entertainment system. Pictured here for purchase: The Men's Belted Trench with buttoned epaulets, adjustable belt and detachable plaid full lining.

The Women's Belted Trench with fully lined and double-breasted with epaulets and belted cuffs is inspired by the Virgin America travel line, and available for purchase at select Banana Republic store and through Virgin's in-flight Shop.

Banana Republic's Leather Work Bag is made of pure leather and comes with an inside zipper, slip pockets, laptop picket, outer pickets, double-buckle closures and a sturdy webbing strap with leather shoulder padding.

Banana Republic's Paige Pinking Shears Tote is made of pure leather and has an inner slip pocket, magnetic closure and shiny nickel hardware.

Unleash your inner aviator with the Banana Republic Shawn Sunglasses in the classic metal aviator frame. The European gradient lenses that offer 100% protection and come with a hard leather case and Banana Republic-monogrammed shammy.
Follow Melanie Nayer on Twitter: www.twitter.com/chic_travel