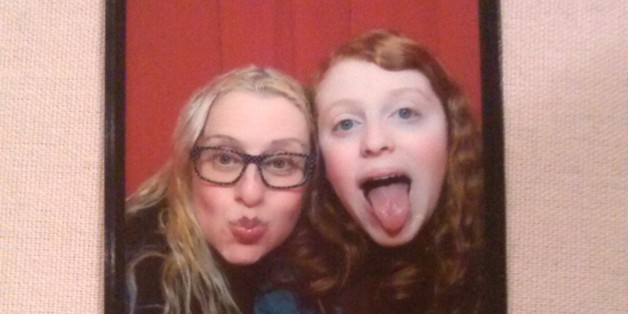 In the almost 14 years I've been a parent, I would have to say as my daughter nears her 14th birthday this April 17, my take on motherhood and my role in her evolution as a person has undergone some major growing pains. First of all, I had her when I was 27 years old -- what did I know about self-esteem, boundaries, character building and most importantly, the concept of unconditional love at that age? I can say now with full clarity: NOT MUCH. Of course this is not to say that 14 years later I have all the answers, that I never raise my voice and scream like my hair is on fire, that I never say something I wish I could take back and that I don't struggle with balancing my insane love for my kids and my desire to give them everything with a healthy dose of NOT giving them everything and remembering that I am the adult and I am in charge (even if my daughter is taller than me) and that this parenting thing is a daily process.
I have to admit that this past year -- her first as a teenager and my first parenting a teen -- has been a major learning experience for me and has forced me to re-examine our relationship as well as my parenting fails. Not going to lie: I have regrets. In my effort to shield her from pain, I thought it was my responsibility to take her out of certain situations. Now, in hindsight, I realize a parent's job is not about rescuing, but about standing by and being there while you encourage your child to have an experience that although it may feel initially uncomfortable, will benefit your kid in the long-run.
It took me 13 years to come to this realization, and I am still not 100 percent sure of anything. I still cringe and worry excessively about my daughter and never want her to be in a situation that I don't know will be everything she hopes for, but at the same time, I know I can't control everything. I can't control her environment, because in the real world, these are the kinds of challenges she will need to know how to handle, so although my heart at times feels like it might break in a million pieces as I watch her anxiety level rise, I know allowing her to experience this anxiety is what a good mother does. Because in doing so, she will realize that she can get through it and experiencing and conquering it will arm her with the confidence she needs to tackle it again as opposed to running from it or feeling helpless in the face of it.
I have also taken some parenting cues from my husband (who is the polar opposite of me when it comes to EVERYTHING, including how we raise our kids). Here are a few of my husband's parenting nuggets that are actually worth reading ( and implementing!).
1. The word NO is a parent's best friend. I am majorly guilty of taking my daughter shopping and going overboard ( which my husband is quick to point out). Sometimes the best thing any of us can do for our kids is remind them that stuff is not the panacea for whatever ails them. And saying NO is not about denial, but rather it is about teaching them that material and their immediate wants will not always be fulfilled and they need to learn to be OK with this. They need to learn that not getting what they want is oftentimes better than getting it.
2. There are no right answers (so stop beating yourself up). In September, my daughter will be going to a specialized public high school program after attending 10 years at a private religious school, as will my son after attending the same school for the past six years. This has been one of the toughest decisions I've had to make as parent. I still don't know if it is the right one. I have so many questions and worries about what the future holds. But what I am trying to model for my kids is this: Although life is messy and complicated and the unknown can be scary, if we face each day with a renewed sense of optimism and excitement and we keep the lines of communication open, anything and everything is possible.

This post originally appeared on The Staten Island Family
SUBSCRIBE AND FOLLOW
Get top stories and blog posts emailed to me each day. Newsletters may offer personalized content or advertisements.
Learn more