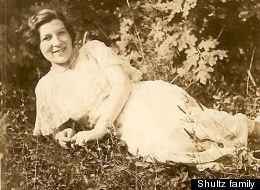 Have you ever played the game of free association? Someone says a word, then you say the first thing that comes to mind? I played a version of that last week to take my mind off the mailbox during the Week of Reckoning -- waiting to hear if my son got into college. I did it using visual cues while attempting to go about my everyday life.
The game led me to one of my favorite grandmother stories.
College acceptance letter→Happy
Happy→Chocolate Easter Eggs
Chocolate Easter Eggs→Diet
Diet→Cucumbers
Cucumbers→Puffy Eyelids
Puffy Eyelids→My Grandmother's Beauty Ritual
"Did I ever tell you about the cucumbers?" my Nana asked me one day when I called her. She was 100 at the time. "I put slices on my eyelids everyday. It takes away the swelling." "My friend," she continued, "the one who still drives because she's only 89 -- she gets me cucumbers at the grocery store every week. Anyway, I don't like to waste things, but I still won't eat them when I'm done. I just put them back in the refrigerator. That way, when I use them again, they're really cold."
Then Nana started to laugh. "You know, that makes me cool as a cucumber," she said. "Whoever made up that saying must have put cucumbers on their eyelids. It's probably an ancient beauty ritual."

"Did they actually have cucumbers back in ancient times?" I asked.

"Oh sure," she answered with authority.

I conjured up an image of her, the woman my family affectionately calls Nana, in her black leather recliner with dewy thin slices of cucumber over each eyelid. Then I flipped to a vision of a cavewoman, reclining on furs and perched against a rock, with crudely cut cucumbers over her eyes, framed by dark, hairy, un-tweezed eyebrows.

"How long do you keep them there?" I asked, trying to shake the image.
"Oh, really only a minute or two. It's pretty boring keeping your eyes closed any longer. Besides, the smell makes me want to eat a salad and I'm watching my weight," she said.

(Nana logic. She's famous for it in our family. When my mother found a wristwatch in one of Nana's drawers, she asked her if she still wore it. "Of course," she said, "but I'm waiting for it to be daylight savings time.")

"I don't think eating a salad will compromise your figure in any way," I said. "It's not as if you're putting chocolates on your eyelids and then eating them... though that would be more fun."

"Chocolate has never touched these lips," she reminded me.
"I know, I know. I'm doomed. It's not only touched my lips, but crossed them a thousand times."

"Oh no, you're not doomed, dear. After all, you've got my genes. Not the kind you wear, they'd be too big on you. The other kind, the good kind," she explained, as if I didn't get the play on words.

Nana always focused on the positive, and I believe that's one of the reasons she lived so long. Bad news did not sit well with her. Me neither, but I've always lived in a world awash in reality. She lived in a good news bubble. "Tell me what's good," she was fond of saying.
I'm thinking about taking up residence in her bubble soon -- maybe when the kids have graduated from college. The difference is mine will be filled with chocolate. And maybe a good dentist. No cucumbers though -- puffy eyelids are the least of my worries.
Join me next Monday for another installment of The Pre-Empt Chronicles, as I transition from full house to empty nest.
Earlier on Huff/Post50:
Natural Ways To Reduce Anxiety And Get Better Sleep
Exercising can naturally help you sleep better by raising dopamine levels, which in turn reduce anxiety and depression. Avoid exercising too close to your bed time, however, as this may make it more difficult to fall asleep soon after. Cognitive hypnotherapist Lesley McCall suggests having at least three hours between exercise and sleep in order to give your body ample time to wind down and prepare for rest.

Avoid devouring large meals before bedtime. Along with the discomfort of being stuffed, large meals take the body longer to digest, thus leaving you more tired when you wake. Conversely, going to bed hungry can be just as disruptive. Dr. David L. Katz recommends fruits, vegetables, beans and whole grains for sound slumber as these "tend to produce a slow, steady rise in blood insulin that helps the amino acid tryptophan enter the brain. Tryptophan is used to make serotonin, a neurotransmitter that helps induce sleepiness along with improving your mood".

Try adjusting the temperature of the bedroom for a more optimal sleeping environment. According to Jennifer Trachtenberg, M.D., FAAP, you should aim for somewhere between 68 and 72 degrees. For easier temperature regulation throughout the night, ditch the singular heavy comforter and opt for piling on light layers that can be easily kicked off as needed.

According to The Mayo Clinic, the ideal bedroom should be three things: Cool, dark and quiet. It may be time to invest in earplugs, an eye mask or even heavier curtains to block out extra light and sound. Don't be afraid to give fidgeting pets the boot and avoid eating, watching television or finishing work in the bedroom. Instead, make the space strictly for sleep and sex only.

Don't ruminate. Practice "thought-stopping" where you only allow yourself to worry about a problem during daytime hours. Refrain from checking texts and e-mails (physically banish your cell to a different room if necessary!) before and during your bedtime routine. McCall suggests doing a "brain dump" before bed, in which you spend 10 minutes writing down what is on your mind. Whether you're making a to-do list or merely scribbling by minute eight, leave everything on the page.

Relaxing stretching and meditative breathing can help reduce anxiety and leave you more at ease and ready to put your body to rest. Follow a gentle sequence, such as the "night time flow" featured in this video, designed to help prepare the body for a restful slumber by quieting the mind and soothing the nervous system. In the clip, Jason Crandell reminds "Practicing with a receptive, non-striving tone is essential for relaxation and moving into a state of sleep."

Keeping a sleep diary can both help you maintain a consistent sleep schedule and reveal the possible culprit (or culprits) behind your difficulty falling asleep naturally. Create your own sleep diary following a general template and use it in conjunction with a visit to your doctor to discuss any questions or concerns you may have.
Follow Melissa T. Shultz on Twitter: www.twitter.com/MelissaTShultz