If you don't live in D.C., you might think that the city is only about politics, government and residents who come and go every few years. If you never left downtown, you might be right to make that assumption. But more goes on in D.C. once you get away from the National Mall and Capitol Hill. Each neighborhood within the city has a distinct personality and offers residents and visitors a different experience. I live just east of Dupont Circle on 17th Street. We might be only a mile north of downtown, but there's a completely different feel of living in a neighborhood.
When I first began my search for a home in the city, I was drawn to 17th Street. There was an energy that reminded me of a downtown neighborhood in New York City. After several years of living here, I've watched the neighborhood change. I remember looking out the window one morning and seeing a stroller-traffic-jam at the intersection below my condo. Where you never saw kids before, we had officially achieved a new facet to our identity.
The neighborhood elementary school, nearly shut down at one point, ratcheted up in the ratings. The restaurants improved their services to attract more than just the bar crowd. Salons and yoga studios opened alongside businesses that had existed for decades.
Last year, the neighborhood celebrated itself, so to speak, with the first 17th Street Festival. The idea was born after a neighborhood renovation project improved the sidewalks, bike lanes and parks in and around 17th Street. A couple longtime residents who are part of the Urban Neighborhood Alliance, Lee Granados and Stephen Rutgers, are co-chairs of the Festival. Their vision is to showcase the shops, schools, restaurants, clubs, parks, art and people of the 17th Street Corridor.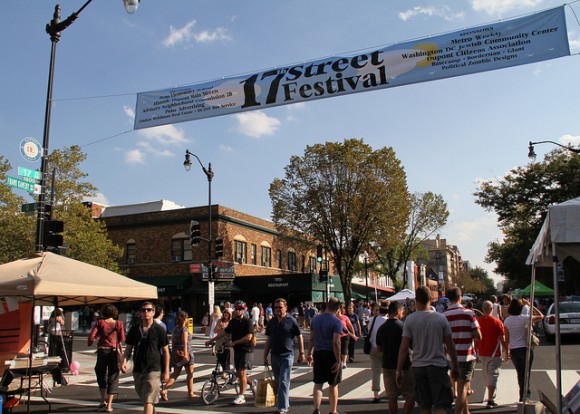 The businesses along 17th Street will participate on their respective sidewalks or through tents along the street. With the promise of fun for all ages, there will be a Pet Zone, the works of several area artists, a kids area, and a beer garden hosted by longtime 17th Street Bar, JR's. There will also be a stage with a variety of entertainment acts including dancing, singing and a drag show by DragCity: DC. We do love our drag shows on 17th Street as we are also home to the annual Drag Race, but that's a story for another day.
SUBSCRIBE TO & FOLLOW THE MORNING EMAIL
The Morning Email helps you start your workday with everything you need to know: breaking news, entertainment and a dash of fun. Learn more