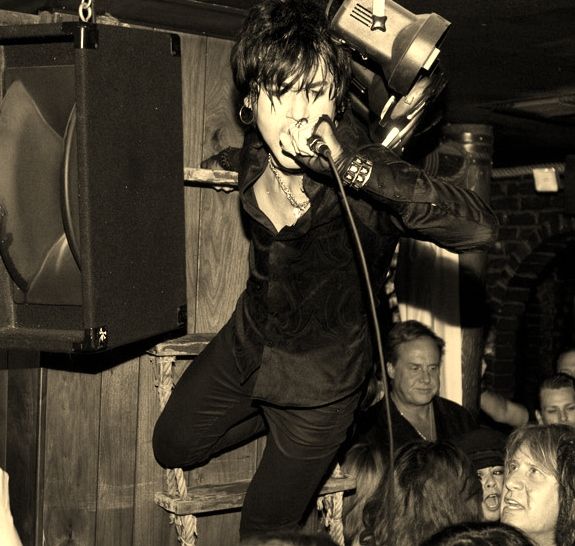 Photo, by Piper Ferguson, depicts lead singer Kevin Preston climbing a ladder on the wall and singing over the fans
Every once in a while life showers us with something so perfect it's nothing short of brilliant, and Prima Donna's recently released album Bless This Mess is as good as down and dirty rock 'n' roll gets. A cynical journey through love wanted, love lost, pure lust, and masochistic obsession and need, Bless This Mess is a reflection of the pure sexy stage presence of the band members themselves. Sappy love ballads and mellow chords it definitely is not.
From Los Angeles, California, Prima Donna consists of Keven Preston, lead vocals and guitar; Aaron Minton, keyboard and saxophone; Eric Arcane, guitar; David S. Field, drums; and "Lights Out" Levine, bass guitar. I was lucky enough to hang out with the guys in Prima Donna in London at The KerPUNK Festival last January, finding them to be some of the nicest, most professional, hardworking musicians in the industry. There is just no ego with these guys.
When I caught up with Kevin Preston again this week via telephone to talk about the new album, one of the first things he told me about the songs was, "The more interesting ones are the ones we write together." Released on Valentine's Day, Bless This Mess conveys lyrics such as "Oh girl you're such a tramp, but I wanna be your man" from the song "Puta Te Amo," Spanish for "I love you bitch," and inspired when band members saw the phrase written on a bathroom wall on tour in Spain. Preston laughingly told me, though it was written in Spanish, they all understood its meaning perfectly; thus the song about a horrible woman he can't help but want anyway was born. Playing around on tour and laughing at the sentiment, they wrote it together as a group.
The first track on the album "Sociopath" speaks of the addictive wasteland of social media, which reaches the point of turning people into detached, narcissistic sociopaths who will "Screw you over just because I'm bored. Manipulate all of your friends," setting the tone of in-your-face brutal honesty for the rest of the album. "Feral Children" talks of animalistic sex as they "...pretend we're virgins / Rowdy feral children" and states very plainly he's a real "sick lover" promising, "I will corrupt you... life so filthy that you won't mind and you won't care." Of all the songs on the album, this one grabs me to the very core, and makes me say, "Yes, absolutely yes, take me wherever you want." And then there is the catchy upbeat sing-a-long in "Broken" that contradicts the sober, cynical lyrics about the evils of love, like he's warning another fool about to fall, "Love will take you down / Wipe off that smile" and "My happiness turns violent."
In addition to the sometimes complex and serious, sometimes satirical, sometimes offensive and misogynistic lyrics, the chords and melodies flow together in perfect harmony, indicating a group of musicians completely in sync with each other's strengths and weaknesses. The guitar riff in the song "Bless This Mess" and the guitar solo and emphasis on the sax in "Miss Avenue" offer up another example of the band's lack of ego as one steps aside to let the other have his moment, allowing the listener a rare chance to glimpse the talent of each individual member as it fits into the whole of the band.
"Feral Children" from Bless This Mess
The stage show is as down and dirty as the music, with Kevin Preston rubbing up against other band members, audience members, male and female alike, inanimate objects and whatever else happens to be lying around, sending the fans into a sexual frenzy. It's this ability the band has of interacting with the audience and drawing them into an intimate give and take of music and dancing that makes a Prima Donna show special. You're not going just to watch a performance. Being with Prima Donna is an experience, and the fans repeat the experience over and over again.
A bit reflective and gracious as ever, Preston talks of the band's early influences, primarily T-Rex and X-Ray Specs, but also The Saints and Little Richard. Like a kid who still gets starstruck over his heroes, his voice lights up when he talks of Little Richard and the times "we've seen him really kick out the jams" onstage. He reminisces about the time he got to play with Josie Cotton, another hero, and drank with her after the show, saying, "She's so much more than [the song] 'Johnny Are You Queer,'" and his gratitude towards the fans who still go through the trouble of sending the band actual fan mail through the post office.
And then he tells me the funny story of how he damaged the heels of his feet a little over a week ago. He was hanging outside of a club after a show and decided to do something crazy, like climb the wall. Kevin has a thing for climbing up on whatever's around. I've seen this personally in London. So he decides to scale the wall of the club. He makes it to the top and realizes the only way down is to jump. He jumps down from the wall and "fucks up" both heels. Now on crutches, he's trying to sit and stay immobile as much as possible in preparation for Prima Donna's upcoming show this weekend at The Mess Fest, a party of sorts to celebrate the new album, as well as showcase other up-and-coming bands. Put together by concert organizer Kat O'Connor, The Mess Fest will be at the Metro Opera House in Oakland, California on Sunday, July 8th.
You can also catch Prima Donna's live show in September when they spend a week on the East Coast, and also in October when they tour for two weeks in Europe and a week in the UK. Assuring me he wasn't letting a little thing like not being able to walk slow him down or deter him from performing like he always does at his upcoming shows, there won't be any cancellations.
From their Acetate Records debut album After Hours, this is the official music video for "I Don't Want You To Love Me."
SUBSCRIBE TO & FOLLOW ENTERTAINMENT
HuffPost Entertainment is your one-stop shop for celebrity news, hilarious late-night bits, industry and awards coverage and more — sent right to your inbox six days a week. Learn more