When it comes to gift giving, fashion designer Catherine Malandrino strives for the unexpected. "I like to surprise people with presents," the French-born, New York transplant told Emily Hsieh, a regular contributor to The Inside Source, eBay's digital style magazine. "I always try to show people love, by way of something thoughtful and unexpected -- and eBay is great for one-of-a-kind items. I used to go to a lot of antiques shops for these sorts of things, but now eBay is like the biggest one in the world!"
Pressed to expound on some of her past eBay spoils, Malandrino ticks off a list of acquisitions that are both wholly unusual and intriguingly disparate (yet collectively, they strike at the same strong, sexy, sophisticated vibe that she's known for in her collections), starting with a taxidermy peacock: "I wanted a stuffed peacock for the longest time but couldn't find it anywhere -- until eBay!" she said. "Mine has the most beautiful tail, and he sits on a windowsill at my apartment overlooking the Hudson River." Among her other favorite purchases she also counts a "beautiful red satin Yves Saint Laurent trench coat from the 70's," illustrated Audubon books (which she says she often references for inspiration when she's designing), and "Easy Rider" paraphernalia, a film that has a special place in her heart ever since her first collection, which was inspired by the iconic American road movie.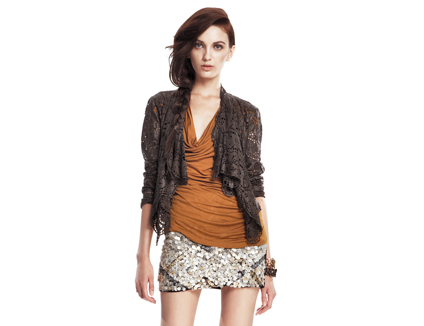 Catherine Malandrino 2011 Holiday/Resort
While in the middle of putting finishing touches on her new soon-to-launch collaboration with Lacoste, Malandrino paused to take time out to particupate in The Inside Source's exclusive "Dear Santa" series to dish on what kinds of goods--both for gifting and receiving -- she'd most like to score this Christmas.
What Catherine Malandrino Plans To Give (And Hopes To Get) This Holiday Season
1. Knicks Tickets: "For my son, Oscar, I want to give him courtside seats for the upcoming New York Knicks/Miami Heat game at Madison Square Garden. He's a big fan of basketball -- as am I -- so it's actually a gift I can enjoy myself too."
3. French Movies: "For my design team, I want to give classic French movies from the 60's like And God Created Woman and A Man and a Woman, starring actresses like Brigitte Bardot and Catherine Deneuve. Films like these have such a special sense of style and romance, and I want to get them closer to a French sensibility, which is clearly a big part of my aesthetic."

Click here to read more.

GETTING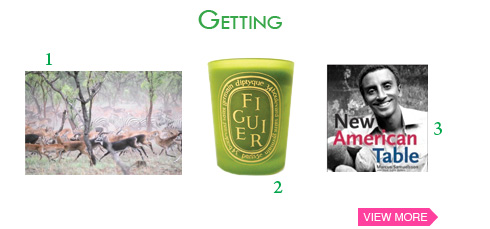 1. African Safari: "I'd love the promise of a beautiful safari trip in Africa -- a few nights at the Ngorongoro Crater Lodge in Tanzania, before following the animal migration from Tanzania to Kenya," she says.
2. Diptyque Candles: "I love to light candles in the evening, and I can't get enough of Diptyque's. My favorite scent is fig, because it allows me to be in the center of New York but still get a taste of Provence."
3. Marcus Samuelsson: "I would love to have a private dinner cooked by my friend, chef Marcus Samuelsson, along with his wife, Maya." Assuming he's not already on your speed dial, you can whip up his recipes from the New American Table cookbook.
Photo Credit: provided by Catherine Malandrino
SUBSCRIBE TO & FOLLOW LIFESTYLE
HuffPost Lifestyle is a daily newsletter that will make you happier and healthier — one email at a time. Learn more