The Inside Source's "Dear Santa" series on what today's top style makers are giving and getting for the holidays, shared exclusively with the Huffington Post, marches on! Today, in an article authored in its original form by Heather Summerville, a regular contributor to eBay's digital style magazine, we let you in on what Cynthia Rowley's holiday shopping list and wish list:
Christmas or not, Cynthia Rowley is known for designing the sort of clothes that always feel festive. "If you're dressed for a good time, you'll have one," she insists. Which gets straight to the point of why daywear and party-wear are essentially the same thing in her eponymous collection.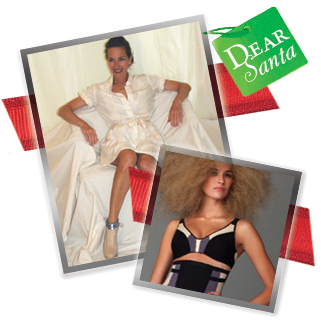 As the story famously goes, Rowley's debut runway show in the late '80s took place in her New York City walk-up apartment. Not a single celebrity or editor was in attendance. Over 20 years later, however, her show is notorious for its star-studded front row--Rebecca Romijn, Lauren Bush and Aisha Tyler were all in attendance for Spring 2011--and is highlighted on every major editor's fashion week schedule.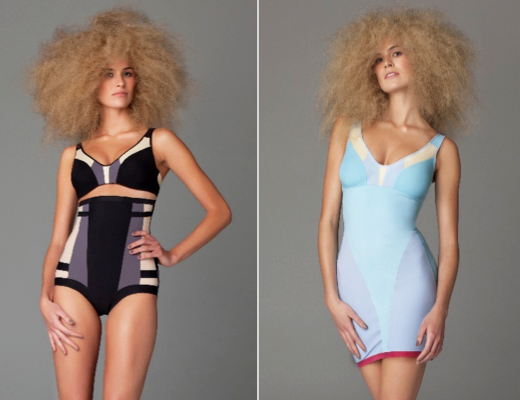 Slim by Cynthia Rowley
Rowley's transition from a ready-to-wear collection to a full-fledged lifestyle brand has a lot to do with the designer's ability to find inspiration everywhere, and these days eBay is playing a big part of that. "My design team and I buy a lot of little inspirational pieces on eBay (if something just happens to be my size it's a double score!)," she said. "But my best buy of all time was a truck! We tricked it out as a mobile store and our 'Shop on Wheels' has now traveled across the country meeting, tweeting and showing off our merchandise."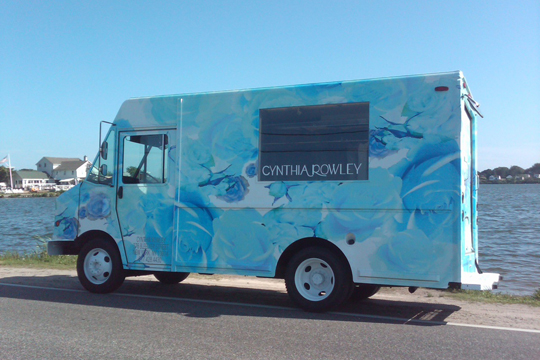 Cynthia Rowley's Mobile Store
And when it comes to holiday gifts, Rowley tends to get just as creative. "Every year I try to surprise the whole Cynthia Rowley team with something fun," she said. "We've done skiing trips, skating, even a talent show. This year though, it's going to be trapeze!"
See some of Rowley's picks below, and read more of this article by clicking here.
What Cynthia Rowley Plans to Give (and Hopes to Get) This Holiday Season
GIVING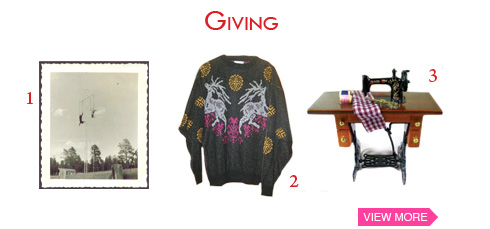 1. Trapeze: "I always try to surprise everyone at Cynthia Rowley with something special. This year we're going to take trapeze lessons." Perhaps this vintage circus photo from the 1940s will serve to inspire.
2. Vintage Men's Sweater: "Unusual men's vintage sweaters for my husband." How about this seasonally-appropriate, kitschy reindeer style?
3. Vintage Dollhouse Furniture: "Vintage dollhouse furniture for my daughters." This tiny sewing machine seems apropos.
GETTING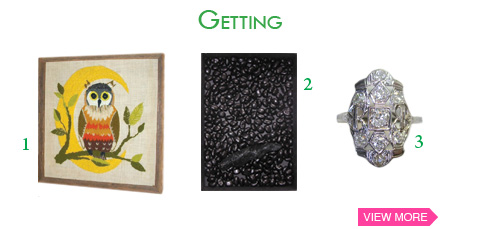 1. Vintage Needle Point: "Old needle points--I actually make them into clutches." This owl has a particular charm.
2. Terence Koh Art: "Every year my husband and I give each other art, and so a lot of our friends like Rob Pruitt, Tom Sachs, Terence Koh and Will Cotton have done special pieces for us." This signed limited edition by Terence Koh could be a smart choice for the designer, whose newest venture, launched just last week, is Exhibition A, a flash sale site selling limited editions by top contemporary artists.
3. Vintage Jewelry: "Cool vintage accessories, like handbags, shoes or jewelry."

Click here for more.
Click here to check out all of the style makers in our "Dear Santa" series as we launch them throughout the month.
(images courtesy of Cynthia Rowley)
SUBSCRIBE TO & FOLLOW LIFESTYLE
HuffPost Lifestyle is a daily newsletter that will make you happier and healthier — one email at a time. Learn more