Today, The Inside Source's "Dear Santa" series, shared exclusively with the Huffington Post, just keeps getting better. We know what Jason Wu plans to give (and hopes to get) for the holidays.
Read all about it below, and read more of this article, authored in its original form by Nandini D'Souza, a regular contributor to The Inside Source, eBay's digital style magazine, by clicking here.
Frills, flou and femininity. Jason Wu is known for all of these. He's also known for dressing some of the most stylish (and stylishly powerful) women in the world. There's the most noted Wu Woman, Michelle Obama, who changed not only the course of Wu's career but also the course of the White House's sartorial leanings. Then there's the gaggle of pretty young things who all seem to make Wu's distinctively arty-pretty look their own, from Alexa Chung and Reese Witherspoon to Natalie Portman, Diane Kruger, Michelle Williams and fashion's current obsession, model-slash-actress Elisa Sednaoui--and that's just a smattering of those who've worn Wu in the last three months.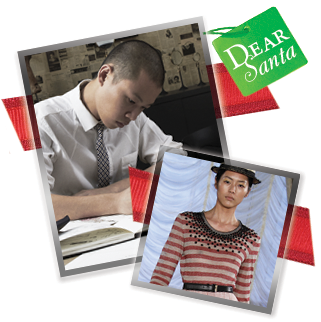 But rather than ride the fumes of that famous one-shouldered inaugural gown, Wu, who won this year's CFDA Swarovski Award for Womenswear, keeps pushing himself and growing his collection and brand. In September, he debuted his first accessories collection during Spring 2011 Fashion Week.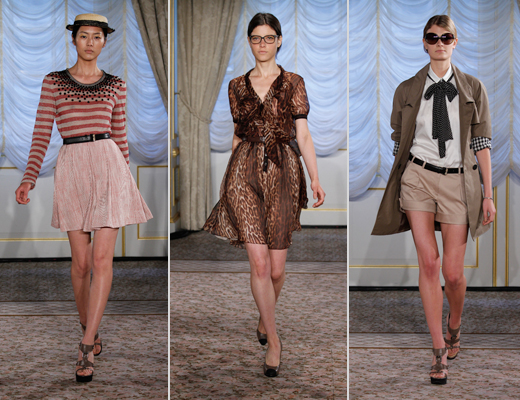 Jason Wu Resort
But for at least the next few weeks, Wu, born in Taiwan and raised in Canada, is getting ready to spread a little holiday cheer in his Manhattan studio. "This is the first year I am doing a tree in the studio," he said. "It's all-white and I found some great owl ornaments and also some beautiful glass ones. It's been fun to shop for." He'll also be putting his considerable hosting skills to the test. "I love spending time with friends--they are my family away from home," he said. "I love trying out new recipes and hosting intimate dinners at home." He's also a bit of a bartender. "I've come up with some pretty good drinks over the years. One of my favorite books is Vintage Cocktails by Brian Van Flandern. It's got great recipes. I love serving these in these '70s Pierre Cardin tumblers that my dad gave me."
(images courtesy of Jason Wu)
What Jason Wu Plans to Give (and Hopes to Get) This Holiday Season
GIVING: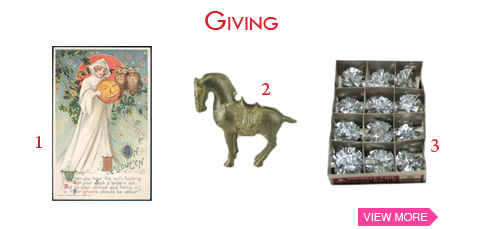 1. Anything Owl-Related "I love that the owl is a bit playful and whimsical, calling out a familiar sound 'Wu...wuuuu,'" Wu said of the bird, which he considers his de facto muse. "I think this is carried over in my collection. I put a lot of effort and thoughtfulness into the construction of every garment but I want my designs to also have a lighthearted side as well. Fashion should be fun, after all!"

2. Horse Figurines: "My father collects them. Horse riding is one of his favorite pastimes."

3. Antique Ornaments: "I like to give them to my friend Jennifer, who has a tree trimming party every year."
Click here for more.
GETTING: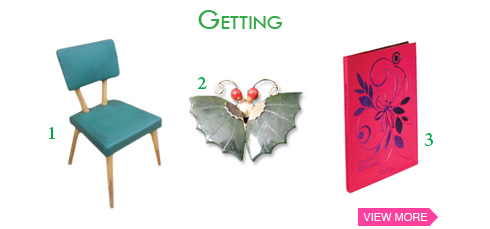 1. '50s Vintage Chair: "There is something quite modern about furniture from this era, especially when displayed in a industrial setting."
2. Vintage Jewelry: "The colors I find in old gems can inspire the tones of new collections."
3. Art Books: "I am always adding to my book collection. I just built a new wall of bookshelves in my office."
Click here for more.
Click here to check out all of the style makers in our "Dear Santa" series, including powerhouse chef Todd English, and fashion designers Tracy Reese and Beth Blake and Melissa Akey of Thread Social. And don't forget to check back regularly, as we'll be launching more every day until Christmas.
SUBSCRIBE TO & FOLLOW LIFESTYLE
We're basically your best friend… with better taste. Learn more