Rachel Roy's beauty, her imposing stature (she's a little over 6 ft. in heels) and her success as a designer could easily intimidate. In only six years, she's built a global label that now includes not only her premier designer line, Rachel Roy New York, but also a diffusion brand, Rachel Rachel Roy, available at Macy's.
The designer and mother of two, who boasts Michelle Obama and Penelope Cruz as fans, sat down with Amy Flurry, a regular contributor to eBay's digital style magazine, The Inside Source.
The following is an excerpt of the interview. For the full article, click here.
TIS: You've always maintained that you like looking your best, both on and off the playground. How do you achieve that?
Rachel Roy: The same way I approach designing. The goal is to offer a combination of classy and edgy pieces and then to be able to easily combine them so as to look effortless. I do a lot of mixed-print dresses and odd color combinations. This gives those classic pieces an edge. Another one of my signature styles is a trench coat/dress, which I can throw on in three minutes and still look pulled together without having to have my best body day going on.
TIS: What would you say are the standouts from your spring collection?
RR: Definitely the air tweed blazer, which is my answer to the tweed blazer (below, left)--so light that it serves more as a cardigan. It's also a no-brainer that goes with everything.
And I'm really feeling the men's blouse (below, right). A woman wearing this silhouette, but cut to her body and maybe with one extra button opened, is so sexy.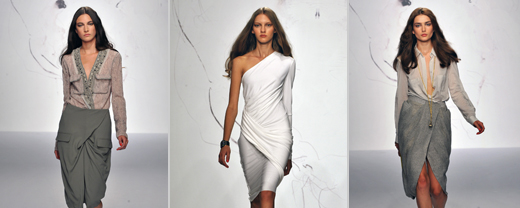 TIS: And you design some great statement jewelry!
RR:I love edgy jewelry. I am also a big on costume jewelry. You can find great pieces on eBay. I don't believe that these kinds of accessories have to cost a lot to look great.
[Images provided by Rachel Roy.]


FOLLOW HUFFPOST