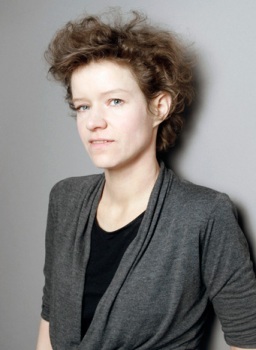 Dorothée Loermann has been the womenswear designer of contemporary indie fashion label Surface To Air since the line launched a women's clothing division in 2007. (The Paris-based clothing and accessories brand is now sold at Shopbop, Barneys and other high-end retailers in addition to its own e-store.) But her interest in style dates back to childhood, when she started out by designing clothes for her puppets and later for herself. What followed was a string of fashion design gigs for lines such as Capucci, W.&L.T. and Bagutta.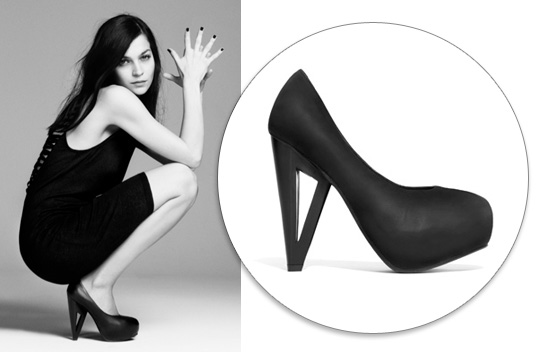 Now she's developed a cult following stylish downtown-types by developing limited edition capsule collections with people from different artistic fields, such as the French electronic music duo Justice, Norwegian fashion photographer Solve Sundsbo, and the Kings of Leon. The latest collaboration--it hits stores and the web this month--is with indie style icon, model and nightlife fixture Leigh Lezark, who's best known as one-third of the New York City-based DJ trio The Misshapes. Together, they've created an exclusive shoe that embodies Surface To Air's minimalism-with-a-twist aesthetic. The architectural black hidden platform pump, complete with a Leigh Lezark signature engraving on the leather sole, is a limited run of 300 pairs and the leather is dyed using an eco-friendly process.
Beth Whiffen, a regular contributor to The Inside Source, eBay's digital style magazine, recently chatted with Loermann about the Leigh Lezark collaboration, personal style and girls gone wild. To read the interview in full, visit The Inside Source and be sure to follow us on Twitter and Facebook for more interviews with our favorite stylemakers and designers.
The Inside Source: Surface To Air has an interesting history--it wasn't always a clothing label. How did the line come to be?
Dorothée Loermann: At the beginning, in the late '90s, Surface To Air consisted of a group of friends who wanted to work on artistic projects they liked. Year after year, the team has grown into a multidisciplinary company spanning across creative domains such as fashion, graphics, photography, design, music, and films. In 2004, the men's fashion line was created, following with our women's fashion line in 2007.
The Inside Source: When I Googled Surface To Air, all this information about missiles popped up. What's behind the name?
Dorothée Loermann: We loved the name and it truly represents who we are as creatives. Always aim high, right?
The Inside Source: Your Spring 2011 collection was very creatively inspired by the horror film From Dusk till Dawn. What can we expect from you for Fall 2011?

Dorothée Loermann: Fall is very much about the good girl going wild. So we have worked a lot around innocence and wilderness that goes back to our primitive roots. The brave housewife of the 1960s mixed with influences from The Flintstones is one element. The wild beatniks and '60s biker-rocker girls play a strong part as well.
The Inside Source: What's your fashion philosophy?
Dorothée Loermann: Try not to think too much about fashion and what is "in" and "out"--that is the true key to personal style.
The Inside Source: There's a major downtown, hipster vibe to your clothes, yet some of your trench coats and such have an uptown edge. Can you elaborate on your fashion design process?
Dorothée Loermann: We really want to design things that we like to wear ourselves and we can imagine going to a concert or party in or being easy to wear to work. We like to give an attitude to the people who wear our clothes. It's about being stylish and effortlessly chic. We try to think about making basic garments such as trench in a nice way and then adding in special pieces such as dresses or tops with their own unique character.

The Inside Source: What's in your closet, besides Surface To Air?
Dorothée Loermann: A lot of YSL vintage and other vintage that I collect, a few designer pieces from Helmut Lang, Bernhard Willhelm, Lanvin and Capucci.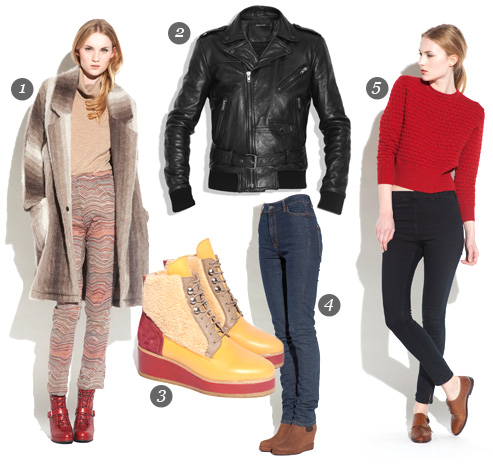 The Inside Source: What are the five key fashion pieces every girl needs for Fall 2011?
Dorothée Loermann: 1) Cozy blanket-like coats, like our Maxi Coat in stripe-y mohair. 2) Boyish black leather, like on our S2A leather jackets. Girls can wear our men's jackets. 3) Creeper-like shoes such as our Dockstep shoes. 4) Nice blue denim with a vintage red cast, like our super high waist skinny. 5) Red structured wool sweaters, like our 3-D Jumper.

The Inside Source: Tell us about the Leigh Lezark collaboration.
Dorothée Loermann: We were interested in doing a collaboration on shoes. One of the Surface To Air members, Gordon Hull, is friends with Leigh and we really liked the idea of doing this shoe collaboration with her. She really fits the S2A spirit as she is a DJ and has this strong connection to music and stage that has belonged to the S2A universe since the beginning. We basically asked her to think about her favorite shoes and she came up with several pictures and the idea of the heel shape.
The Inside Source: What collaborations do you have in the pipeline?
Dorothée Loermann: Right now, we're working on a collaboration with Kim Gordon from Sonic Youth. She is making a small capsule collection with us. It will be available early next year.
The Inside Source: Do you shop on eBay or use it to look for fashion inspiration?
Dorothée Loermann: I do it all the time! It's such a big source of inspiration.
Images courtesy of Surface to Air.

FOLLOW HUFFPOST