It's no secret that hats almost completely disappeared from wardrobes in the last century. But over the past few years, headwear has been making a huge comeback -- thanks in part to the royal bride-to-be (and the New York Times's street photographer Bill Cunningham!). Even if you haven't snagged one of those coveted 1900 invites, there are a host of hat-wearing occasions on the horizon -- namely, Easter Sunday and the Kentucky Derby.
In the below interview, Marie Galvin, the Irish-born milliner behind Boston-based Galvin-ized Headwear explains the art of the hat to Marni Elyse Katz, a regular contributor to The Inside Source, eBay's digital style magazine. To read the original story or to find more interviews with today's leading stylemakers, please visit The Inside Source.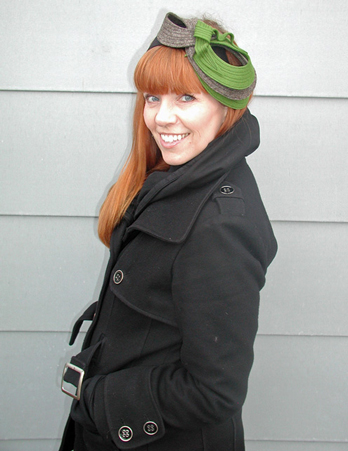 The Inside Source: Let's start with the obvious: How is Kate Middleton's fashion influencing the fashion of hats?
Marie Galvin: She'll be great for fashion. Those English girls will be clamoring to look like her (she's pretty enough to be a Hollywood film star) and they're the leaders in trends. Diana brought hats back in fashion; she did a lot for the millinery industry in England. I mean, the Queen always wore hats, but they weren't fashionable. Diana played a big part in the return of the hat. Now, people want to look fabulous. There's a real return to dressing up, and wearing hats.
The Inside Source: Are customers bringing in pictures of the hats that Kate Middleton has been wearing recently, asking for similar hat designs?
Marie Galvin: Nobody's brought in a picture yet, but, of course there's lot of buzz about Kate; they either love her or hate her. Customers tell me to send her hats, but I think Philip Treacy has that all wrapped up!

The Inside Source: Are you seeing an increased interest in fashionable hats here in Boston?
Marie Galvin: Wedding guests wearing wedding hats is really big right now. Once the royal wedding happens, I think there will be even more. I've been doing a lot of hats for women going to transatlantic weddings. In the U.K., women really "dress" for weddings; the women are fierce and fabulous. The object of the game is to blend in with the locals. I'm getting a lot of customers who have just come back from a wedding in England or Ireland, saying, "Everyone was wearing one but me; I want one so I can wear one to a wedding here."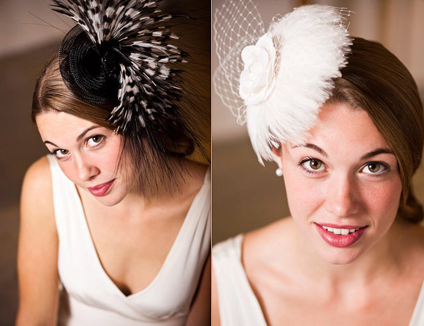 The Inside Source: What are the current hat fashion trends?
Marie Galvin: The trend is towards the fascinator style, on a comb or headband. It works brilliantly for young and old. Not the traditional large brimmed hat. You still see them at the Derby, but those are the kiss of death for me. You get hat head. When you take off a big hat like that in late afternoon, you'll have a mark. A good alternative is the satellite dish-looking fascinators, so you still have gorgeous hair.
The Inside Source: What about wedding hat styles for brides?
Marie Galvin: Brides are wearing more what the English and Irish have been doing for the past decade--feathery, bird cage (also called a blusher). I like the length just above the nose, so the groom can kiss the bride when it's time.
The Inside Source: We're seeing a lot of feathered hat styles in general, yes?
Marie Galvin: Feathers are huge right now. There was a time I couldn't' give them away, back when I started. I do a lot of sculptural things with them. Feathers have always been my go to material. Now, you can find feather headbands everywhere.
The Inside Source: What about hat fashion trends for Easter?

Marie Galvin: People in NYC are more into the whole Easter hat wearing thing, especially as they have the parade which New York Times [photographer] Bill Cunningham always covers. Unfortunately, here in Boston, not so much. However, the Derby thing has blown up. I think I sold one hat/fascinator for Easter but the lady is going to NYC for Easter.
The Inside Source: Speaking of the Kentucky Derby?
Marie Galvin: People think they have to get a big, Southern-looking hat. If you look at the photos, you see the celebrities with the big brim; they're completely covered. But a gorgeous girl shouldn't cover her face; don't do that look! You want a lift; on a slant is a flattering shape; anything off center.
(images courtesy of Marie Galvin; photos of models by Joyelle West)
FOLLOW HUFFPOST