Writer Lynn Yaeger and Creative Director of Paper magazine Mickey Boardman have a lot in common: front row Fashion Week fixtures and best of friends alike, they also share an affinity for obscure collectibles. While Yaeger is drawn to reindeer sweaters and antique (some might say threadbare) dolls, Boardman sets his sights on royalty memorabilia, scouring palace gift shops, eBay and other haunts for out-of-print books and commemorative dishware picturing kings and queens both loved and loathed.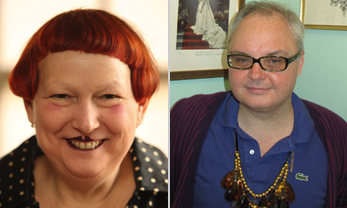 Lynn Yaeger's series on style makers and their collections for The Inside Source, a digital style magazine presented by eBay, has touched on her own collections and those of Simon Doonan, the Creative Director Barneys and his life partner, the quirky "potter-slash-entrepreneur" Jonathan Adler. This week, Yaeger chats with Mr. Mickey about monarchies.
The following is an excerpt from Yaeger's post. For the full article, click here: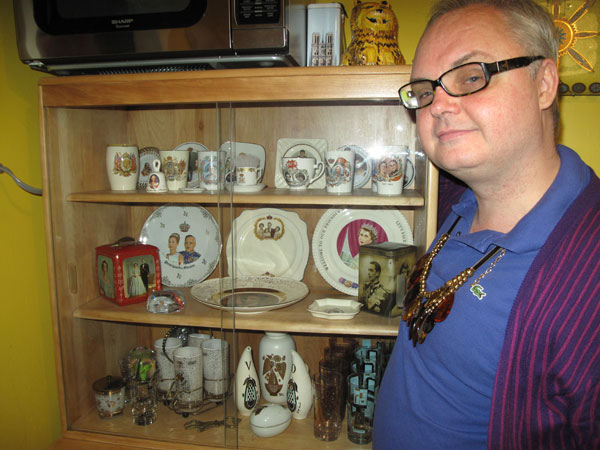 Fifteen or so years ago, Paper magazine's Mickey Boardman, a man who favors lime green Lacoste polo shirts topped with a bejeweled necklace and a glitter cardigan, fell in love with a woman. She was Queen Marie of Romania, and Boardman became besotted when he read her biography, The Last Romantic, by Hanna Pekula.
And thus began a sprawling collection of royalty books and memorabilia.
"I love history. I love people who are glamorous, fabulous and well dressed! Pioneers and leaders in their fields!" Boardman says, describing an infatuation that over the last decade and a half has resulted not only in an accumulation of tomes and trinkets, but also in real-life adventures like the Nicolas and Alexandra tour of St Petersburg organized by the Imperial Russian Historical Society.
But it all started with the books. "I was at the Strand every weekend," Boardman says of the sprawling New York bookstore that specializes in rare and out-of-print books. One day, high on a shelf accessible only by a library ladder, Boardman spied volume one of Marie's Story of My Life, which he had been searching for, for like, forever. "It was like a light from heaven!" he recalls.
Alas, other coveted volumes have remained elusive. Case in point: A Romanoff Diary by Grand Duchess Maria Georgievna. "Her heirs won't let it be reprinted," he says sadly. Once it was tantalizing within reach--for sale on eBay and languishing in the under $25 category. Mr. Mickey, feeling cocky, left a bid of $120 and took a shower. When he emerged, the auction was over and he was outbid at $123. "I curse hygiene to this day."
FOLLOW HUFFPOST