Last week, renowned fashion writer Lynn Yaeger offered The Inside Source, an online style magazine presented by eBay, a rare glimpse inside her apartment--a well-appointed showpiece for collections that include reindeer sweaters, well-loved dolls she says "last saw action in the First World War" and brooches engraved with the word "baby."
This week, she begins a series of conversation with fellow style makers who share her passion for collecting and whose obsessions are often as delightfully offbeat as her own. First up: Simon Doonan, the Creative Director of Barneys, and his life partner, the "quirky potter-slash-entrepreneur" Jonathan Adler. Stuck in Palm Beach because of a weather emergency, the two got on the phone to gab with Yaeger about the Blenko glass, horological collages, Leroy Nelman plates and other unexpected items they can't get enough of.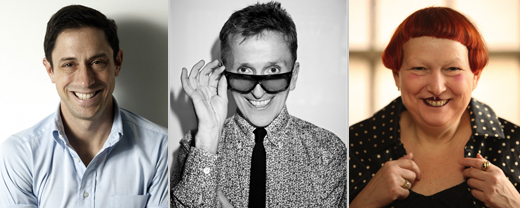 Jonathan Adler, Simon Doonan, Lynn Yaeger
The following is an excerpt from Yaeger's post. For the full article, click here:
What's great about plates is, you can wash them! I'm very prissy. I like a collectible you can Windex. That gives me beaucoup de joie!' says the irrepressible Simon Doonan when I catch up with him by phone to ask him about his collecting habits.
When pressed as to what he's buying right now, Doonan says he loves Liberty of London floral prints--so much so that he is considering the purchase of a pair of Liberty of London for Target bicycles, a collectible of the future if ever there was one. "We could ride around Shelter Island on them! I hope people won't throw rocks at us."
Plates and bikes notwithstanding, Doonan denies being a fanatical collector. That definition, he cheerfully confides, describes his Johnnie, who admits that he is tooling around on eBay even as we speak. "I tried for a long time to kick it--it was a bad addiction. But now I'm back." As for his other half, Adler claims that Doonan's hands are hardly clean when it comes to compulsive collecting: "We're both on the hunt for a bit of butch man-tiquing."
SUBSCRIBE TO & FOLLOW LIFESTYLE
HuffPost Lifestyle is a daily newsletter that will make you happier and healthier — one email at a time. Learn more